For photographer Jorge Arreola Barraza, coming back to his hometown of Ciudad Juarez, Mexico, is intensely bittersweet.
Walking the crumbling streets with his camera, he does the only thing he can do: document the devastation. Rows of blank billboards rise up from trash-strewn streets; the storefronts sit shuttered, the plazas abandoned. Fear looms thick in the air—a lingering hangover from the city's decades-long battle with cartel violence, police corruption, and the economic turmoil that still lingers on.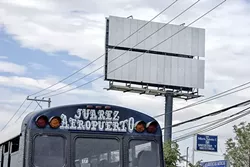 PHOTO BY JORGE ARREOLA BARRAZA
STREET VIEW: Photographer Jorge Arreola Barraza captures the bleakness, blankness, and struggle of his hometown of Juarez, Mexico, with his striking exhibit Espacio de Paz running at the Harold J. Miossi Art Gallery this Oct. 2 through 10.
Barraza's powerful images will hang at Cuesta College's Harold J. Miossi Art Gallery during the Espacio de Paz exhibit Oct. 2 through 10. An opening reception will be on Oct. 2 from 4 to 7 p.m. with a Q-and-A with the artist. Before the show, Barraza will present several conceptual "spaces of peace" and "spaces of love" created to conjure a feeling of safety.
"Jorge's work is about an aesthetic of disappearance and decay, of forcing us to look at those voids, and the collateral damage of the drug war in the region," Cuesta College art history instructor Megan Lorraine Debin said. "In this way, it fits in with current trends in the contemporary global arts. There's something haunting about the crude reality of his images."
Violence and corruption surged in Juarez in the mid '90s, after the passing of the North American Trade Agreement. In 2006, then President Felipe Calderon declared literal war on the drug cartels, spurring on an onslaught of terrorism, including the beheadings of journalists, assassination of government officials, and kidnapping or killing of thousands across the region.
"When Jorge would return from Mexico City to Juarez, he would see the violence as well as the economic consequences, and it shows in his photographs of empty billboards and closed-down businesses; there's an urban documentary slant to it," Lorraine Debin said. "One photo shows a wide boulevard where billboard after billboard is white because no one is promoting their business."
Although Lorraine Debin doesn't believe art can instantly dissolve injustice, she does believe it "gets people to start the discussion."

ALL EYES ON JUAREZ: Espacio de Paz runs Oct. 2 through 10 at the Harold J. Miossi Art Gallery, located in room 7170, on the San Luis Obispo campus of Cuesta College. The space is open Monday through Friday from noon to 4 p.m. and the first and third Sundays of the month from noon to 4 p.m. Admission is free. For more information, call 546-3202 or visit cuesta.edu.
That discussion will be ongoing at the Harold J. Miossi Art Gallery, ground zero for artwork off the beaten path. Upcoming shows include works by Sara Frantz, who explores disregarded spaces; the moving street art of Robbie Conal; and the wasteland fairytale images of Camille Rose Garcia.
"A lot of art we see on the Central Coast is about glorifying the beautiful landscape," Lorraine Debin said. "We have a pretty good life here, but at the gallery on campus, we try to bring in artists from out of the area so we can expose our students to what is going on in the contemporary arts world."
Hayley Thomas believes in the power of art to get people talking at hthomas@newtimesslo.com.