Celeste Hope doesn't do silence. Whether it's Chris Stapleton, Incubus, or Bruno Mars, the music is always turned on and up for the festival photographer turned co-owner of Hope Family Wines in Paso Robles.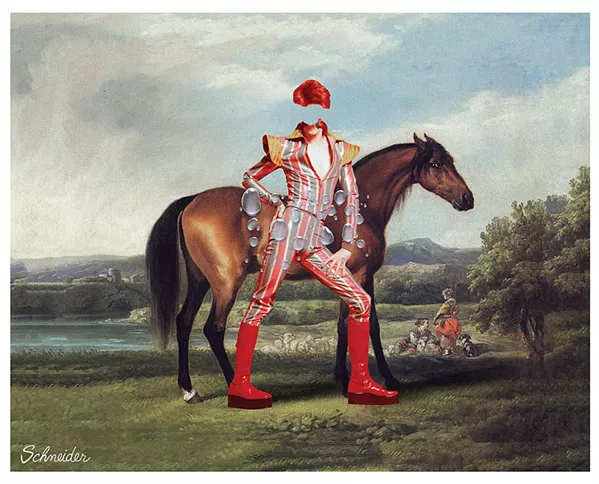 Image Courtesy Of Bob Schneider
HEROES After the death of legendary musician David Bowie, Austin, Texas, based artist Bob Schneider was inspired to do a series of collages dedicated to Bowie, including Funeral.
"Music puts me in a certain mood," Hope said. "It keeps me going."
Hope and other artists will pay tribute to the people behind the music at the Rock 'N' Roll Transcending art show, currently on display at Studios on the Park in Paso Robles.
Hope, who curated the show and grew up in Texas, remembers falling hard for photography in college when her media production major allowed her to take a few photography classes.
"I just enjoyed taking them and loved developing my own film," Hope said.
Her passions for art and music collided in her 20s when she scored a job as a festival photographer, a journey that would last eight years, working largely in Austin, a city where you can catch a show every night of the week. Hope met and captured images of artists and groups like Dolly Parton, Amy Winehouse, Jack White, Radiohead, and more.
Photo Courtesy Of Celeste Hope
WHITE STRIPES While today Celeste Hope captures images of wine for her and her husband's company, Hope Family Wines, in her younger years she worked as a photographer, snapping shots of artists like White Stripes frontman Jack White.
"I was just always fascinated with photographing people and capturing emotions," Hope said. "What their persona is on stage isn't the same as their persona in everyday life."
On the other side of the lens is also Austin-based musician and artist Bob Schneider, whose collage pieces are also featured in Rock 'N' Roll Transcending. Schneider learned how to play guitar as a toddler from his opera-singer dad.
"I grew up around music my whole life," Schneider said.
He also had an affinity for art at an early age but got sucked into the music scene in college instead. While he still performs often and tours, art takes up more of his time than it used to.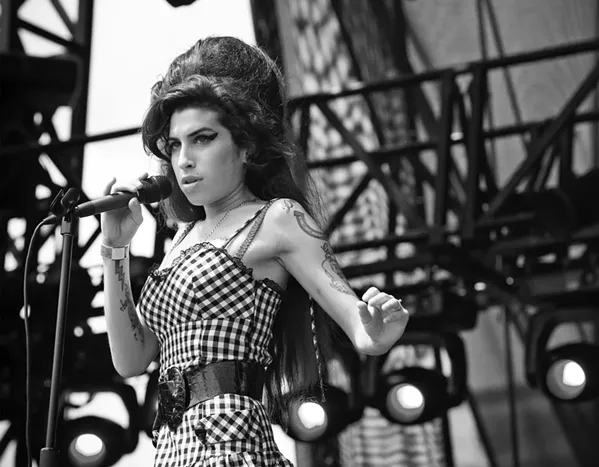 Photo Courtesy Of Celeste Hope
27 CLUB During her time as a festival and concert photographer in Austin, Texas, Celeste Hope captured images of iconic singers like Amy Winehouse.
"Both require a lot of creative energy," said Schneider, who makes collage-style art pieces and tries to write at least one song each week.
After the death of music icon David Bowie, Schneider was inspired to create a series of pieces inspired by him including Funeral, which features a painting by George Stubbs depicting an idyllic English countryside and a horse. Front and center is David Bowie, sans face in one of his signature glam rock outfits.
"Something about him dying affected me in a way that no one has," Schneider said. "It just made death seem really real to me."
Regardless of the results, Schneider said he's committed to the creative process and hopes to trigger an emotional response with his art and music.
"If I don't create something the fear is that I'll die," he said. "It's just a feeling. I love doing it, and I get to make a living at it." Δ
Arts Editor Ryah Cooley is rocking out at rcooley@newtimesslo.com.