He was just a little guy, tucked away discreetly among the wheat. While others might see a humble, lowly creature in the grasshopper, artist Millicent Sabin instead sees an audacity that's rather admirable, some might even say brave.
Sabin's work, along with the works of other members of the Paso Robles Art Association, is currently on display at the Studios on the Park gallery, as part of the Valiant exhibit. The show focuses on heroes that come in all shapes, sizes, and colors. The art captures the valiant figures that inspire us and also give us hope.
Image Courtesy Of Millicent Sabin
BRAVE Paso Robles-based artist Millicent Sabin took inspiration from stories in the Bible when she painted her acrylic and ink piece, And He Gave Their Crops To The Grasshopper.
Sabin's acrylic and ink painting, And He Gave Their Crops To The Grasshopper, includes a stunningly bold medley of vibrant yellows and greens that pop with a black ink outline and features a single grasshopper making his way through a bunch of leafy crops.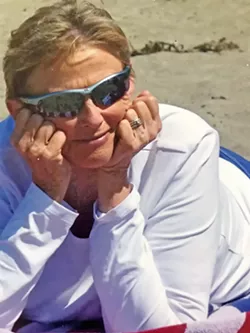 Photo Courtesy Of Millicent Sabin
LOCAL ARTIST Artist Millicent Sabin has been a member of the Paso Robles Art Association for the past 10 years.
"A grasshopper is a valiant little bug to eat all of those crops," Sabin said. "It's actually a quote from the Bible, in Psalms, when God sent grasshoppers to eat the crops so that Pharaoh would let God's people go from Egypt."
Sabin said she has been creating art since she was old enough to pick up a pencil. She was never terribly academic as a student and took refuge in being creative when she was drawing and painting.
"Art class was a place where you could do something different," she said. "It wasn't right or wrong."
While Sabin stepped away from her art for a time when she was busy raising children or working as a Christian education director, art now has a bigger focus in her life. And He Gave Their Crops To The Grasshopper took Sabin about 10 hours to complete.
Sabin takes much of her inspiration from biblical stories and from using bold colors. She describes her work as stylistic.
"It's definitely not typical," she said. "I love lots of color."
A fellow artist friend once told Sabin that "your work is really different, don't stop doing it." So Sabin continues to stick to her own artistic vision when she creates her pieces.
Ultimately, Sabin said that she hopes her work might connect with others on a deep, spiritual level when they see it.
"I'm always hoping that people will see something that is a Bible verse or something that will lead them to God," she said. "That they'll enjoy it, the color, and the way that it blends. It's just something different." Δ
Send your arts story tips to Arts Writer Ryah Cooley at rcooley@newtimesslo.com.