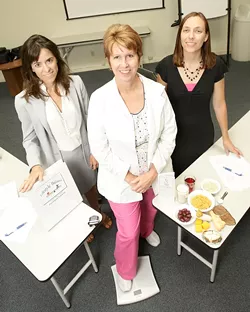 PHOTO BY STEVE E. MILLER
TESTING, TESTING : Suzanne Phelan (left) is the principal investigator, Susan Rasmussen (center) is the program nurse, and Anna Brannen is the coordinator of a collaborative diabetes study by Cal Poly and Sierra Vista Regional Medical Center.
Cal Poly's kinesiology department and Sierra Vista Regional Medical Center's Sweet Success Program are collaborating on a study delving into new theories about the prevention of gestational diabetes (GDM).

GDM is a form of diabetes that women develop during pregnancy. Though GDM is a temporary disease that normally goes away after pregnancy, women who have it are at risk for difficult delivery and are 35 to 70 percent more likely to develop type 2 diabetes within 15 years of the birth of their child. Children born to a mother with GDM are more likely to develop health issues, including obesity and type 2 diabetes.

The new study, the Gestational Diabetes Prevention Program, begins this month. It will test whether losing weight prior to pregnancy is an effective way to prevent the occurrence of GDM.

"To date there are no studies that have been particularly looking at preventing of GDM with weight loss before pregnancy," project manager and nutritionist Anna Brannen said. "In preventing it we are looking at preventing problems for the mothers and children."

The Gestational Diabetes Prevention Program is recruiting participants. The program is looking for overweight or obese women who have either had GDM in their last pregnancy or are at risk of acquiring the disease during pregnancy. Participants must be planning to get pregnant within the next year. Women who had GDM during their first pregnancy are 80 percent more likely to have it in their next pregnancy.

Participants will receive state-of-the-art weight-loss treatment and education at the Creekside Educational Center, across the street from Sierra Vista Medical Center. They will have access to educational support groups and their weight-loss program will be based on research by the Diabetes Prevention Program, using specific calorie and exercise levels.

"The neat thing about the study here in San Luis Obispo is that with the center we're developing, we have experts in obesity and weight control, physical activity, and nutrition," kinesiology professor and principal investigator Suzanne Phelan said. "Altogether, we are developing this program to help these women."

Results will be measured by how much weight-loss participants experience, as well as increases in their activity. The study's success will depend on whether participants develop GDM in their next pregnancy. The results will help determine how strong the genetic component to GDM is.

"They're receiving weekly and monthly support groups. They're receiving education during 21 different sessions. It's a win-win situation for them and we're receiving education ourselves on what's going to work and what's not," Brannen said.

The success of the Gestational Diabetes Prevention Program could also bode well for the cost-effectiveness of diabetes treatment if further methods of prevention are discovered.

"If we can prevent diabetes in both the mom and the baby, that's the biggest cost-saving component of the disease," Phelan said. "Obesity and diabetes are a huge cost to the country. It does reflect a shift in the model of care—it's encouraging women to get pre-conception counseling. Usually women get pregnant and then they get a doctor. We're trying to shift things, showing that before you even get pregnant there are things you need to do."

Fast facts

Enjoy fun in the sun at Moondoggies summer surf camps in Pismo Beach. Surf lessons for kids between the ages of 7 and 17 will be held Tuesday through Thursday of every week through August 13. Students will learn how to stand and maneuver a surfboard, as well as surfing etiquette and water safety. All equipment will be provided, including camp T-shirts. Basic swimming skills are required. Register for classes online at pismobeach.org. Info: Pismo Beach Recreation at 773-7063 …

Animal lovers can cool down from the summer heat on Saturday, July 11 at the seventh annual Ice Cream Zoofari at Charles Paddock Zoo in Atascadero. From 11 a.m. to 4 p.m., staff and docents will give tours of the zoo and from 5 to 8 p.m. the Central Coast Zoo Society will provide all-you-can-eat ice cream, root-beer floats, and sundaes. Evening entertainment includes music, face painting, games, food, and a bounce house. For tickets and information, visit CharlesPaddockZoo.org or call 470-3182.

Get rid of your electronic waste for free on July 11 at the Exploration Station, at 867 Ramona Ave. in Grover Beach. Safely dispose of unwanted computers, televisions, monitors, or any other electronics you no longer use. Microwave ovens and other appliances will not be accepted. Donations are tax-deductible and all proceeds benefit children's programs. For more information, call the Exploration Station at 473-1421.

Intern Chris Jagger compiled Strokes&Plugs this week. Send your business and nonprofit news to strokes@newtimesslo.com.