Janelle Younger was digging around a craft fair for choice metallic scraps when she bumped into a fortuitous new friend. That mysterious acquaintance turned out to be none other than Jeff "Barn Boy" Sauer, who—as his name would suggest—works solely with reclaimed barn wood. Chairs, tables, you name it: Sauer breathes new life into old timey materials left and right.
IMAGE COURTASY OF SARA LEGRADY
FEMALE FORM: Bunker newcomer Sara LeGrady will present her powerful feminist artwork at SLO's eclectic artist collective next Saturday, June 27.
"I asked him, 'What are you doing with all the hardware?'" Younger said. "His eyes widened. He had buckets and buckets of hinges, cool old knobs and latches—just rusty crap."
See, Younger likes "rusty crap" more than most. Metal spatulas, colanders, and bike sprockets: all that jangly swap meet goodness. Those oxidizing shards of metal, combined with warped wood and discarded trinkets, come together to create her homespun Bricolage folk art.
Her layered, corroded hanging pieces are shown and sold at art shows (the wood burn poster she created for this year's Live Oak Music Festival will be auctioned off to benefit the annual event). Other pieces—hunks of wood and steel banged together with nails and adorned with glued-on baubles—are installed in her own back yard. This art's almost human: It has a birth, life, and death.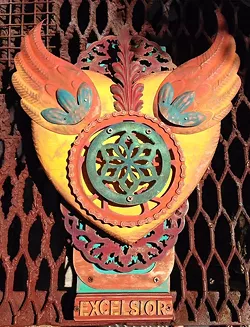 IMAGE COURTASY OF JANELLE YOUNGER
RECYCLE, REUSE: Janelle Younger is obsessed with swap meets, garage sales, and antique stores. Why? Just look at her artwork, which brings rusty metal and warped wood into funky focus.
"For me, that is the beauty—seeing the way things fall apart," Younger said. "I love the textures as the pieces are disintegrating. Wood develops interesting aged grain and metal rusts. It connects all of us, the way I use stuff we all have in our houses. It's the things we take for granted, the overturned kitchen drawer you've seen so many times. I like to do something completely unexpected with it."
Both Younger and Sauer will show their works at The Bunker during an upcoming June 27 group show.
Their crafty art will show alongside regular Bunker cohorts Neal Breton, Irene Flores, Chris Daly, and Jeff Claassen, among other SLOcal art stars.
Sara LeGrady's art will also be on display, and she's stoked to get her foot in The Bunker door. She's lived in SLO for a decade, using her talents to create signage for North County haunts like J. Dusi Wines and Vina Robles Amphitheater.
Now, she's coming into her own with vivid female-centric paintings that evoke an emotional resonance. Like the female form, her pieces are fluid yet strong, with an ethereal, lit-from-within look that warrants respect and appreciation.
"I believe in our right to express ourselves and be who we are, free from judgment or assumptions," LeGrady said of her work.
PHOTO COURTESY OF JANINE STONE
GIVE A GIRL A SAW: Janine Stone brings her functional, rustic woodwork to The Bunker's upcoming group show.
Speaking of "girl power," there's another fearless lady throwing her hat into the ring. Janine Stone will show what can happen "if you give a girl a saw," a hypothetical musing that also serves as the name of her Etsy shop.
Like Sauer's furniture and Younger's wall hangings, Stone's work utilizes upcycled wood—this time, from local lumberyards.
The result? Tribal wood panel breakfast trays splashed with Meyer Lemon color, wood paneled coasters too pretty to put drinks on, and plenty of gigantic wooden wall hangings adorned with geometric, Native American-inspired designs.
"It all started when I wanted to make a shoe rack and had no idea how to do woodwork whatsoever," Stone said. "I found out how to make a few cuts of a saw to make the rack, and it blew my mind. You can do so much with a saw."

WHERE THE HECK IS IT?: The Bunker is located at 810 Orcutt Road in SLO. The June 27 bash includes a special screening of the film Incognita by Chris Daly and beer provided by Bang the Drum Brewery. The Pairing Knife food truck will also be serving food throughout the night.
The show will feature the artwork of Chris Daly, Irene Flores, Don Frades, Neal Breton, Jeff Claassen, Bret Brown of Fiasco Gallery, Karen Loranne, Josh Brinckerhoff of Culpritmedia Group, HoneyBee Cakery, Barn Boy Furniture, Missy Reitner-Cameron as well as guest artists Sara LeGrady, @Deeries, Janelle Younger, Steve E. Miller, and Jeanine Stone.
A headboard and coffee table came next. When Stone ran out of room in her own house, she started the Etsy shop.
Now, the woodworker's creating functional forms and hanging visuals—pieces you can both admire and safely eat off of. It's been a whirlwind of sorts. Stone began creating her work in December. Now, just six months later, she's making her big splash in SLO's energetic underground arts scene.
"I'm just really excited to meet all the other artists," Stone said.
If that's not the point of an art space like The Bunker—to connect emerging artists with audiences—I don't know what is.

Hayley Thomas is looking at her old silverware in a new way at hthomas@newtimesslo.com.