It's hard to believe UB40 has never played here before, but apparently their Friday, July 7, show at the Avila Beach Golf Resort is their Central Coast debut (doors at 5:30 p.m.; all ages; $37.59 to $90 tickets at Boo Boo Records or eventbright.com).
Photo Courtesy Of Ub40
BIRMINGHAM BOYS UB40 founding members—(left to right) Mickey Virtue, Ali Campbell, and Astro—play the Avila Beach Golf Resort on July 7.
Best known for the Neil Diamond cover "Red Red Wine" (No. 1, 1988) and "Can't Help Falling in Love" (No. 1, 1993), first made famous by Elvis Presley, UB40 is one of the most successful reggae bands in the world. They formed in 1978 in Birmingham, England, as a group of multi-racial layabouts whose band name came from the British unemployment form.
They began playing on instruments bought with money paid to guitarist-singer Ali Campbell from injuries sustained in a bar fight, and they were so bad they nearly quit, but by the end of a year, Chrissie Hynde of The Pretenders had invited them to tour with her band.
They've charted more than 50 songs on the UK Singles Chart, earned multiple Top 10 Gold and Platinum selling albums, been nominated for Best Reggae Album Grammy four times, and in 1984 they were nominated for the Brit Award for Best British Group. All told, they've sold more than 70 million records.
The original lineup included musicians of English, Irish, Jamaican, Scottish, and Yemeni descent, and today the band contains three original members: Campbell, Astro, and Mickey Virtue, who have reunited once again to bring their show to Avila Beach.
Expect to hear hits such as "Food for Thought," their version of Sonny and Cher's "I Got You Babe," and more. Matisyahu and Ragin Fyah will open the show. A portion of the proceeds benefits the Rossi Foundation—a nonprofit 501c3—and all the community charities it supports. This show is brought to you by California Roots and Otter Productions Inc.
Get your pride on!
Central Coast Pride has a bunch of great events coming up this weekend, starting on Friday, July 7, with the annual Drag Show, at the SLO Guild Hall (6:30 or 8:30 p.m.; 21-and-older; $20 at slopride.com). Hosted by Tommi Rose, the event includes three stars from RuPaul's Drag Race. Doors open 30 minutes before show time.
SLO Brew hosts Stronger Together—Pride Party on Saturday, July 8 (10 p.m.; 21-and-older; $15 at ticketweb.com), with emcee Grace Towers. Proceeds from the dance party benefit SLO Pride.
Photo Courtesy Of The Abba Band
DANCING QUEENS Tribute act The ABBA Show is one of the many performers to play Pride in the Plaza on July 9, in the SLO Mission Plaza.
On Sunday, July 9, Pride in the Plaza returns to the SLO Mission Plaza (noon to 5:30 p.m.; all ages; free), with entertainment all afternoon, including punk style '80s pop by the Makeover Band, an ABBA tribute by The ABBA Show, and a Lady Gaga tribute by Tierney Allen. Afterward, the fun moves to Novo Restaurant & Lounge from 5:30 to 9:30 p.m. Seating is limited, so first come first served (all ages; free).
Shuck yeah!
The sixth annual Central Coast Oyster Festival is happening this Saturday, July 8, at the Avila Beach Golf Resort (noon to 8 p.m.; all ages; $25 general admission, $10 child admission, and $38 tasting tickets available at centralcoastoysterfest.com).
Photo Courtesy Of Atlas Genius
SHELLFISH MUSIC Australia's Atlas Genius headlines the sixth annual Central Coast Oyster Festival on July 8, at Avila Beach Golf Resort.
Australian alt-rock headliner Atlas Genius went from a little-known Aussie act to international stardom after their song "Trojans" was featured on the Neon Gold website, resulting in 45,000 downloads in the U.S. as well as several record label offers.
Formed by brothers Keith (vocals/guitar), Steven (bass), and Michael Jeffery (drum), along with English friend Darren Sell (keyboards), they started as a cover band, using their earnings to build their own recording studio. By the time they signed to Warner Bros., they were a trio after Steven left the band. They recorded Inanimate Objects, their follow-up to their debut When It Was Now, in California, releasing it in 2015, meaning they're just about due for another album, so expect some new material.
Other performers include Oakland-based hip-hop collective the Zion I Crew, deep grooving reggae act El Dub, jam band The Alpine Camp, and local singer-songwriter Chad Land.
Bring your appetite!
Splish splash!
Hayley and the Crushers return to Sally Loo's for the second annual Summer Crush Pool Party this Sunday, July 9 (6 to 9 p.m.; all ages; free). Like last year, the event features original art and set design by Neal Breton and begins with a DJ set by DJ Mano Gil, not to mention summer goodies such as gourmet cotton candy courtesy of Haute Sugar and delicious food and punch from Sally Loo's.
Photo Courtesy Of Hayley And The Crushers
DIVE IN! Hayley and the Crushers bring their surf rock to Sally Loo's during the second annual Summer Crash Pool Party, with a pool-centric set design by Neal Breton.
"Pride in the Plaza is the same day from noon to 5:30," Crushers front-diva Hayley "Crusher" Cain said in an email. "Our bash will take place immediately after. We hope to support the local LGBTQ community with a suggested donation to 5 Cities Hope, a very new grassroots nonprofit that creates fun and safe events for this vibrant community in the Five Cities area."
Bring some extra dough and pick up a copy of the Crushers' debut album Jewel Case, a great collection of bobbing fun summer surf songs with a punk edge.
"The main spectacle is local artist's Neal Breton's new poolscape brought to life by plywood, paint, spray paint, and cardboard," Hayley added. "Members of the band, local business owner Jenn Hix, and Neal are working together to create this artscape—which promises to be bigger and better this year. Prizes will be given for best Beach Goth and Beach Bunny, so attendees are encouraged to dress in their favorite summer garb. Hawaiian shirts, grass skirts, floatie toys, sunglasses, summer hats, board shorts, and even swimsuits are all encouraged!"
Heathens at the gate
Good Medicine Presents brings Austin-based Americana rockers The Band of Heathens back to the Central Coast for an intimate night of wine and a catered dinner on Tuesday, July 11, at Paso's Treana Tasting Cellars (6:30 p.m.; all ages; $65 presale at ticketfly.com, or $75 at the door ... if available; tickets are limited).
Photo Courtesy Of The Band Of Heathens
AUSTIN BOYS The Band of Heathens play a special dinner show on July 11, at Paso's Treana Tasting Cellars, for an intimate evening of Americana rock.
The band is touring in support of Duende, their fifth studio album, whose title means "1. a quality of inspiration and passion 2. a heightened sense of emotion, expression, and authenticity 3. a spirit," according to the band's bio.
As co-founder Ed Jurdi explained in press materials, "It's the essence of the artist." Or as bandmate Gordy Quist added, "It's a word we don't have an equivalent for in English. Artistically, that's where we tried to set the bar, to do what this band does best."
The band—Jurdi (guitar, keys, vocals), Quist (guitar, vocals), Trevor Nealon (keys, vocals), Richard Milsap (drums, vocals), and Scott Davis (bass, vocals)—have been at it since 2006, delivering everything from acoustic charmers to upbeat rock.
On Duende, you can hear high-energy rockers such as "Trouble Came Early" and "Keys to the Kingdom," or the pedal steel twang of "Green Grass of California"—"an ode to the more potent strains of sensimilla on the dispensary shelf and a fervent plea to 'legalize it.'"
Songs explore everything from the sacrifices of life on the road ("All I'm Asking") to materialism ("Keys to the Kingdom"), from social media ("Cracking the Code") to Mexican immigration in an era of discrimination ("Road Dust Wheels").
"While modern technology has certainly allowed us to stay in touch over vast distances—something a band that lives on the road certainly appreciates—it doesn't really provide the authentic connection we crave," Quist said. "We've created a portal through which we lose ourselves and miss what's really going on right in front of us, hiding the fact that our supposed connected culture can be a really lonely place."
Added Jurdi, "I feel the album brings together all our influences, everything we've done over the years as a band. We've touched on every part of our career ... our roots, some singer-songwriter contemplative stuff, [and] some high-energy rock 'n' roll. It's all us, the record we were supposed to make. Ten years later, that's what keeps us coming back."
Duende charted at No. 1 on Americana Radio list, with "All I'm Asking" now at No. 22 on the Triple-A charts. This is a great live act! If you're looking for a night of good music, good wine, and good food, get your ticket before they sell out.
More music ...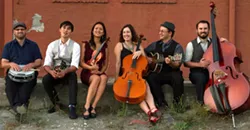 Photo Courtesy Of Dirty Cello
BLUEGRASS BIZ San Francisco-based blues and bluegrass band Dirty Cello plays the second annual Bluegrass, Blues, and Buffalos show on July 8, at Lazy Arrow Adventures.
The Clark Center hosts the Beach to Broadway Summer Recital this Saturday, July 8 (6 p.m.; all ages; $20 tickets at 489-9444). Student performers from The Studio of Performing Arts will sing, dance, and act their way into your heart.
San Francisco-based blues and bluegrass band Dirty Cello will play the second annual Bluegrass, Blues, and Buffalos show on Saturday, July 8, at Santa Margarita's Lazy Arrow Adventures (6 to 9 p.m.; all ages; $15 at brownpapertickets.com), located at Camatta Ranch, a 32,000-acre ranch with more than 250 exotic animals including buffalo, deer, wild fowl, Hungarian pigs, and zebras. Local rockabilly act the Bonneville Phantoms open the show. Tickets includes lemonade, iced tea, and a grill if you want to barbecue. "You bring the meat, we'll supply the heat!" organizers said.
Photo Courtesy Of Daniella Smith
CHANTEUSE Singer-songwriter Daniella Smith plays Linnaea's Café on July 8, bringing her ultra mellow jazzy sounds.
Two singer-songwriters—Caleb Tesnow and Daniella Smith—play Linnaea's Café this Saturday, July 8 (7 p.m.; all ages; free). "Caleb is a folk-rock singer-songwriter with an incredibly powerful story," Smith wrote in an email. "He spent over five years in the U.S. Army with two combat deployments, one in Afghanistan and one in Iraq. He's now trying to musically spread awareness about the fear that controls the human experience, through thoughtful lyrics and energetic music and showmanship." Of her own musical style, Smith added, "I'm an ultra mellow jazzy singer-songwriter passionate about the communication and connection tool that music is for people."
The SLO County Jazz Federation presents the Dave Becker Sextet featuring acclaimed L.A. trombonist Kevin Hicks on Saturday, July 8, at the Unity Concert Hall (7 p.m.; all ages; $20 general admission, $15 for Jazz Fed members, or $10 for students, in advance at brownpapertickets.com or Boo Boo Records). The three-man front line—Becker (saxes), Bob Bennett (trumpet), and Hicks on (trombone)—will play straight-ahead jazz reminiscent of Art Blakey's Jazz Messengers. The group also includes Marshall Otwell (piano), Darrell Voss (drums), and Dylan Johnson (bass).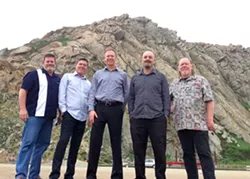 Photo Courtesy Of The Dave Becker Sextet
STRAIGHT AHEAD JAZZ The SLO County Jazz Fed presents the Dave Becker Sextet on July 8, at the Unity Concert Hall.
Santa Barbara-based original psych indie rock and blues outfit Afishnsea plays Frog and Peach this Saturday, July 8 (10 p.m.; 21-and-older; free), delivering "sounds that get people grooving," according to the band.
Linnaea's Café hosts soul-fusion duo Jental & The Huz-Band this Tuesday, July 11 (7 p.m.; all ages; free), playing originals and "and a twist on some of your favorites from the '60s to today's top charts," the band said in press materials. Δ
Keep up with New Times Senior Staff Writer Glen Starkey via Twitter at twitter.com/glenstarkey, friend him at facebook.com/glenstarkey, or contact him at gstarkey@newtimesslo.com.