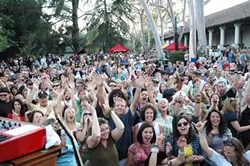 PHOTO COURTESY OF NADA RASTA
JOIN THE SHINY HAPPY PEOPLE! : Crowds of more than 2,000 people frequently gather to dance and buy five-dollar beers.
Like the swallows returning to San Juan Capistrano in March or retirees returning to Florida in October or baseball groupies returning to spring training in February (He hits! She runs! He scores!), we mark the beginning of summer not by the summer solstice (June 21, 5:16 p.m., in case you were wondering) but by the kickoff to SLO Concerts in the Plaza, which means Friday, June 10, at 5:30 p.m., is the true start of summer in SLO Town.
Drawing about 2,000 people every Friday, Concerts in the Plaza transforms Mission Plaza into a hot mass of humanity that is dancing, drinking, and totally not thinking about the fact that the Catholic Church is watching! Seriously, it's right there (No, don't look!) watching you guzzle brew after brew and rub your junk on that lady's thigh while twisting and shimmying to the devil's music!
Have you no shame? None? Yeah, me neither.
Nada Rasta, sponsored by Creeky Tiki, is first up this year. They were one of 70 bands that applied for the 13 spots, putting them in some pretty elite company. I mean, somewhere out there are 57 sad, lonely, possibly angry bands hell-bent on revenge for their talents being ignored by the Downtown Association, which picks the talent every year. (Their address is 1108 Garden St., suite 210, should you see fit to vent your ire. No reason to attack Mission Plaza or the bands that beat you like a redheaded stepchild. Just sayin'!)
So back to this Friday: In addition to free tunes, food and snacks are available for purchase from Palazzo Giuseppe and Pizza Solo, and Firestone Walker Brewing Company will provide the beer for those 21-and-older with some extra bucks in their pockets.
PHOTO COURTESY OF NADA RASTA
GET READY TO SKANK! : Reggae, ska, and rock act Nada Rasta kicks of the first SLO Concerts in the Plaza concert on June 10 at 5:30 p.m. in Mission Plaza.
"We are happily announcing J. Lohr Vineyards & Wines will be providing their award winning wines," said the Downtown Association's website, "[and] as always the bar opens at 5 p.m. Non-alcoholic beverages are available for purchase as well, and remember Concerts in the Plaza is a family friendly event; no outside alcoholic beverages or smoking is allowed in Mission Plaza."
Or anywhere in SLO Town for that matter. No smoking! Ever! No drive-thrus! No noise! No unruly gatherings! No underage drinking! No hunting the homeless! No stealing the police chief's car! No! No! No! You'd think we weren't allowed any fun at all … except two hours of music once a week and the chance to buy $5 beers.
Still, that's better than nothing, right?
"Beginning in 1996 with one concert in June, July, and August, Concerts in the Plaza—now in its 16th year—has blossomed into what some call the best free party in town!" gushed an e-mail I got from the Downtown Association. "You're invited to join us for the kick-off on Friday June 10th at 5:30 p.m."

GET DOWN!: SLO Concerts in the Plaza kicks off on Friday, June 10, from 5:30 to 7:30 p.m., with Nada Rasta, and then continues every Friday evening until Sept. 2. These free community concerts offer beer and wine for those 21 or older. The rest of the season features Truth About Seafood (6/17), Tropo (6/24), Cuesta Ridge (7/1), Zongo All-Stars (7/8), Damon Castillo Band (7/15), Resination (7/22), Criticnue (7/29), Guy Budd Band (8/5), Monte Mills and the Lucky Horseshoe Band (8/12), Burning James and the Funky Flames (8/19), The JD Project (8/26), and Big Daddy's Blues Band (9/2). Be there or be square.
Me? Little old me?
"No outside alcoholic beverages are allowed and this is a non-smoking event," the e-mail continued.
Yeah, got that memo, fun police.
"A note for business owners … if you are looking for some extra exposure at an affordable price, please see our list of sponsorship opportunities below and see how you can be a special part of Concerts in the Plaza!"
Hmm. I am looking for a little more exposure, but since SLO Town has an ordinance against public nudity … well, I guess I'll be attending clothed, but I promise plenty of free exposure in next week's column to any streakers! Come on! That'll make it a "family friendly event" for sure!

Glen Starkey takes a beating and keeps on bleating. Keep up with him via twitter at twitter.com/glenstarkey, friend him at Myspace.com/glenstarkey, or contact him at gstarkey@newtimesslo.com.