It is the source of all life on earth - every plant and animal in the world depends on it for food. It's the greatest and safest source of nuclear power within about 25 trillion miles, producing 5 million tons of pure energy every second. But don't stare at it - you could go blind. On the other hand, don't be so blind as to ignore it as the solution to our planet's so-called energy crisis.
As prominent statesmen lobby to drill the Arctic National Wildlife Refuge and pass legislation to subsidize oil refineries, the sun just sizzles away, so bright that most of us can't even see it. But as conventional energy sources dwindle, consumption soars, and prices skyrocket, more and more Earthlings are taking a closer look at the burning ball of hydrogen as an alternative to coal, oil, gas, and nuclear fission.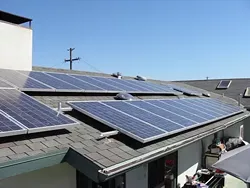 POWER TO THE PEOPLE: Jeff Oldham of Los Osos powers his home, workshop, Jacuzzi, and more with this 30-panel, 5-kilowatt solar power system, and still has enough energy left over to plug in his neighbors Christmas lights.
#While some still scoff at solar power as a fantastic dream of "free energy" - a notion as irreconcilably oxymoronic as "responsible drinking" or "war against terror" - many are coming to realize that solar energy is not just a pie in the sky.
One such solar enthusiast, Jeff Oldham, set up a 5,000-watt solar energy system on his modest Los Osos home about one year ago. Oldham shares the home with his wife, and although he has a hot tub, a koi pond, and a welding workshop running off of the system, he still produces far more electricity than he can use.
Without the 30 solar panels on his roof, Oldham estimated that his electric bill would run close to $200 a month. But with the power of the sun, Oldham ends up paying about $4 month, simply for the convenience of being plugged in to the grid.
Solar savings
"With the amount of stuff I'm running here, it's just amazing to be billed only $4 a month," Oldham said. "And the way energy is going up, it'll pay for itself in the next 10 years."
After the tax credits and government incentives - which change frequently - Oldham's $35,000 system ended up costing him about $23,000. And REC Solar, who installed the system, handled all the rebate procedures, so Oldham never had to meddle with the paperwork or fork over the initial $35,000. By saving almost $200 a month, or about $2,000 a year, the system will pay for itself in less than 12 years, based on current rates.
Larger families and less moderate consumers of electricity will see the benefits of a solar energy system add up even faster. Kurt Jackson, his wife, and three young children occupy a 7,700-square-foot home on about two acres in rural Arroyo Grande. Before installing his 5,000-watt solar unit, Jackson was looking at monthly electric bills in the high $300s.
While the investment might not be financially practical for smaller homes with electric bills in the double digits, Jackson contends that "anyone over $150 a month should look into it."
Jackson now powers his home, including a hot tub, sauna, outdoor lighting, and myriad appliances, on solar energy. And at the end of the month he usually owes PG&E a paltry $25.
"Everyone's got that threshold of pain," Jackson said. "Mine was the $300-a-month utility bill."
For him, the decision to go with solar was a "no-brainer." Of course it's good for the environment, he explained, and everyone can feel good about that. But with all the sunshine that soaks the Central Coast, the benefits are clear as day.
Jackson compared his system to having a free gas station in his driveway. It's like having all the gas you want, and all you need to do is buy the pump, he said.
Before moving to Arroyo Grande, Jackson outfitted his previous residence - a smaller San Luis Obispo home - with a similar system, which also cost about $23,000. The Jacksons ended up moving out of that home just a year later, much sooner than they expected, and not nearly enough time for the system to pay for itself through lower utility bills.
The system did, however, make the house a far more attractive investment when it came time to sell. Unlike the rest of the virtually identical homes in Jackson's neighborhood, his was equipped with a $20,000 energy system that would lower the household utility costs by a few hundred dollars a month. So according to Jackson - who happens to be a financial consultant - homeowners would be very wise to use an equity line of credit to invest in such a system, knowing that they'll not only lower their utility bills in the short run, but also recoup the costs through the value of their home in the long run.
Extra energy
A digital meter on the side of Oldham's house measures the amount of energy he produces with his solar unit, and subtracts that from the amount of energy he uses in his house. Already, he's earned more than 16,000 kilowatt/hours of credit for the year.
There's a widespread rumor that solar customers who produce more energy than they use can sell that excess energy back to PG&E and collect a refund at the end of the month. But Sharon Gavin, spokesperson for PG&E, dispelled that myth. In accordance with State Assembly Bill 58, which went into effect in 2003, customers cannot sell their power back to the grid, but according to PG&E's "net metering system," customers can earn full retail credit for their excess power, and they have one year to redeem
that credit.
During the day, when the sun is shining and the lights are off, Oldham says he can watch the meter spinning backwards, racking up credits that reduce his utility bill to pocket change. At night, when he's working and the lights are running, he draws back the energy he needs.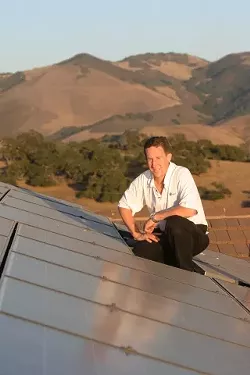 GOOD DAY SUNSHINE: Easy on the pocketbook, easy on the Earth, solar energy is attracting a growing constituency on the Central Coast. Kurt Jackson powers his A.G. home with this 5,000-watt rooftop photovoltaic system.
#Even in foggy Los Osos, the sun provides more than enough energy to power the community. In fact, the cool coastal climate actually enhances the efficiency of the solar panels. Oldham claims to get about 98-percent efficiency from his panels, and with occasional cleaning, they should maintain efficiency for at least 20 years - REC backs its product with a 25-year warranty. The fog in Los Osos keeps the panels cool, and it doesn't interfere with solar energy production so long as the UV rays get through. Systems in places like Atascadero are actually slightly less efficient, Oldham said, because they get so hot and are unable to absorb as much radiation.
With his thousands of kilowatt/hours of PG&E credits, it's clear to Oldham that he'll never use as much energy as his system produces. It's literally more energy than he knows what to do with. He's running extension cords to his neighbors to power their outdoor lighting and decorations through the holidays, but that won't use it all. He even has plans to expand his workshop and his ponds, even to build a large-scale greenhouse in his backyard, just to make use of all his electricity.
Oldham's neighbors are constantly stopping to admire the rows of solar panels that line his roof and asking him about the system. A satisfied solar customer, Oldham always extols the benefits of solar energy, but many of his neighbors are senior citizens who live on fixed incomes and can't afford the initial investment to convert to solar.
The bigger concern in his neighborhood is the price of the sewer, which has threatened to approach $300 a month. Like the sewer, the cost-benefit analysis of converting to solar is no simple matter. Oldham even compared the Los Osos CSD to PG&E - he's not sure what either will do next.
But he hopes PG&E will change its policy and start buying back excess energy credits. In that case, Oldham would begin collecting a tidy sum from the electric company each month. Not only that, but he'd also have some incentive not to leave his lights on all the time. As of now, he leaves lights, TVs, and stereos on, knowing that it doesn't cost him a cent.
Jackson gets a lot of questions about his alternative energy system, too, and he's consistently amazed by how little people know about solar energy. People are afraid of it, he said, because they think you won't be able run your refrigerator when it's raining. Jackson runs into the same ignorance when he tells people about his Toyota Prius, a hybrid that runs on gas and electricity and gets about 42 miles per gallon. People are always asking if he has to keep the car plugged in when he's not driving or if he's got enough power to get over those steep hills.
Beams of hope
Equipping your home with solar power is easy, but homeowners aren't the only ones doing it. From San Luis Obispo's Palm Theatre to Twin Falls Vineyard in San Miguel, business owners, too, are recognizing the benefits of solar energy. Other individuals, meanwhile, are installing solar panels on their RVs and pleasure boats as a practical way of backing up their battery power.
PG&E, which services Central and Northern California, already has over 8,000 customers producing their own solar power, Gavin said. Half of the solar systems in the U.S. are actually in PG&E's coverage area. The power company also makes payments to the California Energy commission to fund public-good programs that include cash rebates for solar units under 30 kilowatts.
As natural disasters scar the South and manmade catastrophes strike the Middle East, energy prices seem likely to rise. So the choice is simple: Prepare to pay higher bills, or prepare yourself with renewable resources. People like Oldham and Jackson have prepared themselves, and their satisfaction shows, as they encourage others to do the same.
"All you see are increases in energy costs," Jackson said, "and you know that doesn't affect you."

---
Cal Poly wins third place in D.C. solar competition
After years of planning and weeks of judging, the Solar Cal Poly team won third place in the Solar Decathlon, the Department of Energy-sponsored competition to design an environmentally friendly home. The team trucked its home to D.C. a month ago where it has remained on the National Mall for public viewing and judging.
Cal Poly was the only school from California represented in the competition, and they trucked their entry farther than any other team. But the transportation of the house was not without incident. Ray Ladd of the Cal Poly School of Architecture and Environmental Design said the house was damaged by a hit-and-run accident in Tennessee.
PANEL DISCUSSION: Many residents dread the impact that a dozen solar panels will have on their homes curb appeal, especially if the front of their home faces south - the side where solar panels are most efficient. But for most, the economic benefits still outweigh the aesthetic drawbacks.
#Despite having to order rare tiles to fix the damage, Cal Poly took first place in two of the decathlon events: the lighting competition and Appliances Efficiency. They also scored second in the Architecture, Comfort Zone, and Dwelling categories. The University of Colorado came in first place and Cornell University came in second out of the 18 teams.
According to a press release, over the last two years more than 100 students from different departments contributed to the building of the house. The home will return to Cal Poly sometime next week where it will eventually be used as a center for ongoing education use. To learn more about Solar Cal Poly and see a time-lapse video of the house being built, visit http://solardecathlon.calpoly.edu/.
Master's Electrical Engineering student Robert Johnson said he was offered numerous jobs while in D.C.
"It was very exciting, probably the highlight of my higher education so far," he said.
Johnson said the team had to really strategize their power usage to gain third place. "It was a very intense competition, kind of on a nerdish level. It was a scientific chess game."
Johnson wanted to thank Hank Lewis of IBEW 639 for all his help with the project.
-John Peabody
---
Here comes the sum
Last month the California Assembly squashed what would have been the nation's largest solar power initiative. Authored by State Senator Kevin Murray and supported by Governor Schwarzenegger, the Million Solar Roofs bill included $2.5 billion in consumer rebates over 10 years and would have required solar panels as a standard option for new homebuyers. State and federal incentives still allow consumers to save about 30 percent on the cost of their solar installation, bringing the price of a basic, residential module down to about $15,000.