PHOTO BY STEVE E. MILLER
HAPPY GOATS COME FROM TEMPLETON : Happy Acres Family Farm in Templeton produces mouth-watering cheeses and refreshing skin products, and boasts an adorable cadre of four-legged employees.
All of the passionate local chefs I know shop SLO County's farmers markets, and every resident appreciates the farmers' motto: "Shake the hand that feeds you." I enjoy shopping directly from the farmers whether I'm at the market in Arroyo Grande, Morro Bay, or San Luis Obispo. You'll usually find me at the Arroyo Grande Farmers Market in front of Spencer's Market because it's closest to my Pismo Beach home. There, I always enjoy spending a few minutes discussing the market with restaurateur Clark Staub from Full of Life Flatbread in Los Alamos and his chef Brian Collins, and chef Pandee Pearson from Adelina's in Nipomo.
Whether you're a local or a tourist, there's something for everyone at each of our markets. You'll find most local artisans sell foods that travel well, even if you're far away from home. Recently, I was lured away from my neighborhood market by North County Farmers Market Manager Sandra Dimond, who invited me to the Templeton Farmers Market. It takes place in Templeton Park every Saturday morning from 9 a.m. to 12:30 p.m. This market provided my introduction to the outstanding products from Happy Acres Family Farm in Templeton, where you'll find exceptional goat cheeses and skin care products.
PHOTO BY STEVE E. MILLER
TASTES JUST LIKE … : The Happy Acres farm boasts more than 200 goats, but doesn't exclude other farm animals.
People laugh out loud upon hearing me say that, but it's no joke. They make an array of delicious cheeses—including Chevre, feta, and Tomo (their signature version of brie)—ice cream, and soaps. The same people often ask: "Do you eat it or smear it on your skin?" Interestingly, I learned that goats have the same pH balance as humans, so these skin care products moisturize the skin but never leave a greasy residue. Honestly, I've never used any skin care product that left my face or body as soft as these products do.
That day, the SLO chapter of Slow Food, a global grassroots movement to replace fast food with healthy foods from local producers, was in attendance, too. Happy Farms' gregarious owner Stephanie Simonin spoke to them quite candidly: "There are only two or three goat farms in California. It's very expensive to farm, and we're trying to keep our heads above water." Her products are outstanding, and both the skin lotions and cheeses are made by Simonin's mother, Laurie Scattini, who has an expert consultant in chef Antonio Varia.

THE FOURTH ANNUAL JAMES BEARD GALA: I've attended three of these extraordinary dinners, and I can't recommend this dining experience highly enough. Held at Lido Restaurant at the Dolphin Bay Resort in Shell Beach, this elegant dinner affair offers a seven-course epicurean dinner prepared by three outstanding local chefs. This year's star chefs are Evan Treadwell at Lido Restaurant, Deborah Scarborough from Black Cat in Cambria, and Budi Kazali from Ballard Inn in Ballard, near Los Olivos. Each course will be paired with fine Central Coast wines, including Claiborne & Churchill, Laetitia, McKeon-Phillips, Niven Family, Stephen Ross, Saucelito Canyon, Talley, and Wolff. This prestigious dinner is a tribute that's well-deserved by Central Coast chefs and winemakers who consistently provide us with exceptional dining. Reservations are required; cost is $200 per person, $175 for James Beard Foundation members, and proceeds benefit the James Beard Foundation and Cal Poly's agriculture and environmental sciences. Call Lido at 773-8900 for reservations.
Dimond was excited about introducing us to her newest addition to the market, chef Antonio Varia of Buona Tavola restaurants in Paso Robles and SLO, and his new salami brand, Allesina. Varia began producing salamis, christened for his mother's surname, when he opened the Paso Robles Buona Tavola three years ago.
On About.com, I discovered "salumi" or "salame" are the Italian words for cold cuts we Americans call salami. Varia offers four housemade salamis: "cacciatorni," a hunter's style salami with juniper berry; "salame al Barolo," the most robust style; "Sopressa del Cusio," pressed into a flattened shape and boasting extra garlic and spices; and "Finocchiona," which Varia describes as Italy's most loved pork product, and is aromatic from the addition of fennel seeds.
"To make good salumi, you need a good pig," Varia explained. "That's why I always buy Niman Ranch pigs. They're free range and a great product."
Don't skip past Varia's olivata, a recipe of chopped California black olives with mustard seeds, organic herbs, Italian olive oil, and balsamic vinegar. Like the French tapenade, Varia's olivata is a fabulous condiment.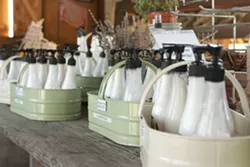 I was also pleased to see one of my favorite farmers from the Arroyo Grande farmers' market selling his outstanding produce in Templeton. Biodynamic farmer Ralph Johnson, who grows the most amazing lettuces I've ever tasted, was there with his full array of heirloom tomatoes, peppers, salad mixes, and dinosaur kale (even more nutritious than the regular healthy kale). Not only does he grow outstanding produce, he can tell you about the health benefits of everything on his tables.
I found an excellent new producer I wish came to my neighborhood market: McCall Farm. Paul McCall offers his delightful guacamole fresh from the family farm in Cambria. They grow avocados, citrus, and apples, farmed without pesticides or herbicides. McCall told me: "Every Saturday, just before coming to market, I make the guacamole." Held in ice chests to keep it fresh, that guacamole was the best pre-made version I've tasted in a long time. That's because we use almost the same recipe; his includes Haas avocados, lemon, cilantro, cumin, and jalapeno. The only difference is that I use lime and coriander (dried and ground cilantro). He also makes an extra spicy version, packed with a potent jolt of jalapeno.
Other farm products I liked came from John Lahargou, who offers dry-farmed watermelons at $6 each. Intensely flavored and surprisingly juicy, they're never irrigated and only get watered when it rains. There are also Paul Stoltey's honeys, which he's been harvesting locally for 53 years. Both of these farmers come to the Arroyo Grande Market on Wednesdays.
For more information about the North County Farmers Markets, go to northcountyfarmersmarkets.com. For everyday shopping, your neighborhood farmers market has everything you need. But you should also treat yourself to the pleasure of visiting other SLO County markets for one-of-a-kind foods from artisans you won't find anywhere else.
Contact Kathy Marcks Hardesty at khardesty@newtimesslo.com.