The mere mention of the words shop local, think global triggers guilt in most Americans, reminding them to recycle newspapers, ragged-edged tuna cans, and wine bottles. Even a little effort goes a long way toward making a difference, and it's not that difficult to go green. I only recently discovered that natural corks are recyclable I hate to think of the number I've tossed into the waste bin. When it comes to being green, I have a great deal of admiration for people like Mark London, an Arroyo Grande real estate developer and property manager. For him, conservationism isn't about meaningless catch phrases it's a lifestyle he fully embraces.
London opened the county's first green bar, the SLO Down Pub, where he's combined three things he loves: art, wine, and beer. It was a pleasure to see the outstanding result: The cozy pub offers reasonably priced wines ($7 to $11 a glass) and beers from artisans who produce their special beverages within SLO County. London has created a friendly wine bar he hopes will attract people who love to indulge in interesting conversation, be it about recycling, making artisanal foods and beverages, music, or politics. London, the managing partner who owns the property with two partners, wants the SLO Down Pub to be the local version of Cheers.
He only has one problem: getting the word out about this unique gathering place. The pub is located in the Green Home Galleria at Grand Avenue and Brisco Road in Arroyo Grande. On their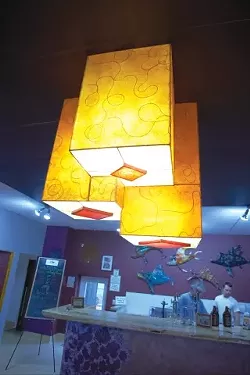 # website,
www.madeinsanluis.com
, they describe the galleria as a huge building lost in its own parking lot. And it's not easy to spot unless you're looking for it. But once you find the place, you'll love the pub's selection of excellent local wines and brews and its friendly staff, especially the affable London.
To get to the pub, you have to walk through the art gallery in front, and you'll certainly find it entertaining. They have these really cool looking chairs made from tree branches that reminded me of Treebeard, the leader of the Ents in Lord of the Rings. The gallery offers an array of green products, from functioning art and jewelry to solar energy options, furniture, and flooring. Everything here must be made of a minimum content of 80 percent sustainable, natural, and/or recycled local resources and made in SLO County.
Some of the artists like Evelyn Adams, an earth mother with a warm smile who also manages the galleria rent art studios inside the huge building. And all of the eco-art on display can be purchased. Adams and London co-own Made in San Luis Obispo, a homegrown market offering only locally produced products.
Among my favorite art pieces is the school of brightly colored, snaggle-toothed fish made from broken surf boards, hanging on the wall behind the bar. The SLO Down Pub doesn't offer food yet, although it provides pretzels. London is currently looking for a professional cook or caterer to make pre-made salads and sandwiches so he can provide some food choices for his patrons. They also offer entertainment with jazz or blues for special occasions and bluegrass jams on Sunday afternoons. You can find more information on their website or by calling the pub. Better yet, drop by for a glass of wine, beer, or Joe Bella coffee to see it all.
The micro-brews are made by Santa Maria Brewing Co. in Nipomo, and include pale ale, honey blond, amber ale, and porter. They're tapped from five-gallon kegs to keep the beers fresh. There are a number of excellent wines available, with many offered by the glass every day. The list continues to expand as London finds more wineries he likes. Choices so far include Claiborne & Churchill, Clautiere, Four Vines, Ortman, Tolosa, and Wolff, the latter from their historic and sustainably farmed vineyards.
London said that he plans to add more wineries that farm sustainably, but for now the only criteria to be sold in the pub is that the vintner produce the wine within SLO County. In fact, there are several excellent SLO County wineries that are committed to sustainable winegrowing practices, including Castoro, Domaine Alfred, Pipestone, Tablas Creek (the latter the only vineyard that's certified organic), Turley, and Wolff.
It's not just a marketing tool for these wineries. They do it because it's the right way to farm, said Keith Patterson, Ph.D. of Cal Poly's Crop Science Department. You can be more environmentally sound without being certified organic. Most of them don't become certified only because they don't want to deal with all of the paperwork that's involved.
Among those who are committed to improving the ecology of their vineyards is Jean-Pierre Wolff, owner and winemaker of Wolff Vineyards. Highly respected for using sustainable practices in farming his winegrapes, he continually works at improving soil management, integrated pest management, water management, and energy conservation. In fact, he's president of the Central Coast Wine Growers Association and a board member of the Coastal San Luis Conservation District and the SLO County Agriculture Liaison Board.
We are a biodynamic research site for the Central Coast Vineyard Team as part of a state research grant to reduce dependency on herbicides and pesticides, Wolff explained. We are also involved in a long-term project with the SLO Turtle Society: Our pond is a refuge habitat project for California native pond turtles, and the Department of Fish and Game for a fish habitat restoration in our two boundary creeks.
Most conservationists I know favor collaboration, and it's only a matter of time before London has at least one wine from all of these brands in his green pub. Guests who find a wine they like enough to take home can buy it as a bottle or by the case. London keeps the prices at the retail level, unlike restaurant wine lists.
We don't want this to be a bar where people go to party, London pointed out. We want people to drink responsibly, look at the art, and enjoy the art of conversation. I want to create a dialogue with the community.
He has a conditional-use permit that allows outdoor sales in front of the Green Home Galleria. Currently, Old Port Fisheries sells fresh fish and shellfish every Thursday afternoon.
I'm hoping to tie it in with locally grown produce so we can have a Farmers Market every Thursday, he said.
INFOBOX: Change your speed
SLO Down Pub in the Green Home Galleria is open daily at 1200 East Grand Ave. in Arroyo Grande. For more information, call 473-0102.
---
Contact New Times' Cuisine columnist at khardesty@newtimesslo.com.