Foodie seems like such a dated term, yet I see many food lovers like me regularly using it online. And we're all much alike in the fact that we're constantly looking for the next epicurean experience. Unfortunately, such dining isn't usually found at charity events where the food served is nothing worth writing home about (whereas great meals have always been an integral component of the upcoming Central Coast Wine Classic in July). That said, during the annual event Wine, Waves & Beyond (WW&B), guests can experience an amazing nine-course meal during the winemakers' dinner at Marisol at the Cliffs Resort on Saturday, June 1. Imagine the fun of indulging in a nine-course gourmet dinner with two choices in wine pairings. I did it and found it an excellent experience.
GO BEYOND: The outstanding four-day fourth annual Wine, Waves & Beyond event (Thursday through Sunday, May 30 through June 2) kicks off at the historic Fremont Theatre with the documentary Groundswell. Friday's barrel to barrel tasting offering 35 wineries and breweries, gourmet bites from participating restaurants, and live music; Saturday's nine-course winemakers' dinner features three wineries; and on Sunday there are longboard surf contests, and the 805 Classic with vintage VWs, live music, barbecue, and Firestone Walker brews on the beach near the Pismo pier. This charitable event is sponsored by the Boutique Hotel Collection, which owns the Cliffs, Sea Venture, Sycamore Mineral Springs, and the Apple Farm resorts. All proceeds benefit the nonprofit organization AmpSurf. Tickets to the winemakers' dinner are limited, so reservations are strongly advised. The other events will have tickets available at the door. Of course, it's always wise to get tickets in advance; contact Brooke Mattingley at 556-3306 or order online at winewavesandbeyond.com.
While I'm not easily impressed by every dish during any multi-course meal, I enjoyed most of it during the media lunch for local food and wine writers. I must say that the six chefs who prepared it impressed all of us. WW&B is sponsored by the Boutique Hotel Collection, so it's focused on the talented chefs from each of their hotels: Gregg Wangard and Hannah Ingham at the Cliffs, Robert Trester at Sycamore Mineral Springs, Casey Walcott at Sea Venture, and Steven Smeets and Willie Vey at Apple Farm. This excellent dinner is amazingly priced at $75, all inclusive, for nine courses paired with an array of wines from three excellent brands: Chronic Cellars, Cypher Winery, and Barton Family Wines.

APPLE FARM PASTRY CHEF WILLIE VEY'S TRANQUILO-BRANDIED CHERRIES: • 1 lb. Bing or local dark sweet cherries (or frozen), pitted • 1/2 cup water • 1/2 cup light brown sugar, packed • 3 whole cardamom pods • 1 tsp. lemon zest, freshly grated • pinch of salt • 1/4 cup brandy • 2 tbsp. Tranquilo (Chronic Cellars late harvest syrah) • 1 tsp. pure vanilla extract In medium saucepan, simmer water, brown sugar, lemon zest, cardamom pods, and salt over medium heat for 5 minutes. Remove from heat and add cherries, brandy, Tranquilo, and vanilla extract. Let cool and transfer to jar, then cover and refrigerate for at least two days before using.
In past years, Chronic Cellars, well known even by amateur wine drinkers for its Sofa King Bueno Rhone red blend, joined Firestone Walker to provide outstanding adult beverages for the winemakers' multi-course dinner. But this year the Beckett brothers, who own Chronic Cellars, were joined by their fellow Paso winemakers, Joe Barton of Barton Family Wines (and Grey Wolf Cellars) and Christian Tietje of Cypher Winery in Paso Robles. Their unique pairings were delicious and interesting with each course. The dinner and the barrel-to-barrel grand tasting always take place at the Cliffs Resort. Advance reservations for the winemakers' dinner are urged (contact details are in the info box).
Multi-course meals, surfing heats, winemakers, brew masters, chefs, musicians, and classic cars make this quite the pleasurable affair, but we must not forget the main reason for supporting WW&B: All proceeds benefit the Association of Amputee Surfers, aka AmpSurf. Over the last three years, WW&B has raised more than $45,000 to help this outstanding organization that helps Wounded Warriors and anyone else with disabilities, as well as their families. A nonprofit organization, AmpSurf works with clinics to provide feedback to the medical staff, therapists, and manufacturers of prosthetic devices. They help enhance the design and performance of prosthetic equipment in sports and everyday life. AmpSurf's mission is to promote, inspire, educate, and rehabilitate all people with disabilities.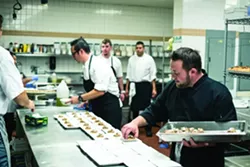 PHOTOS COURTESY OF KAMIL KONRAD FOR WINES, WAVES & BEYOND
BOUTIQUE CHEFS : Chefs Casey Walcott of Sea Venture and Robert Trester of Sycamore Mineral Springs will be serving us some tasty treats.
What fun to be able to join these great American heroes in the longboard surf competitions, which feature surf heats for men, women, challenged athletes, and winemakers vs. brew masters. The contest takes place next to Pismo Beach Pier on Sunday, June 2, from 7 a.m. until 3 p.m. Two thousand dollars in cash prizes will go to winners thanks to sponsorship by the city of Pismo Beach. The entry fee is $30 per contestant. The 805 Classic, taking place in front of Sea Venture Resort, will have a vintage Volkswagen display, live music by Soul Sauce and the Crisptones, barbecued treats by Sea Venture chef Casey Wolcott, and Firestone Walker brews beginning at 11:30 a.m.
MOUTHWATERING : Apple Farm chef Willie Vey's brandied cherry tartlet will have you begging for more.
The winemakers' dinner features two desserts, including Vey's chocolate tartlet paired with Chronic Cellars Tranquilo. To keep this interesting for foodies who love to cook, I asked pastry chef Willie Vey to provide part of the recipe for the delightful dessert she created for the winemakers' dinner. She served the Tranquilo-brandied cherries with dark chocolate ganache in a walnut pastry tartlet with strawberries and cream, which was paired with Chronic Cellars Tranquilo late harvest syrah. You can substitute any late harvest wine you have on hand, including port in her recipe. Chef Willie suggested: "This recipe can also be used for pouring over ice cream, yum!"
DELICIOUS : Apple Farm Chef Steven Smeets creates lamb loin with polenta, pork belly, peas, and tomato gastrique.
Contact Cuisine columnist Kathy Marcks Hardesty at khardesty@newtimesslo.com.