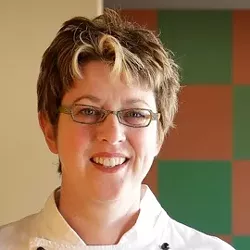 PHOTO BY STEVE E. MILLER
MAEGAN LORING OF THE PARK: Local restaurants are adapting to the economic downturn in creative ways.
I received a call from chef Maegan Loring of the Park at 5 p.m. Tuesday, July 14, telling me her SLO restaurant would be shuttered after the following night's service. I was floored by the sad news. "We've been barely eking along and after the first of the year, doing a month-to-month contract with the landlord and C.O.D. on orders," she admitted candidly. "It's been six-and-a-half years and I always woke up looking forward to coming here in the morning. The night we told the employees, we sat here until 3 in the morning crying. We were like family."

I was totally bummed out but she had already moved on, focusing on the positive. She discussed her plans to build up her catering business, which has always been popular. She was considering the new Los Angeles trend of creating a mobile business, possibly featuring her wonderful "Wednesday hamburger night" theme. Then she could tweet her customers with news of where she would be parked around SLO County. For Loring, it was simply the end of a special time in her life. "I've always felt I lived a charmed life, and I still do."

The recession is tough on everyone, but especially so for local restaurants. Dining out is the first thing most of us cut from the budget during a recession, understandably. But consider this: more of our mom-and-pop places, be it restaurants, wine shops, or our favorite specialty food producers, will fail without our business. Most of us can keep dining out affordable simply by cutting back on our order. As a restaurant veteran, I know that even in good times it's tough to survive. Which begs the question: How do restaurants stay viable in a recession while food costs rise and customer sales sink? I called three excellent SLO County restaurateurs to ask, "What's the key to survival?"


PHOTO BY STEVE E. MILLER
JOSE DAHAN OF ET VOILA:
At Et Voila in SLO, chef Jose Dahan said pointedly: "I have to work harder than ever while keeping the place open with a minimum of staff. I don't cut corners or waste food, and I keep creative as much as possible." Dahan believes the key is not to panic and to improve the offerings; the worst thing a restaurateur can do is focus on the economy. He explained it's important to keep menu prices as low as possible and remain consistent. Fortunately, his catering business helps him through the slow weeks at his restaurant. The most important part, he said, is giving customers what they want. "Customers want to see you when they come in. You need to be happy to see them, and take care of them all of the time. I want them to think of me when celebrating something in their life and knowing we'll make it special."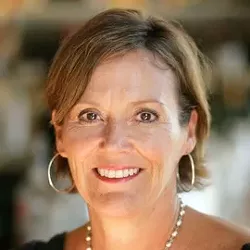 PHOTO BY STEVE E. MILLER
PATTY CARPENTER OF CORNER VIEW:
Patty and Bill Carpenter, who own and manage Corner View Restaurant in SLO, saw a significant drop in sales during June. "We planned an untimely trip to Spain, and discovered it's slow in Europe. I don't know what the answer is; I wish I had one for all of us," she admitted. Noting that no one wants to see a competitor close, she said she had to ask her staff to cut a shift weekly. "The more good restaurants we have, the more people will come out to eat." The Carpenters hired a new chef, Matthew Beckett, formerly at the SLO Country Club, who plans to introduce his new menu in two weeks. "We've cut shifts, hired a chef, and we're looking at costs, value, and the excitement factor," she explained. "I'm a firm believer that if you throw enough at it, something's got to stick."
PHOTO BY STEVE E. MILLER
IAN MCPHEE OF MCPHEE'S GRILL:
Long-time local chef Ian McPhee, founder and chef of McPhee's Grill in Templeton and Avila Beach, answered honestly: "I don't know what the key is; you've got to have a certain amount of luck. I've made enough adjustments in labor to handle it, and I'm riding this out." As owner of his building in Templeton, he said he's happy he's not a slave to his bank. The practical businessman explained during the good times he made double mortgage payments. For McPhee it's a matter of being flexible in business. "A lot of people get into the business because they love to cook and don't set themselves up. Then they become slaves to their business."

THE INAUGURAL CENTRAL COAST WINE GROWERS COOK-OFF AT SALISBURY VINEYARDS : Saturday, July 25, noon to 3 p.m.


Come join the fun as guests and professionals (including me) taste and judge the creative dishes from five popular Central Coast vineyards, which will be paired with their wines. This cook-off is sure to be lively and tasty as the cooks do their best to knock out their competitors. The vineyard members of the Central Coast Wine Growers Association include: Bien Nacido, Kendall Jackson, Laetitia, Los Alamos, and Salisbury. Undoubtedly, the food and wine offerings will be generous. Held at Salisbury Vineyards, 6985 Ontario Rd., Avila Beach (alongside Hwy. 101 southbound), it's sponsored by: CCWGA, Farm Supply Co., Riedel Crystal, and Salisbury Vineyards. Advance tickets can be ordered at the CCWGA by calling 928-4950, or by visiting Salisbury tasting room, just $25 per person. If you wait to buy tickets at the door, it will cost you $30 per person.
McPhee, like Dahan, believes the customer must come first. "If you're not doing the best job you can, you'll lose customers. My byline is 'dedicated to great food and great service,'" he noted. "When you come to McPhee's you know what you're getting." With his service staff, McPhee said there's only a certain amount of labor possible to give up. If you only have one waiter on and the restaurant fills up, it can kill a reputation. "It's my business and my name is on it. I train my staff personally so I know they're not over-charring the meat. If worse comes to worse and I had to go back to the (cook's) line, I'd do it," the savvy chef stated.

FINAL SALE AT SHADOW CANYON IN SLO: In a close-out that begins on Thursday, July 23 in Shadow Canyon's tasting room at 956 Monterey St. in SLO (corner of Osos Street), all wines and accessories in stock will be sold at 50 percent off. This is an excellent value for Viognier, Syrah, and more varieties from a top-notch winery. The tasting room is open Thursday through Sunday from 1 to 6 p.m.
He recalled his early years when he cooked every night, yet always found time to go into the dining room to greet his customers. "Everybody wants to feel special and if you're not there so the customers can see you, they won't come back."
I'm confident SLO hasn't lost chef Maegan Loring, She's passionate and focused. "I have no regrets. It's not that we didn't succeed, we chose to get out safely," she concluded. "A new restaurant is very likely in our future."
You can reach New Times' Cuisine columnist at khardesty@newtimesslo.com.