PHOTO BY ZED WILLIAMS
OLD-SCHOOL GYPSY JAZZ : The awesomely talented Tipsy Gypsies play June 13 at Sustenance Cooking Studio, which will be serving up barbeque and summer salads during a BYOB concert.
My favorite place for lunch is about to make another foray into music this Sunday, June 13
when Sustenance Cooking Studio hosts The Tipsy Gypsies
, a terrific gypsy jazz band that blends the musicality and feel of Django Reinhardt with the lovely, lilting vocal style of Billie Holiday, all wrapped up in a tight, retro quintet.
The group's most recent album was a revelation, a collection of hook-laden, sassy tunes that seethe with swagger and soar with snotty irreverence. The band promises to be debuting some new material, too, so fans won't want to miss it!
The all-ages show runs from 1 to 4 p.m. and costs $10 (kids are free). A barbeque dinner will also be available for purchase, but attendees are encouraged to bring their own beer and wine (if you're 21, of course!) Sustenance is located at 2033 Santa Barbara St., right across from the new Miner's Hardware.
"The Tipsy Gypsies, personal friends of Sustenance, are throwing down the jams this Sunday," said proprietor Seamus Finn. "We'll be grilling up classic barbeque favorites and throwing in some unique twists on old favorite summer salads. Bring your favorite beer or wine, and join us for a day of fun in the sun!"
If you've never been to the studio, stop in for lunch Mondays through Fridays between 11:30 a.m. and 1:30 p.m. You can buy a five-meal card for $50, which is good for five lunches—all made from locally grown, usually organic produce, with a vegetarian option always available. There're no taxes or tips since it's a private club and your lunch card makes you a member. You can also bring guests on your card.
In addition, Sustenance hosts regular cooking classes to show you how they prepare their healthy fare, and the open, light-filled space is available to rent for private parties and events. Join the community!
PHOTO COURTESY OF MICKY & THE MOTORCARS
GET YOUR MOTOR RUNNING : Americana act Micky and the Motorcars hit Downtown Brew on June 10.
Finger-licking country
This Thursday, June 10, sink your teeth into Micky and the Motorcars (7:30 p.m.; 18-and-older; $6 presale or $8 at the door) when this Americana-country act hits Downtown Brew.
They're touring in support of NAÏVE, their third full-length release, which the band says is its most cohesive record to date. According to frontman Micky Braun, in the past, "If a good gig came up, we had to leave the studio." This time around they saw the recording through from start to finish.
"We had a good amount of time off, so we did a lot of rehearsal, working up different arrangements and trying to figure out the right way to play them," said Braun. "That was kind of grueling, but it worked out."
Like any good country band, the album includes "your classic wife-cheating-on-the-husband, husband-comes-home thing," added Braun. Y'all can't go wrong with that.
Downtown Brew also has something for reggae fans this week when the legendary Barrington Levy plays on Wednesday, June 16 (7:30 p.m.; all ages; $25 presale or $27 at the door). The Jamaican dancehall star may be best known from the 1990s when he helped usher in the "jungle craze," in which DJs used remixes of his music to invent an all-new sound.
PHOTO COURTESY OF THE NORTHSTAR SESSIONS
SHOOTING NORTHSTARS : The Northstar Sessions have three shows for you this week: June 11 at The Clubhouse; June 12 at the Frog and Peach; and June 13.
Session men
L.A.'s Music Connection Magazine calls The Northstar Session a combination of "Wilco's neo-country glow and Travis' earnest optimism." The combo is the brainchild of Boston guitarist Matt Szlachetka, who said the band that today is The Northstar Session didn't come into being until he moved to Los Angeles and met up with drummer/songwriter Kane McGee (Los Angeles), and keyboardist/songwriter Dave Basaraba (Portland).
Together the trio has released two EPs and a full-length record, and they've got two more EPs scheduled for release this year. They list Hollywood's rock sound of the '60s and '70s as influences, and "have chosen to pay homage to many of these bands by recording all of their releases to date in studios in historic Laurel Canyon." Expect to hear "pop melodies with creative harmonies and countermelodies," which will remind listeners of Tom Petty and the Heartbreakers, Neil Young, The Allman Brothers, The Beach Boys, Delaney and Bonnie, Little Feat, and countless others.
See them Friday, June 11 at The Clubhouse at 8 p.m., Saturday, June 12 at the Frog and Peach at 10:30 p.m., and Sunday, June 13 at Mr. Rick's at 2 p.m.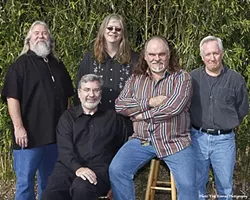 PHOTO COURTESY OF HOUSTON JONES
RAW HIDE! : On June 12, San Francisco cowpokes Houston Jones bring their high-octane Americana to Castoro Cellars.
San Francisco cowboys
Folks forget that San Francisco was one of the first real live wild-west towns in California, a rootin' tootin' town full of lore, prospectors, gamblers, railroad workers, fishermen, prostitutes, cowboys, and more.
This Saturday, June 12, you can hear some authentic, modern day, San Francisco cowpokes when Houston Jones, a high-octane Americana quintet from the Bay Area, performs an original repertoire of folk, bluegrass, blues, and gospel, during a 7 p.m., SLOfolks show at Castoro Cellars (All ages; $22; call 238-0725 or buy at Boo Boo's and Cheap Thrills).
The band's lead guitarist, Glenn Houston, won "Best Guitarist" in 2009 from the Northern California Bluegrass Society. Billboard Magazine said, "A wonderful gem of a band ... truly exceptional music ... these guys are a rare treat!" Dirty Linen gushed, "No one delivers the goods quite like Houston Jones ... one of the West Coast's most talented and entertaining bands!"
Formed nine years ago, the group features Houston, Travis Jones (lead vocals and acoustic guitar), Peter Tucker (drums and percussion), Chris Kee (standup bass and guitar), and Henry Salvia (keyboards and accordion).
This is an outdoor show, so please bring low back chairs. A catered dinner is available for an extra charge. The doors open at 6 p.m.
People helping people
Your Jazz Show, a locally produced cable access TV program that showcases local jazz players and concerts, really helps promote our vibrant local jazz scene, but it's not a moneymaker. Instead, it's more of a service to jazz fans who can't always get out to see live shows and to local musicians who are trying to reach a wider audience. The show depends on public donations, and one of its biggest fundraisers is coming up this Sunday, June 13 at Coalesce Bookstore (2 p.m.; all ages; $25; 772-2880).
And speaking of Coalesce Bookstore, the Morro Bay venue also deserves kudos for continuing to support the live music scene. Promoting these shows is a labor of love for all involved, from the musicians who donate their time for a worthy cause, to the venue that makes itself available for a fundraiser, to the promoter who works to get the word out.
The missing ingredient is you! Come out and support the continuation of the Your Jazz Show on Charter Communications Channel 2. This Sunday's concert features Dave Becker (woodwinds), Jeff Miley (guitar), and Dylan Johnson (bass). But that's not all! Cuesta College's #1 Jazz Combo will also perform, featuring Anthony Donatelli (woodwinds), Justin Pecoh (guitar), Jordan Keach (bass), and Graham Yates (drums).
We've got an awesome jazz scene; let's not lose it through apathy!
PHOTO COURTESY OF GRAND LAKES
LOCAL KIDS MAKE GOOD : Grand Lakes, an Oakland-based art rock act that's going places, including Steynberg Gallery on June 13, consists of all SLO natives.
The art of rock
Grand Lake may be an Oakland-based art-rock band, but I like to think of them as a local act because the quartet features SLO natives Caleb Nichols, Jameson Swanagon, John Pomeroy, and Danae Swanagon, who decided lil' ol' SLO Town wasn't big enough to hold their talent. They may be right.
They recently released Blood Sea Dream, their first full-length record, on the bi-coastal NYC/SF indie label Hippies Are Dead. Interestingly, in addition to a CD-release that happened two weeks ago, they're following it up with a limited vinyl release this week! An actual record! Do tell!
Grand Lake will perform a special daytime acoustic concert on Sunday, June 13 at the Steynberg Gallery at 3 p.m., performing acoustic arrangements of songs from the new album. The quartet will be joined by SLO's own Bob Liepman on cello and Salvador Garza on violin. Local alt-country outfit Sparrow's Gate will open with an acoustic set of their own.
This is but one show on the band's West Coast tour that find them performing at big venues such as Portland's Hawthorne Theater, San Francsico's The Fillmore and Bottom of the Hill, and Pehrspace in L.A. You get to hear them in a venue that will feel like they're playing in your living room!
PHOTO COURTESY OF WILLIAM NICHOLSON
MAGIC FINGERS : Watch New York guitar sensation and song man William Nicholson make it look easy when he plays Linnaea's Café on June 13.
He made it there!
You know what they say about New York! If you can make it there, you must live in a cockroach-infested fifth-floor walk up! No, I kid. It means you can make it anywhere, natch. Hear how New York guitar sensation and song man William Nicholson does it when he plays an 8 p.m. show at Linnaea's Café on Sunday, June 13.
Nicholson started on trumpet as a kid before transitioning to guitar. He now cites legendary jazzman Miles Davis among his many influences, which also include Pat Metheny, John McLaughlin, and Leo Kottke. He was lucky enough to study guitar with Windham Hill Records founding artist Alex deGrassi!
Mixing lyrical songwriting with virtuoso guitar playing, this graceful artist performs love songs, jazz, folk, Americana, classic rock, and alt-country … all on a one-of-a-kind 11-string harp guitar.
He has blown away audiences from Burlington to San Francisco, from London to Barcelona, delivering music that appeals to audiences of all ages and musical tastes.
What are you waiting for?
Come on, campers! Get with the program! The Live Oak Music festival is just one week away, so quit your lollygagging and buy your tickets now!
This 22nd Annual three-day show happens June 18 through June 20, and it's the biggest fundraising event of the year that benefits Public Radio KCBX. Visit liveoakfest.org to see the whole line-up, but trust me, there'll be more hot bands down there than you can shake a tambourine at! You can get weekend camping passes and hang the whole time, or buy day passes and see the likes of the Chicago Blues Reunion on Friday, The Dynamites on Saturday, or Rickie Lee Jones on Sunday.
Visit the website or order by phone at 781-3030. Full Festival Camping Tickets are $115 (adults); $75 (teens); $35 (children). Vehicle parking passes are required.

More music…
San Diego-based singer-songwriter Jon Ji will continue to plant the seeds of his jazz alt-folk and 21st century blues on the West Coast tour that'll take him to Paso's The Pour House this Thursday, June 10 at 8:30 p.m. (free; 21-and-older). The San Diego Reader describes Ji's music as "Cowboy bebop and gypsy crawl. Old-time jazz, like the Squirrel Nut Zippers with a little bit of groove music thrown in."
Vardo and the Lost Dogs are going to rock the Fuel Dock this Saturday, June 12 from 3 to 6 p.m. The four-piece band plays hard driving rock'n'roll in the vein of the Rolling Stones and blues-rock from the '60s into the early '70s.
De La Bahia will be at the Otter Rock Cafe in Morro Bay this Saturday, June 12, from 8 to 11 p.m., where they'll debut several new tunes, perfect for dancing Salsa, as well as favorites from their CD Siempre Caliente.
PHOTO COURTESY OF RUSTED STONE
TO THOSE WHO ARE ABOUT TO ROCK : Rusted Stone (pictured) and Society's Child promise to play a "kick ass night of rock'n'roll" on June 12 at Mongo's.
Rusted Stone
and Society's Child
promise to play a "kick ass night of rock'n'roll" this Saturday, June 12
at 9 p.m. in Mongo's. The two hard-rocking bands are going big for a small price: $2. "What a deal! How can anyone miss out on this event?" asked the band. How indeed!
Michael Toth, pianist with the Allentown (PA) Symphony and Crosswinds Trio, presents a classical piano recital featuring the music of Bach, Liszt, and Ginastera, in the sanctuary of SLO's First Presbyterian Church this Sunday, June 13 at 3 p.m. Toth has performed both in the United States and abroad as soloist and accompanist. The concert is free, but a good will offering with be gratefully accepted.
Grover Beach Parks and Rec has another free concert for you this Sunday, June 13 from 3 to 6 p.m. at Ramona Garden Park. Called the Sizzlin' Summer Concert Series, this Sunday kick back and enjoy the sounds of Up in the Air. Bring a blanket or lawn chair, chill on the grass and listen to great music, or shop for freshly grown fruits and vegetables, freshly canned jams, jellies and salsas, fresh flowers and plants, and much more at the Farmers Market. It's summer, so act like it!
Portland-based soul, blues, and rock act Ruby Hill lists a number of surprising influences—Jeff Buckley, Coldplay, Led Zepplin, Michael Jackson, Otis Redding, Aretha Franklin, James Brown—but if I had to pick a local band they remind me of, it'd be Damon Castillo. Tight musicianship, hooky tunes, harmony vocals, these guys have it all. See them Tuesday, June 15, at 10:30 p.m. at Frog and Peach.
Glen Starkey is a happy camper … or he will be next week at Live Oak. Contact him at gstarkey@newtimesslo.com.