W
hen I was young, from the age of 2 to about 38, I regularly indulged my sweet tooth with an array of sweet treats; I loved everything sugary from Bazooka bubble gum and glazed doughnuts to Coca-Cola and See's rocky road. I'm lucky I got over that and now I only indulge in a dessert on rare occasions. Now that I've discovered Éclair Bakery in Arroyo Grande, I may find sweet treats much more difficult to resist.
I have read many glowing comments on Facebook about Éclair by Gather Wine Bar owner Kari Ziegler. Her shrine to local wines is directly across the street from Éclair in the old village. She often recommends the ham and cheese croissant. My first taste test, however, had to be the chocolate-dipped cupcake, like a Hostess cupcake gone gourmet. At Éclair the decadent, rich marshmallow-like filling sits atop an intense chocolate cupcake and the entire treat is dipped in dark chocolate. I couldn't eat it all, it's so rich, and costs only $3. I was impressed at discovering they don't store a lot of cakes in the display, they prefer baking them to order.
The first visit I was waited on by Éclair owner and pastry chef, Jeremy Davenport, a fellow alumnus from the California Culinary Academy (CCA). I told him we were both CCA alumni and we shared a few laughs over the ups and downs of attending culinary school. All students study the full gamut of classical cuisine, but many, like Davenport, discover they're passionate about the pastry classes. "As soon as I got into CCA, I knew I wanted to specialize in baking." His diploma hangs proudly on the wall behind the display case.
A Central Coast native, after graduating from Fresno High School Davenport moved to San Luis Obispo. His parents and grandparents have lived in South County 15 years. He met his wife Sarah in San Luis Obispo when she was finishing graduate school at Cal Poly. They moved to San Francisco so he could attend CCA, and considered staying there after he graduated in 2002, Davenport remembered: "But we loved living on the Central Coast and we had family here."
Davenport spent the first few years after school baking professionally for other bakers: Farb's, a wholesale bread bakery, and at the luxurious Bacara Resort near Santa Barbara, where he apprenticed with the pastry chef. He also attended the Culinary Institute of America in Napa for a wedding cake course by a teacher who was formerly with specialist food purveyor Dean & DeLuca. "When she started talking about shipping pastries, everyone in the class started asking questions about it, but she didn't provide details," he recalled with a laugh. "She said she spent a lot of money trying to figure out how to ship goods and wouldn't share the secret other than to say she used dry ice."
Davenport's pastry expertise shows in his beautifully-crafted croissants, both sweet and savory, strudels, and éclairs. On his website, eclairbakery.com, you can view his artistic specialties and wedding cakes. They also offer a mouth-watering selection of cupcakes, muffins, cookies, and quiche. Every Thursday night Davenport attends the SLO Farmers Market (across the street from Novo) to offer his éclairs, cupcakes, and fresh mini-doughnuts. I was surprised to hear of his participation in SLO, and Davenport explained his interest: "I want Éclair to be a community-based bakery, not
just here."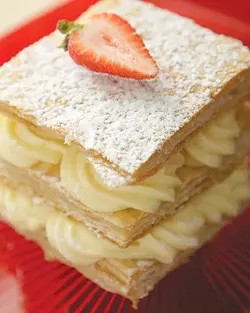 During my next visit, I met Davenport's enthusiastic assistant baker, Kielly Lewis. Like him, she's passionate about food and baking. Although she's not a culinary school graduate, when she applied for the job, he hired her because she was persistent and had a good handshake. She had spent four years working for Starbuck's, which motivated him to buy an espresso maker to learn how to make coffee drinks. Now she has become his apprentice. "I started showing her how to make cookie dough, and she had so much intuition she started getting more involved in baking," said Davenport. "She made her first fondant (a creamed confection used for filling or coating cakes) on a Saturday when we had orders for six cakes to prepare. Kielly has an innate ability to bake; it's in her soul."
I loved Lewis' clever cupcake dressed in white coconut. She coined it the Yeti, a huge improvement over Hostess Snowballs. A native of Arroyo Grande, after one-and-a-half-years at Éclair, Lewis says the bakery isn't just about making cookies: "I put a lot of love and attention into my work. I'm always trying to learn new techniques and experimenting all of the time. I test things on my family all the time." Lewis is a vegan and enjoys creating vegan pastries. "My family enjoys the vegan treats, even though they aren't vegans. We use Plugra butter and Valrhona chocolate. We're dealing with delicious and flavorful ingredients, so the finished products naturally taste delicious."

IRRESISTIBLE: Éclair Bakery is located at 117 E. Branch St. in Arroyo Grande. You can call them at 481-7654 or see their tasty treats online at eclairbakery.com.
Davenport admitted he feared the down economy would hurt business; fortunately, it hasn't. "We're getting busier and busier. People find we offer an affordable luxury." Éclair Bakery has been open more than seven years; Davenport bought it four years ago but many locals still don't realize it changed hands. Now that it's in the hands of a classically-trained pastry chef, they offer much more selection. They do their best to accommodate special orders, and can recreate your logo in chocolate.
"My vision is to eventually add a deli and make it a place where people can hang out. It's slowly getting there," Davenport finished. He and Lewis have started a breakfast club once a month in tribute to the late John Hughes. The first Saturday breakfast featured Monte Cristo sandwiches and big pancakes, and it was a big hit with customers. Find them on Facebook for updates about the breakfast club. With tables inside and two patio tables on the front sidewalk, there's no reason why you can't start hanging out there now. ∆
You can reach New Times' Cuisine columnist at khardesty@newtimesslo.com.