Corn tortilla or flour? Tomatillo or tomato? Carnitas or al pastor? San Miguel or Oceano?
Those are tough questions. Because, honestly, taco preference is all about the stomach of the taco eater. It's in the taste buds of the muncher.
There are a gazillion places that serve tacos in San Luis Obispo County. Most are pretty tasty, but a few totally suck. Some have carne asada that makes you salivate the second you smell it. Some serve carnitas so dry you can't bring yourself to chew. Many keep it simple, small, and street. Others go overboard with sauces, garnishes, and drippy deliciousness.
So where is the best taco in this 3,616 square miles of California coastal paradise? That's not what we're here to tell you.
All we know is we wanted to inhale some tacos. We were craving tacos from spots we'd never heard of—random supermarkets, gas stations, and small storefronts in the far-flung corners of the county. And places we'd heard of and needed to go again, because a satisfyingly savory taco is something you never forget. So we got some recommendations from readers via social media and went a little taco crazy.
Here are some of the delectable, spicy, tempting flavors we found between gentle folds of warm tortillas at taco joints across the county.
—Camillia Lanham
Cayucos Deli
WHERE: 198 N Ocean Ave., Cayucos
TACO: carnitas, carne asada, al pastor
COST: $1.99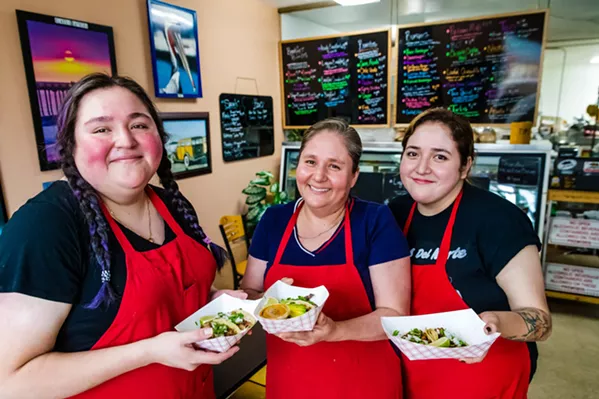 Photo By Jayson Mellom
FAMILY RECIPES (From left to right) Viridiana, Matilde, and Jossi Bustos are the women behind the Cayucos Deli's homemade tacos.
Two years ago I was exploring Cayucos and had a craving for Mexican food. I walked into the nearest shop and asked where I could find a place with good tacos. The guy at the register told me to head to the gas station, quickly reassuring me that the Cayucos Deli had the best tacos in the town. He wasn't wrong, and I've been spreading the word about it ever since.
"People always say, 'you have the best burritos or tacos in town,' and I think we have the only burritos in town, but I'll take the compliment," Jossi Bustos said jokingly.
Jossi, her mom Matilde Bustos, and her sister Viridiana Bustos are at the deli seven days a week, where they've been serving up burgers, Mexican food, and baked goods to their customers for six years.
The deli is a hole in the wall in every sense. It's located right off Ocean Avenue, connected to the only gas station in town. The deli itself is small with about four tables but the aromas of spices and the welcoming service are huge.
The Bustos women do everything from prepping the food and cooking it, to serving their customers.
Tacos are $1.99 each with your choice of carnitas, carne asada, pastor, spicy chicken, grilled chicken, or fish. Whatever protein you choose, you can definitely count on it being tender and full of flavor. Jossi attributes that to her mom.
"My mom made it, and it tastes like my mom made it," she said.
Matilde's carnitas recipe has a flair of ancestry to it. The family has roots in Guerrero, Mexico, a southern state in the country.
"Southern Mexican food has a little bit more connection to indigenous food and indigenous customs, so our food is different in that way," Jossi said.
Going to the deli is not just about ordering up a pair of tacos. It's about the flavors of family history you get with each bite.
—Karen Garcia
Creeky Tiki
WHERE: 782 Higuera St., SLO
TACO: grilled mahi
COST: $4
Eating at Creeky Tiki is like taking a mini vacation, especially if you sit at their outdoor bar and patio that overlooks San Luis Creek and the mission. It just feels tropical, and nothing says "tropics" like fresh fish tacos.
My favorite is the grilled mahi done "tiki style"—cabbage slaw, chipotle aioli, macerated onion, and cilantro served on a flour tortilla. The fish is tender and flavorful, and a totally different experience from deep fried fish tacos or the ubiquitous tilapia mush.
You can also get isle pastor, ginger pulled pork, jerked chicken, island spiced shredded beef, crispy spam, fried pork belly, or vegan patty tacos, and they also come street style—Oaxacan cheese, onions, cilantro, and spicy pepper sauce—if you prefer.
The staff's friendly, the ambiance is laidback, and the full bar and signature cocktails are a bonus!
—Glen Starkey
Sidewalk Market
WHERE: 1401 Osos St., SLO
TACO: al pastor
COST: $2
Photo By Glen Starkey
ABUELA RODRIGUEZ's SECRET RECIPE Sidewalk Market's al pastor street tacos, made by Gregorio and Alejandro Rodriguez, are the bomb, and they're only $2 each!
Tucked away inside Sidewalk Market—a corner store that's as close to an NYC bodega as SLO Town gets—is a street taco gem run by husband and wife Gregorio and Alejandro Rodriguez, which has only been open for four months. Everything's delicious, but the couple's al pastor tacos are off the hook!
The secret, according to Alejandro, is her husband's grandmother's recipe: "The seasoning is 100 percent homemade. We roast the peppers and tomatoes. It's a lot of work, but you taste the difference."
The seasoning is slathered over the pork, which is slow roasted on an upright rotisserie and shaved off when it's reached perfection. The presentation is simple: two corn tortillas, seasoned meat, diced onion, cilantro, then topped with green salsa. To my taste, it's just hot enough, but you can ask for spicy. And only $2 each!
You can take them to go or sit inside at one of the three two-top tables set up between the shelves of canned and dry goods on one side and pet food and cleaning supplies on the other. Go for the tacos, not the ambiance! There're also four wrought iron tables outside near the parking lot, or walk across the street to Mitchell Park. You won't be disappointed!
—Glen Starkey
Tacos de Acapulco
WHERE: 596 California Blvd., SLO
TACO: vegetarian
COST: $2.50
Tacos de Acapulco offers great food at competitive prices. This family-owned restaurant has been serving up authentic Mexican meals in San Luis Obispo for 25 years. The food is high quality, quickly prepared, and won't break the bank. My vegetarian taco was less than three dollars and added considerable weight to the no-nonsense paper plate it was served on.
Along with killer tacos of the veggie variety, the atmosphere at Tacos de Acapulco is simple and welcoming. The cooks are notorious for singing while preparing food, and it's easy to feel like you're part of the family while dining in.
—Ashley Ladin
Taco Temple
Photo By Ashley Ladin
VEGGIE! Taco Temple serves up a good sized vegetarian taco that I couldn't tear myself away from until it was gone.
WHERE: 2680 Main St., Morro Bay
TACO: vegetarian
COST: $7.75
For those who care to look, it's easy to find Taco Temple. A red, white, and green sign loudly declares the small restaurant's presence directly off Highway 1. However, with Morro Rock and the ocean right across the way, there's a good chance a lot of people miss it. That would be a mistake.
Though the name indicates a place of worship—and the tacos definitely deserve reverence—this hidden gem is a no-fuss eatery for travelers and locals alike. Owner Jim Leage calls it a "no pressure" place to get your grub on.
"It's kinda beachy, kick-back," Leage said. "Come in in your shorts and your sandals or come in your suit, really whatever. We try to cater to everybody, and people just come here for a good meal."
Leage took over ownership of Taco Temple only three years ago but has deep roots in the area. He's a third generation restaurateur in Morro Bay and grew up working at family-owned eateries.
Leage describes the tacos as "fork and knife" tacos, not "pick up" tacos—a description that proves hard to dispute. The tacos arrive to tables with unbelievable heights, stacked heartily with chipotle sauce, cheese, cabbage, tomatoes, radishes, and more. A specialty Temple dressing tops it all off, a sweet lime and cilantro mix.
This Cali-fusion take on tacos packs a lot of flavor, fresh ingredients, and interesting choices. With great options for vegetarians, Taco Temple lives up to it's "no pressure" label. I had a veggie taco sitting out on their patio; the view of Morro Bay and the ocean was nice, but I don't think I looked up once after my food arrived.
—Ashley Ladin
Chapala Mexican Grill
WHERE: 2816 Main St., Morro Bay
TACO: carne asada
COST: $2.25 to $3.99
Chapala Mexican Grill in Morro Bay has all the trimmings, from old-school plastic table coverings to wicker chairs. Depending on the protein, the tacos are served with plenty of meat and garnished with salsa, onion, and cilantro. The carne asada tacos are savory and rich, not to mention the extremely soft tortillas that hold it all together.
—Karen Garcia
Frutiland La Casa del Sabor
WHERE: 803 E. Grand Ave., Arroyo Grande
TACO: arcoiris
COST: three for $7.99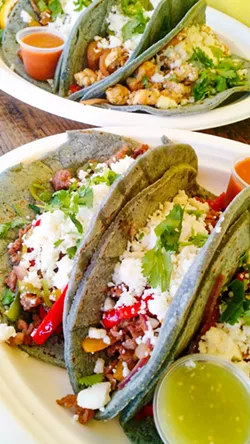 Photo By Caleb Wiseblood
COLORFUL CRAVING The arcoiris tacos at Frutiland La Casa del Sabor in Arroyo Grande are almost too pretty to eat.
I shouldn't have been so surprised upon realizing that arcoiris is Spanish for rainbow. The evidence was literally right under my nose and on its way into my mouth. The onions, bell peppers, cilantro, and queso fresco, all served on a blue corn tortilla with your choices of asada or grilled chicken and hot red or mild green sauce, make quite a colorful combination. It's the arcoiris taco, a customer favorite at Frutiland La Casa del Sabor in Arroyo Grande.
The restaurant has been family owned and operated since its inception nearly a decade ago. I already got a home-cooked-meal vibe from the taco itself, a feeling that only grew after meeting the crew behind the counter. Sisters Fabiola and Karina Rojas tag team between taking orders at the front window and food duty in the kitchen with their mother, Lourdes Rodriguez. Karina's children, Arthur and Alexa, help out too. "It's always been a family business, from the very beginning," Fabiola tells me. "My brother Jose is the one who got things going, then passed ownership on to to my older sister, Cruc. It's something we really hope to keep in the family forever."
Speaking of forever, if there's ever a lifetime pass to Frutiland available for purchase, I'm buying two—just in case I leave the first one in my other pants. Hopefully this hypothetical pass includes their dessert menu too because their flan isn't just fantastic, it's flan-tastic.
—Caleb Wiseblood
Efren's Deli
Photo By Jayson Mellom
WAY DOWN SOUTH Efren's in Oceano is a cool little restaurant that serves up killer tacos in South SLO County.
WHERE: 1720 Beach St., Oceano
TACO: carnitas, al pastor
COST: $1.99
When I inquire about where to get an amazing taco in South SLO County, Efren's in Oceano is inevitably one of the answers I get.
Sitting on Beach Street in the tiny oceanside town, Efren's brightly colored exterior stood out, calling me inside to try out a few of their highly recommended tacos. The inside of the restaurant is as full of character as the outside, decorated with hand-painted murals on almost every wall.
I ordered one carnitas taco and another pastor taco. I was not disappointed. Efren's serves up traditional tacos, double corn tortillas with meat, onions, cilantro, and a fantastic green salsa with just the right amount of spicy kick. The meat in both tacos was marinated and perfectly seasoned, balancing out the fatty goodness of the pork with traditional spices and just a hint of sweetness. Frankly, my only regret about eating at Efren's was that I didn't order more tacos.
By the time I finished my plate, I understood why Efren's comes so highly recommended by SLO County taco aficionados. Its good food and quirky character make it a must for anyone with a hankering for traditional-style street tacos.
—Chris McGuinness
San Miguel Market & Deli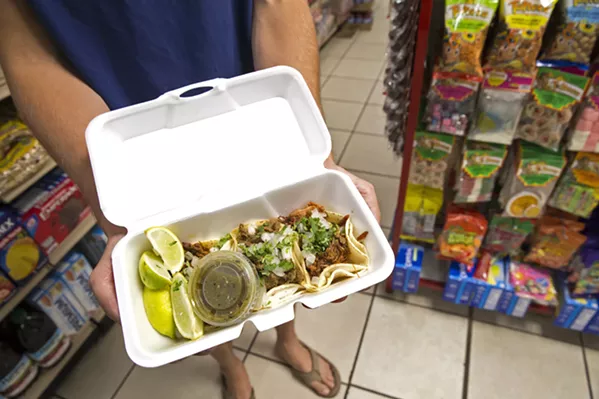 Photo By Jayson Mellom
MISSION TOWN TACOS San Miguel Market & Deli opened its doors on the tiny mission town's main drag, Mission Street, four years ago. It serves up an exquisite taco.
WHERE: 1299 Mission St., San Miguel
TACO: carnitas, carne asada, al pastor
COST: $1.79
In SLO County's tiny northern mission town of San Miguel, on its main drag between the railroad and Highway 101, is a humble but not-to-be-trifled-with corner store that lures you in with a sign over the door: "¢99 Taco Tuesday."
Unfortunately, it's a Thursday. But fortunately, San Miguel Market & Deli's regular taco price is less than $2, and it truly serves up one of the best in the county.
Pablo Roman opened the market's doors four years ago, and he proudly told New Times that lately, "it's becoming the place I wanted it to be." Customers are more diverse than most you see in SLO town, who look like regulars, and come and go with their burritos and goods in tow. Inside, the market has just about everything you might need for a quick bite or grocery trip, from fresh veggies to butcher meat, as well as snacks, beer, convenience items, and more.
Following the aisles to the back of the market leads you to the taqueria. I ordered three: carnitas, carne asada, and al pastor.
"It's very traditional, a family recipe," Roman said. "Everything is cut every morning. I tell my employees, 'Don't serve it if you wouldn't give it to your kids, husband, or wife.'"
The tacos are done simply, wrapped in double corn tortillas with meat sourced from Harris Ranch, onions, and cilantro, and sliced limes and green salsa to put on top.
These are close to the perfect tacos. The meat was exquisite—superbly cooked and seasoned—especially the al pastor. Roman attributed the store's small-town success to the area's ag industry, which brings field workers and truckers through town for lunch every day.
"What keeps us alive is the wineries," he said. "It's all the workers."
Luckily for county residents further south, they won't need to travel to San Miguel to try it. Roman recently opened a second store in Los Osos (with the same name) on 9th Street.
—Peter Johnson
Papi's Grill
WHERE: 1090 Price Street, Pismo Beach
TACOS: carnitas, pescado
COST: $2.25-$3.75
Located in a small building on Price Street in Pimso, the little Papi's Grill turns out huge flavors in its tacos. I ordered one carnitas and one fish. Papi's takes the traditional taco and really knocks it out of the park with little touches that make it their own. The meat and topping on both the tacos I ordered were generous and sat atop a corn tortilla, hand made in an old-school wooden tortilla press. Thanks to the nice weather that day, I was able to enjoy my tasty tacos on Papi's patio, a great place to sip a cold drink and watch Pismo's hustle and bustle.
—Chris McGuinness
La Placita Market
WHERE: 515 Orchard Road, Nipomo
TACO: carnitas, pastor, asada, chicken
COST: $1.79 each
You might walk into La Placita Market for groceries or household items, but it's the tacos you're going to stay for. Past a dozen aisles of corner store commodities lies a quaint area at the back of the store with a couple of tables and what appears to be a deli. The writing on the wall gets clearer as you walk toward it. Quesadillas. Burritos. Tacos. With asada, pastor, carnitas, and chicken to choose from, I couldn't just have one. Picking my favorite of the four is just as hard as picking my favorite Beatle (probably Ringo though). Each were perfectly delightful in their own ways and drizzled with the perfect amount of cilantro and hot sauce.
—Caleb Wiseblood
La Reyna Market
WHERE: 532 24th St., Paso Robles
TACO: al pastor
COST: $2.29
Around the corner from a seemingly bougier and bougier downtown Paso Robles lies La Reyna Market, a casual, bustling market quietly churning out great authentic Mexican food. La Reyna is located a block off Spring Street, with easy parking and a bomb taqueria inside.
At $2.29 per taco, La Renya isn't the cheapest in the bunch, but it also doesn't come close to the pricey end of the spectrum. These tacos stay true to bare-bones principles: just meat, onions, cilantro, and salsa. The meat portions here are very generous—almost too generous, as my tortillas could barely handle the load. Δ
—Peter Johnson