Picturesque, oak-studded hills: it's the cliché that surrounds San Luis Obispo. But it's true—the open spaces surrounding the city are beautiful, spring, summer, or winter, and they're just asking for you to venture into them. There are too many to count, and I'm only including my favorites in this quick-and-dirty rundown of trails that are within reach, whether you have a car, bike, or need to take the bus.
Reservoir Canyon
Photo By Camillia Lanham
RANDOMNESS The hike up the Reservoir Canyon Trail is more than just an uphill climb. You can find a metal teepee, a tree swing, and a stone bench along the way.
This is a favorite of mine, with creek side hiking, a waterfall, sweeping views that stretch from San Luis Obispo to Pismo Beach, wildflowers in the spring, a tree swing, a radio tower you can climb, and a rocky bench built into the side of the hill.
But, if you want to beat the crowds and the heat, it's best to get your butt out of bed early on a Saturday or Sunday. You can reach Reservoir Canyon's summit from one of two trailheads.
Take Highway 101 north of San Luis Obispo, turn right on Reservoir Canyon, and take until it dead ends at the trailhead for a 5.6-mile up and back with 1,350 feet of elevation gain. Or take Lizzie Street to its dead end behind San Luis Obispo High School for a steep 4.1-mile up and down High School Hill with 1,492 feet of elevation gain. My friend calls it the "hill from hell."
Johnson Ranch Open Space
Looking for something quick after school (work) during the middle of the week? This frequently hiked loop is kind of perfect for a late afternoon jaunt. It's a mellow meander through oak groves and open grassland, a stint alongside a couple of creek beds (they run in the spring), and the option to head into the Irish Hills. Occasionally, you'll encounter a cow or six. Watch out for mountain bikes.
You can make it shorter or longer, depending on how much time you have. It can be a 3-plus-mile loop or a 2.5-mile loop with a couple of hundred feet of total elevation gain, but it's definitely an up and down, up and down, up and down sort of hike.
Take Highway 101 south, get off on South Higuera Street exit, and take a left onto Ontario Road to run right into the trailhead's parking lot.
Irish Hills Natural Preserve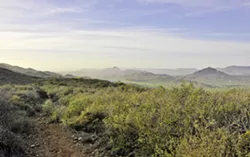 Photo By Camillia Lanham
MORRO VIEW Take the Mariposa Trail into the Irish Hills for a sweet view of the Nine Sisters, volcanic peaks that stretch from San Luis Obispo into Morro Bay.
These hills are seemingly boundless, and definitely alive with oaks, chaparral habitat, and even a "bog." Lots of mountain bikers love the trail system out here, which can be accessed from a number of spots near Los Osos Valley Road. Careful not to get lost, though. Most trailheads have a map for you to check out upon entry, and the different trails are labeled with telltale wooden stakes.
My personal preference is the Mariposa Trail off Prefumo Canyon. You can takes the uphill climb to Morro View—it has views of, yes, the morros (volcanic peaks, but not volcanoes) from San Luis Obispo to Morro Bay (also known as the Nine Sisters, and yes, there are nine of them). It's a little more than 3 miles out and back with less than 1,000 feet of elevation gain, and you can even make it a loop by cutting back down the Bog Thistle Trail, which switchbacks down through a rare thistle only found in San Luis Obispo.
Of course, you can make your hike as long as you'd like in this trail system, you've just got to be out by dark.
South Hills Open Space
Almost smack dab in the middle of town, you get views of SLO on all sides up the rocky-covered expanse to this morro in the South Hills, as well as glimpses of a water storage facility and a radio tower. It's pretty easy with less than 600 feet of elevation gain.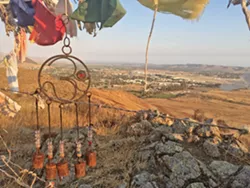 Photo By Camillia Lanham
SEEKING SERENITY Find your inner peace in the South Hills Open Space with a hike on the Ridge Trail, the Stoneridge Trail, and a side trip up to the hill where wind-torn prayer flags flap in the breeze.
You can turn the 1.5-mile out and back hike on the Ridge Trail into a loop by traversing over the morro's summit and down the steep terrain on the other side, turning right onto the Stoneridge Trail, and swinging around the base. Want to make it even longer? You can access the lower hill above the water tower, which is a short hike to some prayer flags.
Get to the Ridge Trail off Exposition Drive, and the Stoneridge Trail starts off Bluerock Drive above Stoneridge Park.
Bishop Peak Open Space
If you can beat the crowds at this most popular hike in SLO, it's a beautiful place for a climb up to the tallest, most boulder-covered morro (and people do rock-climb out there). On the weekends, Bishop Peak is crawling with folks looking to move their bones. I'm not saying you should, but you could skip class one morning and head up the approximately 4-mile round-trip trail with more than 1,000 feet of elevation gain.
There are three access points: Highland Drive, Patricia Drive, and Foothill Boulevard. Don't feel like climbing? You can catch the Felsman Loop Trail around the base of Bishop, which meanders through oaks, creeks, and cactus with views toward Morro Bay and the edge of SLO. Δ
Editor Camillia Lanham is always looking for the next hike at clanham@newtimesslo.com.