PHOTO BY TIM DUGAN
MILO AND THE WHETHER MAN : Max Sopkin as the Whether Man, who cheerfully gives useless predictions to Andrew Olson's Milo in Cal Poly's The Phantom Tollbooth.
Remember the retro-earnestness of that educational classic, Schoolhouse Rock? Well, pair that concept with the reality-challenged (yet morally steadfast) "what-if-things-were-different?" storyline as pioneered by Dr. Seuss, and you've got The Phantom Tollbooth—adapted for the stage as a musical.

Though he's an elementary school kid, Milo (played by Andrew Olson) is a rather jaded individual. Milo is bored with his school, his friends, his toys, everything: Olson knows the shrugs, heavy sighs, and scuffling gait of a moody little kid so well, you'd think he never entered adolescence.

The Demons of Ignorance, who thrive on apathy and laziness, are pretty sure they can keep Milo from ever accomplishing anything. But when Milo encounters a singing tollbooth in his bedroom, his nonplussed attitude gives way to nervous curiosity. Following the suggestion of the tollbooth's disembodied voice, Milo bravely hops into a proffered magic car. He careens through the tollbooth into the Land of Wisdom, thus kicking off author Norton Juster's beloved adventure.

The musical, adapted from Juster's children's book of the same name, strikes a unique balance among viewers. While Tollbooth is no parking-lot puzzler, clever wordplay often spikes the proverbial punch. The show will please those old enough to distill the plot down to its core theme of knowledge trumping ignorance. Yet Milo's is a kid's tale at heart, told from a 10-year-old's point of view.


GET YOUR ADVERBS HERE:: The musical adaptation of Norton Juster's classic book, The Phantom Tollbooth is presented by Cal Poly's Theater and Dance Department. This show is recommended for ages 10 and up. Performances run Thursday, May 14-16 and May 20-22 at 7 p.m. Matinee shows will take place at 2 p.m. on Saturday and Sunday, May 16 and 17. All shows will be held at Cal Poly's Spanos Theater. Tickets are $12 to $14. For ticket information, call 805-756-2787.
Our young hero, a rather spacey chap, intends to head to Dictionopolis, one of the kingdom's two capital cities. However, he soon finds himself driving around without really thinking. He thus winds up in the Doldrums, a land populated by Lethargarians. A bunch of sleepy, dreary-eyed slobs in ill-fitting nighties, the Lethargarians recoil at the very
thought
of thinking.
Fortunately, a time-keeping watchdog named Tock (Aubrea Felch) saves Milo from being drawn in by the drones. Felch's Tock often steals the show with her overwhelming cuteness and mannerisms normally only attainable by a frolicking puppy.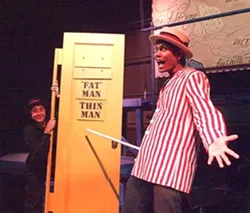 Tock explains the sad state of the Land of Wisdom as Milo has found it. Two kings rule the land—brothers known as Azaz (Beau Harris) and the Mathemagician (Jack Adams). Long ago, the two had an ugly spat over the importance of words versus numbers. The exceedingly wise princesses Rhyme and Reason (Jaide Whitman and Nora Doane, respectively) were called upon to settle the dispute. When they determined that numbers and words were equal, the kings excommunicated them to the Castle in the Air. To illustrate the kingdom's troubled past, puppets charge across a giant map of the kingdom, squabbling, conquering, and banishing in miniature.
Devoid of Rhyme or Reason, Tock explains, the Land of Wisdom has become a place of discord and disharmony. The brothers have gone their separate ways; King Azaz founded the city of Dictionopolis, home of the famous word market. The Mathemagician established Digitopolis, where numbers are mined like jewels.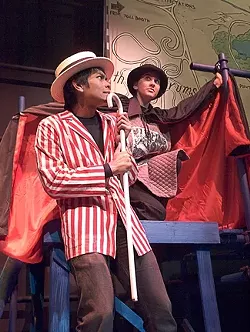 Tollbooth
is, among other things, a play about rising to the occasion, and Milo soon finds himself taking on challenges far beyond the average 10-year-old's maturity level. With Tock by his side, he valiantly sets about freeing the princesses and restoring order to the kingdom. The quest is treacherous. Memorable characters pepper the landscape.
Among the more notable performances is actor Redzuan Abdul Rahim's lively song and dance as the tallest midget, shortest giant, and thinnest fat man in the world. Max Sopkin is brilliant as the Doctor of Dissonance, who bottles sounds such as that of "a blind octopus unwrapping a cellophane-covered bathtub" and an auditory rarity he describes as "an ant wearing fur slippers walking across a thick wool carpet … subtle but exquisite."
Playgoers faced with economic hardship love to trade in their bleak, scary world for the theater's fanciful, shiny one. With this in mind, director Erma Stauffer is certain that
Tollbooth
has come at just the right time. For two hours, said Stauffer, the audience won't have to think about the economy, finals, or their jobs—kind of like being a kid again.
Anna Weltner is special to New Times. Really, really special. Send comments to Arts Editor Ashley Schwellenbach at aschwellenbach@newtimesslo.com.