I'm a big fan of songs where dancers with their arms crossing their chests can squat down and then jump up and do the side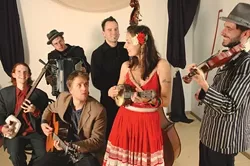 PHOTO COURTESY OF FISHTANK ENSEMBLE
GO FISH! : Fishtank Ensemble plays an unusual blend of Gypsy, Balkan, flamenco, klezmer, and original tunes. See them at artMind Studios Oct. 27.
# splits onto their heels and yell "HA!" It's even better if they're in traditional Russian garb and have been drinking vodka and eating smelly salted fish and boiled potatoes. HA!
I also like songs where beautiful girls move like jeweled snakes and snap castanets and jingle ankle bells and do things with their bellies that make me think of rolling waves gently lapping golden shores.
I especially like songs that remind me of deep red velvet and dark cigarettes smoked in long cigarette holders with tendrils of white smoke curling up into a somber blue spotlight illuminating an ivory-skinned chanteuse singing a German love song.
These are the images I saw when I closed my eyes and listened to Samurai Over Serbia, the new CD by Fishtank Ensemble, playing at 7 p.m. on Saturday, Oct. 27, at artMind Studios (560 Higuera St., suite A one driveway past the Creamery buy your $15 tickets in advance at the venue or at Boo Boo's for $16.50).
Fishtank Ensemble plays an unusual blend of Gypsy, Balkan, flamenco, klezmer, and original tunes, employing a wide range of instruments such as violin, accordion, flamenco and gypsy jazz guitar, shamisen, bass, saw, and voice. The music is absolutely mesmerizing!
Badder than Elvis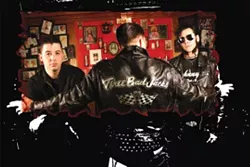 PHOTO COURTESY OF THREE BAD JACKS
GET GREASY! : Three Bad Jacks headline a killer roots rock show Oct. 25 at Downtown Brew.
# The Three Bad Jacks are so greasy you could pack your wheel bearings with them. They make Elvis Presley and Gene Vincent and Eddie Cochran look like bank tellers in comparison to the Jacks' leather-clad-we-comb-our-hair-with-buttered-toast-hot-rod-rumble bad looks.
On Thursday, Oct. 25, the Three Bad Jacks will headline a hat trick of roots rock with opening acts The Hydramatics and Stellar Corpses at Downtown Brew (Doors open at 7:30 p.m. 18-and-older $10 advanced tickets at the venue or Boo Boo's for $11.50).
The Jacks describe themselves as "the bastard sons of rock'n'roll greats like Elvis Presley, Joe Strummer, Johnny Cash, and Joey Ramone," adding that they fuse "the best parts of rock, punk, and rockabilly into a unique sound that defies any label or category."
Sounds like a challenge to me: Punk'n'rollabilly?
Anyway, this trio of rolling thunder has opened for everyone from Joe Strummer to Dwight Yoakam, from Social Distortion to Bouncing Souls. Last summer, the Jacks had two of their songs show up in Wanted: Undead or Alive, a zombies-in-the-old-west flick that starred Chris Kattan (Saturday Night Live) and James Denton (Desperate Housewives).
Roll up those cuffs, grease back that hair, fire up those rods, and head to Downtown Brew.
Calling all hepcats
During the Great Depression, dance marathons were common, with dancers competing for a cash prize by dancing for hours--and sometimes days--on end. While the "Swing Dance Emporium" can't offer you a multi-day exhaustion fest, it will provide a whopping 12 hours of live swing music for your dancing and listening pleasure.
On Saturday, Oct. 27, during Pismo Beach's 31st annual Jubilee by the Sea Jazz Festival, the Addie Street venue (on the corner
PHOTO COURTESY OF SIDE STREET STRUTTERS
DANCE YOUR CARES AWAY : The Side Street Strutters play Oct. 27 as part of a 12-hour swing dance concert marathon at the Addie Street Venue in Pismo Beach, part of the weekend-long 31st Annual Jubilee-by-the-Sea jazz festival.
# of Addie and Pacific Ocean in the big tent) will come alive with the sounds of swing music from 10 a.m. to 10 p.m. The featured Central Coast groups are the Central City Swing Band, the Cuesta Evening Jazz Ensemble, and the Cal Poly Jazz Band. Visiting groups include Dos Pueblos Jazz Band from Goleta and the famous Side Street Strutters--Disneyland's house band for 23 years!
This will be a jump- and-jive day for hepcats of all ages, so put on your dancing shoes and witness the free swing dance demonstrations and instruction. To encourage participation by local SLO swing dancers and music lovers, there's an extra-special single venue one-day admission price of $10 for adults and $5 for students with ID! Tickets will be available at the door that day, and advance ticket purchases aren't necessary.
The 31st Jubilee-by-the-Sea, presented by the Basin Street Regulars, is Pismo Beach's premier music event of the year, from Friday through Sunday, Oct. 26 through 28. Check www.pismojazz.com for info about the 20 bands playing 140 performances. All-event badges cost $75.
Feel the heat
Lots of singers can deliver decent soul and blues. Fewer have a truly impressive multi-octave vocal range. And fewer still have a vast, soul-rending emotional range. Put Terry Evans in the latter category.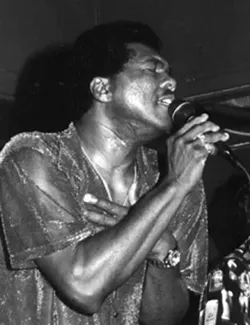 PHOTO COURTESY OF TERRY EVANS
FEEL THE SOUL : Soul and R&B singer Terry Evans headlines the SLO Blues Society's Oct. 27 dance concert at the SLO Vets Hall.
# Evans may be best known for his decades-long collaboration with Ry Cooder, but he's been touring internationally with his own band for the past 10 years.
Like many soul singers, his musical career began at a church--this one in Vicksburg, Miss., in the heart of the Delta. He sang gospel in the choir but longed to be allowed to sing the "rough stuff"--rhythm and blues. His parents wouldn't allow it, but he was secretly listening to performers like Elmore James, Little Walter, Albert King, and B.B. King.


In the '60s, Evans toured the South with an a cappella group called The Knights, and at 22 he headed west to Los Angeles where he picked up the guitar and started writing songs and working as a studio session vocalist, providing soulful background on albums by John Fogarty, Ry Cooder, Joan Armatrading, John Lee Hooker, Boz Scaggs, Maria Muldaur, and others.
In 1976, he sang on Ry Cooder's Chicken Skin Music, beginning a long relationship that included recording and touring with Cooder for more than a decade. Now you can see Terry Evans when he plays on Saturday, Oct. 27, at the SLO Vets Hall. Opening the SLO Blues Society show is Portland-based Jump Blues band The Insomniacs. The show starts at 8 p.m. and costs $20 at the door. Call 541-7930 for more info or to volunteer.
Zongo!
Ex-Rock Steady Posse and Mozaic trumpeter Paul Irving is back in action with the Zongo! All-Stars.
"I've got a new band put together and we're playing our first show, headlining the Oktoberfest event in Baywood Park, on Sunday, Oct. 28 (3 p.m. at Bay Back Inn & Gardens)," he said. "We've also got a booking at Sweet Springs for Saturday, Nov. 10."
The band is so new I haven't heard it yet, but Irving describes the music as "kind of a mixture of Cuban/Latin styles with our own twist, and all the vocals are in Spanish. We're calling it CaliCubano, and you won't want to miss a beat."
In addition to Irving, the group also includes Andrew Wise, Dylan Johnson, Jacob Odell, Sean Sullivan, Justin Perkins, and John Lee.
More music
Austin, Texas fav Michael Fracasso returns to the Coalesce Bookstore for an evening of music on Friday, Oct. 26, performing songs from his newest album Red Dog Blues. As in past performances, Fracasso will be joined by locals Bob & Wendy with Tim Novoa on drums. Tickets are $15 (772-2880).
During the day, Wedding Industrial Complex frontman Derek Senn is a mild-mannered commercial real estate agent--you know the drill: khaki pants and button-down shirt, sensible haircut, and nice manners. At night he becomes Mr. Hyde, a fedora-wearing, guitar-wielding singer of radical folk rock, lambasting his pregnant wife's admonishments for his nightly sojourns, skewering right-wing politicos and their hypocritical shenanigans, and waxing poetic about wanting to get his drink on, man. "I will be shedding my better half [his drummer wife Melanie] to get in touch with my inner folkie for an unplugged Wedding Industrial Complex show at Linnaea's," Derek said. "I share the bill with Mike and Lucas of The Shamblers." On Friday, Oct. 26, have a cup o' joe and a dose of Mr. Hyde.
Last month, blues trio the Jerome Washington Express recorded their opening gig at a SLO Blues Society show. "We hit on all cylinders and it was a great gig," said frontman Drew Arnold. They plan an album release in January, but in the meantime they play Cayucos Tavern on Friday and Saturday, Oct. 26 and 27. Check out this blues freight train a-coming!
While it appears that the X-Ball--that annual sexed-up adult Halloween party--is on hiatus this year, the odd fellows who use SLO's Odd Fellows Hall are marching on with a similar party to fill the void. On Saturday, Oct. 27, the "Halloween Odd Ball" offers those 21-and-older the perfect place to get their groove on to the Great Bluz Dogz Band and PiroSpin from 7 p.m. to midnight. No tickets will be sold at the door, so if you want to go, pick up your $30 tickets at Boo Boo Records, Coalesce Bookstore, or Central Coast Framing. The evening will feature a no-host bar and complimentary appetizers--not to mention costumed fun and Halloween frights.
Downtown Brew is also getting in on the Halloween party parade with Dungeon at Downtown Brew on Saturday, Oct. 27, at 9 p.m. You can get your freak on to music by DJ Holla, and there'll be a costume party with mega cash prizes (first is $300, second is $200, and third is $100!). Club co-owner Kornie Newman says, "Be prepared to get spooked, tricked, treated, and check out the best costumes in town during our competition."
If you're down in the south county, check out the Halloween Bash with Sabbath Bloody Sabbath (a Black Sabbath and Ozzy Osbourne solo tribute band) at O'Reilly's Bar & Grill on Saturday, Oct. 27. That's spooky, baby. Bring your own bats.
Check out the "Girls with Guitars" benefit concert for plant rescue program Py-Radical Roots Rescue at Echo Art Space (431 Leoni Dr., Grover Beach) on Saturday, Oct. 27. A potluck starts at 6 p.m. with a concert featuring Sean Wiggins, Rachel Sedacca, and Jill Knight starting at 7. Py-Radical Roots Rescue's mission is to "rescue, revive, recycle and reuse plants to help low income families grow new roots in their community." They essentially "rescue" unwanted plants from land developers, garden centers, individual gardeners, and grocery stores, as well as receive donated plants from local nurseries, then donate them back to low-income families or service groups that support low-income families. Seating is very limited (a $25 donation is requested), so interested concertgoers should contact PYRRR@GypsyPyrates.com or call 489-4506. Even if you don't want to attend the concert, donations are welcome.
Grand Central Music and Conservatory is hosting The 5th Annual Central Coast Guitar Competition at the Graduate on Saturday, Oct. 27, from noon to 5 p.m. Come out and support
the young performers as they compete for prizes and their right to call themselves the best guitar slingers in the country.
All proceeds go to the San Luis Obispo Child Development Center.
Wanna learn to tango? Get your chance on Saturday, Oct. 27, when you can get free tango lessons from 7 to 8 p.m. followed by a tango concert featuring Tango No. 9 at the Chumash Auditorium in Cal Poly's University Union. The band is celebrating the release of their third CD, Here Live No Fish. Tickets are $12 in advance or $16 at the door. Check out www.SLOTango.org for details.
London native Jesse Siebenberg has a serious musical pedigree. His father is Bob Siebenberg, drummer for the progressive rock band Supertramp, while his uncle is Scott Gorham, a hard rock guitarist for Thin Lizzy. At the age of 20, Jesse joined Supertramp, providing keyboard, guitar, vocals, and percussion work on stage and in the studio. Now he plays with his own Jesse Siebenberg Group at 7:30 p.m. on Saturday, Oct. 27, at Castoro Cellars Winery. Tickets are $20. Call 238-0725.
W?nder guitarist/sitarist Harry Manx returns to Paso Robles with a concert at Stacked Stone Cellars at 6 p.m. on Saturday, Oct. 27 ($20 237-0054). Enjoy wine and dinner for an additional cost.
Maybe you've come to Downtown Brew's cool Grassroots Tuesdays show when two or three local acts (and the occasional out-of-towner) play for a scant $2 cover and the Brew's pints are just $1. Well, on Tuesday, Oct. 30, the Brew is changing things up a bit by having a Grassroots DJ night called SLO Pressure Drop. The 8 p.m. reggae dance party features three reggae sound systems from San Luis Obispo with a total of five reggae DJs, all uniting for a night of roots, dub, dancehall, and culture. Majestik Sounds' DJ KatchaFiyah will be joined by SLO Dub Sessions' C-Murph and DJ Bassie, and Morning Rise Sounds' E-Dub and Chukki.
CD Reviews

Orlando Julius--Super Afro Soul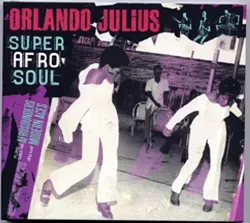 # Before the invention of Nigeria's Afrobeat (courtesy of Fela Kuti), it was the sound of Western African high life that filled the local clubs and juke joints with its infectious, bright, bubbly sound. As outside influences began to roll into the British liberated colony, it was saxophonist Orlando Julius who merged the sound of 1960s American soul--Motown, Stax, and Atlantic--with his native high life and his obsession with jazz legends Charlie Parker and John Coltrane. Released in 1966, Super Afro Soul captured a new amalgamation of styles. A cover of the Temptations' "My Girl" is now embedded with the African percussive additions of high treble wood clacks and rapid thumps of the conga. "Ijo Soul" comes across as an Africanized version of "Papa's Got a Brand New Bag." The period from 1969-1972 is compiled on the second disc, as Orlando stretched out his Afro-pop into Afrobeat: a deeper and funkier fusion of funk, high life, and psychedelic rock. This is a terrific re-issue from revivalist label Vampi Soul.
-Malik Miko Thorne, of Boo Boo Records and KCBX's "Night Train."
Beirut--The Flying Club Cup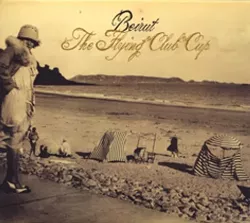 # After dining and digesting on a folk feast throughout Eastern Europe, 19 year-old Zach Condon released his debut album, Gulag Orkestar, under the name Beirut. Filled with rousing majestic brass and lush tones of accordion and strings, it instantly brought a softer, wistful acknowledgement of increasingly inspiring sound of Balkan folk as opposed to the gypsy punk exuberance of Eugene Hutz's band, Gogol Bordello. Now on his sophomore album, Condon soaks up the French cities and countryside, producing an album that relishes waltzes and French chanson with the dynamics of a large ensemble. Gaining access to the rich treasure of instruments of Arcade Fire's church studio as well as the expertise of former Neutral Milk Hotel member Jeremy Barnes, Condon unleashes an orchestrated eruption more sophisticated than--yet equally as charming as--his debut. His deep croon still pins an antique mood to the lyrics, but tracks like "In the Mausoleum" will have you stunned at their intricate arrangements.
-Malik Miko Thorne, of Boo Boo Records and KCBX's "Night Train."
---
Glen Starkey will now take your questions. Try to stump him at gstarkey@newtimes.com.