A love for music, art, and each other prompted Jeremiah and Bree Highhouse to open Vinyl Isle, San Luis Obispo's County's newest vintage record store and art gallery.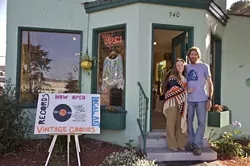 PHOTO COURTESY OF LARRY S. RHODES
VINYL FANTASY : Jeremiah and Bree Highhouse want locals to find something new in their vintage record store, which doubles as an art gallery.
# The multi-use shop, located at 740 Morro Bay Blvd., will hold its grand opening on Oct. 5, offering free appetizers and live music.
Though Jeremiah, a Paso Robles High School graduate and current Hearst Castle employee, recognizes that SLO County already has quite a few used record stores and many art galleries, he's confident that consumers will discover something new in his shop.
"I honestly believe that we have more talent in this 400-square-foot building than anybody with the same size building on the Central Coast," he said. "We can't possibly compete with giant record shops, but give us a few years and we'll be on par."
While Jeremiah plans on eventually offering a big-store selection, he never wants to develop that big-store feel.
"Vinyl Isle is a different scene. The galleries in town are very stuffy, much like a museum," he said. "This is a little more homey, more comfortable vibe. We have a little bit of everything for everybody."
The store will showcase local artists' sculptures, photos, woodworking, hand-blown glass, and scarves, as well as other pieces. To that end, bringing attention to local artists is a top priority for Jeremiah.
"In this Wal-Mart society that we live in, [local artists] are not going to get the attention they deserve," he said. "This gives artists a place to display their stuff and get the attention they deserve."
Vinyl Isle will be open Tuesday through Saturday, 11 a.m. to 7 p.m. and on Sunday from noon to 7 p.m. For more information, call 772-1103.
This week's Strokes and Plugs was compiled by Staff Writer Kai Beech. Send your business news to rmiller@newtimesslo.com.