The Black Crowes have come quite a distance from their 1988 genesis in Atlanta, at that time "with members not much older than the traditions they revived," according to Rolling Stone. Back then, lead singer Chris Robinson, now closing in on 41, was a 22-year-old kid, and his guitarist brother Rich Robinson was 19.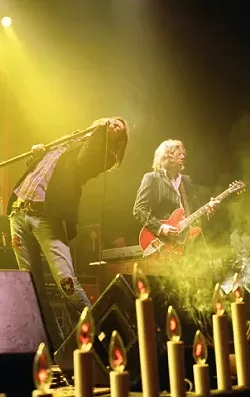 PHOTO COURTESY OF THE BLACK CROWES
SHAKE YOUR MONEY MAKER : The Black Crowes headline a three-band outdoor rock show at Pozo Saloon on Oct. 13.
# With their long hair, velvet bellbottoms, fur-trimmed vests, and rail-thin bodies, they looked like dead ringers for the early Rolling Stones. And they even boasted a musical pedigree. Their dad Stan had a 1959 pop hit, "Boom-A-Dip-Dip," though he discouraged his boys from becoming professional musicians, probably because he knew enough about the business to know that it chews up and spits out brash young kids faster than giants eat beanstalk climbers.
The boys went pro anyway, with Chris dropping out of college, and it was a gamble that paid off since the band's 1990 debut, "Shake Your Money Maker," climbed to No. 4 on the charts, sold a million copies, and won them Best New American Band in Rolling Stone's readers' poll.
What's commenced between then and now is pretty typical rock'n'roll stuff. Members quit, were fired, were replaced. The band took a hiatus or two, people speculated they were through, rumors flew. The band came back to much acclaim, sold-out shows, more fame. It's almost cliche!
All you need to know is they played Pozo Saloon about a year ago, the place was packed, and everyone was raving about the band's performance and how long they played. Now The Black Crowes are coming back to Pozo Saloon on Saturday, Oct. 13, with opening acts Pepper and Buffalo Killers. Advanced tickets are $41 at Boo Boo Records, over the phone at 1-888-825-5484, or online at vallitix.com.
Get ready to Rocker!
The Stray Cats was a band that burned white hot, which is why it burned out so quickly. Conceived in 1979, the party was over by 1983. According to frontman Brian Setzer, success "went to our heads." But the three members--including Lee Rocker, who plays Downtown Brew on Friday, Oct. 12--have all gone on to solid careers that show no signs of waning.
Rocker's solo career began with albums such as Big Blue and Atomic Boogie Hour on Black Top Records. After a few more albums on other labels, he signed to Alligator Records and commenced on a solo career that began with Racin' the Devil and continues with his newest Americana roots offering, Black Cat Bone, a smoky, rocking, rollicking record.
PHOTO BY ALEX SOLCA
STILL ROCKER : Former Stray Cats bassist Lee Rocker will deliver a blistering hot night of roots and rockabilly on Oct. 12 at Downtown Brew.
# Rocker's back story shows that he's an unlikely champion of roots and rockabilly music. He was born Leon Drucker of the Long Island Druckers--a well known classical musician couple who performed throughout the world. Rocker began cello lessons at 8 years old, initially hated them, but grew to love playing just not classical music. He eventually got an electric bass, and with his grade school pals Jimmy McDonnell (later known as Slim Jim Phantom) and Setzer, began jamming, eventually getting turned on to the likes of Carl Perkins and other rockabilly legends. When they hit the scene in 1979, they were credited for single handedly reviving rockabilly music.
The doors open at 7 p.m., and tickets are $12 advance or $14 at the door.

Big pimpin'
The pimpmeister himself, Slick Rick, comes to the Graduate on Saturday, Oct. 13, for an evening of old school rap. With gold chains, his trademark eye patch, and his misogynistic songs ("Treat Her Like a Prostitute"), the slick one led the way for the big pimping battitude of the '80s and '90s.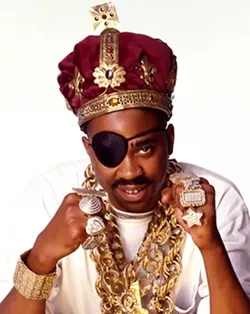 PHOTO COURTESY OF SLICK RICK
THE SLICKEST : Proto pimp rapper Slick Rick plays the Graduate on Oct. 13.
# His 1989 album, The Great Adventures of Slick Rick, was a certified-platinum classic, but before he could record a follow-up, Slick Rick was arrested for attempted murder. Out on bail thanks to Def Jam Records' label head Russell Simmons, Rick recorded The Ruler's Back in three weeks and released the album in 1991. After his release from prison two years later, he recorded Behind Bars for a 1994 release.
The London-born-to-Jamaican-parents Ricky Walters was blinded by broken glass as an infant. He moved with his family to the Bronx in the late '70s and attended the La Guardia High School of Music & Art, where he became friends with future rapper Dana Dane. Any way you slice it, the man's a rap legend. He also shot his cousin. Ah, family!
This 18-and-older show starts at 9 p.m. and costs $23.

Let's be Frank
What's it like being Frank Black, aka Black Francis, the notoriously prickly modern rocker and former Pixies front man? He's known to shun requests--you'll get what he wants to play and like it! He may not play any Pixies stuff at all. He may play a lot of it. There's no telling. But he probably will be playing cuts from his just-released album Bluefinger.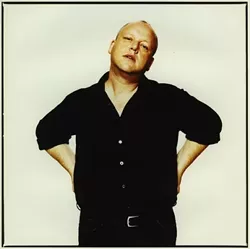 PHOTO COURTESY OF FRANK BLACK
THERE'S STILL A LITTLE PIXIE IN THERE : Black Francis, former Pixies front man Frank Black, returns to SLO Town to support his great new album Bluefinger on Oct. 14 at Downtown Brew.
# Bluefinger is some of the best Frank Black solo stuff I've heard in a while, and it's a return to his dirty rock roots. Unlike the two previous Frank Black solo albums--the country/bluesish Honeycomb and Fastman Raiderman--Bluefinger is back to that Pixiesque whisper-to-a-scream-to-a-whisper music many fans have come to love.
All songs were inspired by the eccentric Dutch painter/musician Herman Brood, a real scenemaker in the '60s and '70s who committed suicide by throwing himself out a window at the Amsterdam Hilton. According to press materials, Brood was a fascinating character who not only caught Black Francis' attention, but was the impetus for his decision to go back to his Black Francis moniker.
Check him out on Monday, Oct. 14, at Downtown Brew with doors opening at 7:30 p.m. and tickets selling for $16.50. You must be 16 years old to attend.


More music
Songwriter Steve Key will mark his 50th birthday with a free 6 p.m. show at Linnaea's Cafe on Friday, Oct. 12. Instead of 50 candles, there'll be 50 songs at the party, performed by more than 20 songwriters, including Bob & Wendy, Annie & Will Dunbar, Lauren Sexton, and Loren Radis.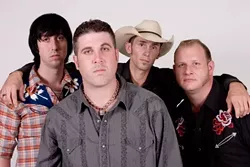 PHOTO COURTESY OF BACK PORCH MARY
STRAIGHT OUTTA AUSTIN : Back Porch Mary brings rock'n'country to O'Reilly's Bar & Grill on Oct. 12.
# Christian rock acts Jars of Clay and NeedtoBreathe perform on Friday, Oct. 12, at New Life Community Church in Pismo Beach. No other information was sent by press time, but you can call the church at 489-3254.
Los Angeles vocalist Raya Yarbrough plays with the Mike Raynor Group at the Inn at Morro Bay on Friday, Oct. 12, from 7:30 to 10:30 p.m. Local saxophone great Aaron Wolf will be sitting in for the show. Raya just recently signed on the Telarc label, and her self-titled album will be released in February of 2008. The L.A.-born songwriter/vocalist/musician has been captivating West Coast audiences with her blend of jazz, pop, R&B, Latin, and more.
"Solid Blues," a packaged concert with four big-name blues acts under one bill, brings Mavis Staples, Charlie Musselwhite, North Mississippi Allstars, and Joe Krown to the Christopher Cohan Center on Friday, Oct. 12, at 8 p.m. Staples is known for her groundbreaking gospel group The Staple Singers ("Respect Yourself," "I'll Take You There"). Musselwhite's been called "the world's greatest living blues harmonica player" by the New York Press, and he's an eight-time Grammy nominee and 18-time W. C. Handy Award winner. New Orleans-style piano and Hammond B-3 player Joe Krown is a favorite of the Crescent City and has won numerous awards for his recordings and performances. Tickets are $32 to $44. Call 756-2787.
Hailing from the Texas music capital, Austin, comes Back Porch Mary, which makes its only Central Coast stop this tour at O'Reilly's Bar & Grill on Friday, Oct. 12. According Rock Sisters Productions promoter Leanne Phillips, "The hard rockin' band paid two visits to the Five Cities in 2006, impressing and winning over local fans, who are enthusiastic about the band's return." Hank Williams, Black Label Society, Dwight Yoakum, Social Distortion, and Steve Earle are influences, but the band leans heavily toward rock, too. Tickets for the 9:30 p.m. show are $10.
On Friday, Oct. 12, Sweet Springs hosts a 9 p.m., $4 show with SoulPrint, now working under Las Vegas-based Figgzilla Music. SoulPrint is bringing Figgzilla-mates Rule of Thumb in for the concert, which also includes local metal favorites Caipt from Atascadero. Figgzilla is the fastest-growing music production company in Vegas, putting on nearly five shows a week at several different key clubs in Las Vegas. SoulPrint's going to start bringing their Vegas bands here and sending SLO bands there.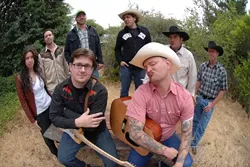 PHOTO BY MATT PETERSON
GET ROOTSY : Members of Pennyjar and Red Eye Junction (above) will joins forces, as will the Hydramatics and the Ghosts of Guadalupe (not pictured) for Downtown Brew's Grass Roots Tuesday on Oct. 16.
# Don't get scared, but it's almost Halloween. Woooooo. To get you in the mood, there's a scary good hard rock show on Saturday, Oct. 13, at Hoovers Live at 9 p.m. for $3. It features SoulPrint with SLO rockers Ragg and Hollyweird's Revlon Red, the No. 1 glam rock band from SoCal.
Folkies John Danley and Gove Scrivenor play the next SLO Folks concerts on Friday, Oct. 12, at Coalesce Bookstore (7 p.m. 772- 2880) and Saturday, Oct. 13, at Castoro Cellars (7:30 p.m. 237-0725). Check out both artists' work when KCBX DJ Sonnie Brown features them live at about 2:30 p.m. on Saturday for her Minstrel Song Show. Tickets for both concerts are $15.
The Red Barn Community Music Series presents the Gap Tooth Mountain Ramblers on Saturday, Oct. 13, at the Trinity United Methodist Church in Los Osos (not the Red Barn, as usual). If you're looking for that old-time mountain music done right by bona fide purveyors of the Americana tradition, look no further than Michael Mendelson, Peter Feldmann, Jim Wimmer, and Tom Wolverton. A $10 donation is requested for the 7 p.m. concert, and a 6 p.m. potluck supper precedes it for anyone interested. For more info, call 528-4530.
Micah Wolf embarks on his third West Coast tour, which brings him to Downtown Brew on Friday, Oct. 13, at 7:30 p.m. ($10 in advance, $15 at the door). On Micah's first tour, he came all the way from Maui and drove around in a converted veggie oil truck/camper, clocking more than 5,000 miles with many breakdowns in between. On the second tour, he opted for a more conventional mode of transportation in a soccer mom minivan. This time a limo? See for yourself when Micah plays a fundraiser to help bring awareness to the Central Coast about a terrible, little known disease called RSD. The show includes Mrs. Brown & the Dubsmugglers, Seed, and Mystic Red. Reflex Sympathetic Dystrophy Syndrome, also known as Complex Regional Pain Syndrome, is a chronic pain syndrome characterized by severe and relentless pain that affects between 200,000 and 1.2 million Americans.
Van Nuys indie rockers How to Win at Life play O'Reilly's Bar & Grill on Saturday, Oct. 13, at 9:30 p.m., for free. Founded in 2000, the band has been touring heavily throughout the West Coast, but this is their first Central Coast appearance. Queen, Jeff Buckley, Elvis Costello, The Flaming Lips, Pink Floyd, James, and Rufus Wainwright are a few of the band's references.
They're still getting down every Sunday at the woO!, where people move and dance improvisationally and non-verbally during a continuous two-hour set of energetic music. On Sunday, Oct. 14, from 10 a.m. to noon, Human No Longer will provide the sounds at the SLO Monday Club event. Admission is $15 entry, or $8 for students, seniors, and first timers. The funk, flamenco, ska, electronica, jazz, hip-hop, world music act also plays Saturday, Oct. 13, at Sweet Springs.
Rudolf Budginas, the brilliant, world-renowned, award-winning pianist who now calls the Central Coast home, plays Sunday, Oct. 14, at 3 p.m. at the Trinity Lutheran Church in Paso Robles. It's the first of a quartet of packaged concerts that cost $50 for an adult membership, $105 for a family, $55 for a single parent family, and $15 for a student (this includes all four concerts). Individual tickets for each concert are $20 per person. Contact Betsy Hardie (239-2770) or Marilyn Buchanan (238-5342) for more information.
St. Benedict's Episcopal Church in Los Osos will host a fundraiser for Cuesta College's premier vocal jazz ensemble Voce at 3 p.m. on Sunday, Oct. 14. Voce has received numerous awards since its inception in 1981 and in 2005 had two performances at the prestigious Montreaux Switzerland Jazz Festival. Tickets, to be sold at the door, are $15 for general admission and $7.50 for students.
On Sunday, Oct. 14, at Linnaea's Cafe, Ted Waterhouse presents Big Variety Night, a longstanding institution where local musicians get to perform for each other. It starts at 8 p.m., is free, and word has it that local duo Bob & Wendy will perform that night.
Downtown Brew's Grass Roots show on Tuesday, Oct. 16, has something special cooked up for you--something full of grits, hammocks, hair grease, and some ingredients better left unnamed. It's going to be a night of all Americana roots music, titled "Bar Room Blitz," with Pennyjar joining Red Eye Junction, the Hydramatics, and the Ghosts of Guadalupe (with Butch Boswell of Virgil Cane on lead guitar). According to Patrick Hayes of Pennyjar, "All four bands will be doing multiple sets, and there will be some member swapping (that sounds bad doesn't it?), and some Stupor-grouping. We're all pretty excited about it." The bands will be donating their earnings to the Roots Music Association, so come on down and pony up the $2 cover--or give a bit more if you're feeling it.
Chicago's Rachel Ries is the featured act at the weekly songwriters showcase, held every Tuesday from 6 to 9 p.m. at The Clubhouse, where all ages are welcome to attend and there's no cover charge. The classically trained singer and musician (piano, violin, and viola) appears Tuesday, Oct. 16. According to event promoter Steve Key, "like Andrew Bird and Erin McKeown, she has developed an urban cult following based on a fresh approach to musical forms of the '20s and '30s." Each showcase includes one featured act and up to eight others performing three-song guest sets.
Jazz man Mike Raynor is hosting yet another sweet jazz show at the Sea Venture Hotel on Wednesday, Oct. 17, this time with Brazilian flutist/vocalist Rebecca Kleinmann from Los Angeles performing with the Mike's combo from 6 to 9 p.m. Rebecca attended Indiana University's prestigious School of Music on scholarship, and graduated with degrees in jazz and Spanish.
Broadway actor, singer, and dancer Gale McNeeley appears at Linnaea's Cafe on Wednesday, Oct. 17, at 7 p.m. to perform a program of songs from Broadway and movie musicals. He'll be accompanied on piano by his musical partner, Betty Faas. Hear songs from Sweeney Todd, Les Mis, Barnum, Company, Cyrano, Working, Two Gentlemen of Verona, and the Wizard of Oz. McNeeley appeared on Broadway in Two Gentlemen of Verona with Jerry Stiller and Raul Julia, and Cyrano with Christopher Plummer. Appropriate for all ages, there's a $10 suggested donation.
Glen Starkey is warming himself by the fire of your hatred. Turn up the heat at gstarkey@newtimesslo.com.