January
New Times rang in the New Year with a cover story on legendary photographer Santi Visalli. A Sicilian immigrant, Visalli once attended Truman Capote's Black and White Ball, taught Robert de Niro to speak Sicilian, and captured the likenesses of Fellini, Warhol, and Kennedy. A solo show at Cal Poly's University Art Gallery brought the master to San Luis Obispo.
ARTWORK BY MARK BRYAN
THE COLLECTORS : Local artist Mark Bryan found a nice plein air of Yosemite at an Arroyo Grande thrift store, photographed it, and repainted it—adding a thing or two in the process. He displayed the piece at his April show "Down the Rabbit Hole" at the Steynberg Gallery.
PHOTO COURTESY OF TIM ANDERSON
LA FORKED TONGUE : In February, six recent MFA grads showed their work in the "Genesis" show at the Cuesta Art Gallery. Pictured is Sandi Escobar's La Forked Tongue, a sculpture she described as "painful, but also seductive."
The inaugural Jewish Film Festival, organized by the Jewish Community Center, was held at the Palm Theatre.
Colin Mochrie and Brad Sherwood of Whose Line is it Anyway? performed a death-defying improv comedy act involving blindfolds and mousetraps at the Performing Arts Center. The PAC was also host to the touring Broadway show Spring Awakening, winner of eight Tony awards. A daring rock musical based on a rather depressing 19th century German drama, Awakening boasted a stellar cast—among them San Luis Obispo native Sarah Kleeman.
February
In conjunction with her PAC appearance, New Times spoke with actress/comedienne Lily Tomlin on her career in film, theater, and TV—and how best to get dirty words past television censors in the '70s.
But there was plenty of homegrown arts and entertainment as well. This is Rock 'n' Roll: The Alan Freed Story— directed by Kevin Harris, choreographed by Drew Silvaggio, and written by former New Times Arts Editor David Vienna—rocked the SLO Little Theatre.
And don't forget about Box City, New Times' and Meathead Movers' bizarre popup carnival, timed to coincide with our 2011 Springs Arts Annual.
March
Actor Greg Kinnear received the San Luis Obispo Film Festival's King Vidor award. And at the Cuesta College Art Gallery, Michael Barton Miller's show "Super 8mm" paid homage to sound, film, and dead technologies.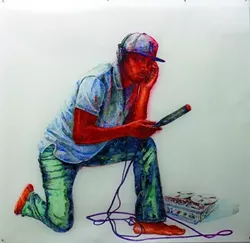 ARTWORK MY MICHAEL BARTON MILLER
FIELD RECORDING : Artist Michael Barton Miller paid homage to obsolete technology in his show "Super 8mm" in March.
PHOTO BY GLEN STARKEY
NOTHIN' BUT A HOUND DOG : The original musical This is Rock 'n' Roll: The Alan Freed Story was a huge hit at the SLO Little Theatre in February. Pictured is Chad Stevens as Freed, being serenaded by his first, second, and third wives in a booze-fueled dream.
April
Painter Mark Bryan—known for scathing political satire, robots, monkeys, and depictions of fanciful, apocalyptic disasters in pleasant, rural settings—returned to the Steynberg Gallery with "Down the Rabbit Hole," honoring yet another muse: bunnies!
Meanwhile, Cuesta College's Performing Arts Department worried about budget cuts and the fate of their performance venue as they rehearsed their sexy rock opera Rent.
May
The SLO Symphony celebrated its 50th anniversary with a finale concert featuring Beethoven's Symphony No. 9. Composer Craig Russell was called upon to create a 20-minute piece to precede it, a daunting task he likened to opening for the Beatles.
Music columnist Glen Starkey told the story of Live Oak Music Festival, a peaceful event attended by more than 5,000 people in Santa Barbara County's Camp San Marcos.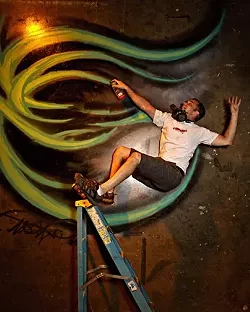 PHOTO BY STEVE E. MILLER
LIVING ON THE EDGE : In a photo shoot for New Times' Autumn Arts Annual, graffiti artist Derek Brown feigned a terrible accident. The shoot was part of a series that recruited willing artists to toy with perspective: He's actually lying on the ground.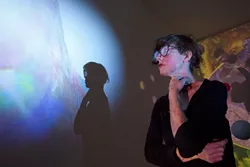 PHOTO BY STEVE E. MILLER
ARTY EARTH BABE : At the University Art Gallery, Oakland artist Suzy Poling's exhibit "Into the Center of the Earth" explored what our planet's core might look like through the use of video projection, photography, and installation.
June
Seeing an influx of empty storefronts in downtown San Luis Obispo, New Times Staff Photographer Steve E. Miller set out to capture these visions of vacancy with his camera and iPhone4. A resulting New Times photo essay revealed the unexpected beauty in these abandoned spaces.
It turned out Titanic actor Billy Zane is also an abstract painter! The work of Zane and fellow abstract artist Janet Roberts was displayed in a group show at Cambria's Vault Gallery.
July
It was festival season! The Central Coast Shakespeare Festival returned with As You Like It and A Comedy of Errors—though the setting of the latter was transplanted from Ephesus to the seedy territory of backstage Las Vegas, circa 1960.
Festival Mozaic, a 10-day celebration of Mozart and more, explored the intersection of classical music with pop culture.
"2011" (A YEAR IN QUOTES): 'It's a weird thing. If it goes really well, people think it's written, if it sucks, then people think, "Oh, it's improv."' Colin Mochrie, improv star

"The perfect joke is somewhere between an angel and a fart." Sara Ruhl, playwright, via Mathilde in The Clean House

"There is a manifestation of trust and human comedy. It's sort of a utopian ideal for the way you hope people interact. It's a round-about way of talking about what is actually the point." Robby Barnett, artistic director of Pilobulus, on the power of contemporary dance

"If I lived in the ghetto, I'd rob rich people, too. It's common sense." John Waters, cult filmmaker

"It's funny, because the thing that I always vehemently espouse is that the organ doesn't exist." Cameron Carpenter, organist

"I think those of us that draw figures, we have the capacity to say something about what it is to be a human being. … We have the capacity to speak of humanness." Joanne Ruggles, artist and Cal Poly professor

"Boris songs are like our children; children are not a possession of their parents. It is uncontrollable in a good way." Atsuo, drummer for Japanese doom rock trio Boris


August
New Times turned 25! Our birthday issue featured, among other things, a documentary "revealing" the identity of the Shredder, drawings of our favorite Steves (in honor of our founder, Steve Moss), and the best of our annual 55 Fiction contest.
Downtown Paso Robles got two new contemporary art galleries; Pierce Modern Gallery and Vale Fine Art set up shop next door to one another on 12th Street.
September
Revolutionary organist Cameron Carpenter wowed at the Performing Arts Center's Forbes Pipe Organ. How he sparkled!
Our Autumn Arts Annual featured photographs of artists lying on the ground, trying to appear as if they were standing up. It makes a lot more sense when you see it.
October
Over a period of 10 days, the SLO Plein Air Festival sent 50 of the nation's top plein air artists flocking to the idyllic sea, land, and cityscapes of San Luis Obispo County.
At the PAC, Hideo showcased video game and anime music in an epic theatrical concert experience.
November
This writer followed Oakland installation artist Suzy Poling around for two days for a cover story on the construction of her exhibit "Into the Center of the Earth" at Cal Poly's University Art Gallery.
December
The work of Santa Maria photographer Mark Velasquez came to the Steynberg Gallery in the solo show "Keep the Faith."
Finally, at Vale Fine Art, "A Little Nightmare Before Christmas," showcasing the art of Lee Harvey Roswell and Edward Walton Wilcox, was a welcome distraction from holiday cheer.

Arts Editor Anna Weltner has 2,011 reasons to remember and forget last year. Contact her at aweltner@newtimesslo.com.