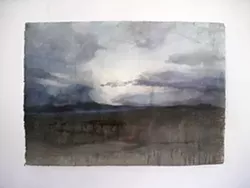 IMAGE BY MONTSERRAT DAUBON
MESA WATERCOLOR :

PLEASURES OF PLEIN AIR: The SLO Art Center's annual Plein Air Festival runs through Oct. 4. On Oct. 1 there will be Plein Air Poetry at 7 p.m. Attend a Collector's Party on Oct. 2 from 4 to 6 p.m. and get the first opportunity to buy paintings. $50 members. $75 non-members. Attend Art After Dark from 6 to 9 p.m. and view works created during the week. On Oct. 3, 9:30 to 11:30 a.m. is the Quick Draw Paint Out at Mission Plaza. This is followed by a live auction from noon to 2:30 p.m. And Oct. 4 from 10 a.m. to 4 p.m. is your final chance to purchase plein air works. For more information visit sloartcenter.org.
All this week, Montserrat Daubón has painted landscapes of the Central Coast. She started, along with 49 other artists, on Sept. 28. All week she's painted and on Oct. 2 the serious collectors will gather at the Art Center for the first opportunity to purchase Daubón, and the other artists' work. That evening, during Art After Dark, the public can view the paintings. Then, on Oct. 3 it's off to the mission for the Quick Draw Paint Out, a two-hour race to complete a painting. The week was and is a whirlwind, particularly for Daubón who has never before participated in a plein air festival, or painted on the West Coast, for that matter.
The painter and sculptor is a Harlem resident of seven years who abandoned her life as a financial consultant and moved to New York to learn the necessary skills to draw and paint. She first learned about the SLO Art Center's plein air festival while at her aunt's Passover dinner in Maplewood, New Jersey. A family friend even provided her a place to stay, on an avocado farm, during the festival.
"It's a great opportunity to do something I love in a brand new context," said Daubón, of the festival. "What's most interesting about plein air is light, capturing the composition of light. I'm attracted to lines. I don't really do well with cute architectural stuff."
IMAGE BY MONTSERRAT DAUBON
SUNSET OIL ON ALUMINUM :
Daubón's perspective is distinct, even within a genre as saturated as plein air. Part of that might be attributed to the fact that she now sculpts as well as paints. Since she started sculpting she has been straying farther and farther from traditional canvases and materials. She started painting on Plexiglas as part of an experiment to create on-site mono prints, an effort she characterized as a disaster.
Daubón paints on metal as well, mostly aluminum. She turned to this lustrous material while traveling; oil sticks and metal plates replaced canvas and brush as more space-efficient materials. Going into the festival, Daubón planned to paint on metal part of the time, although she was thinking of copper as a warmer replacement to aluminum. She had a difficult time planning anything for certain, given her lack of familiarity with both the region and the plein air festival formula.
Sculpting hasn't necessarily affected her paintings in the ways that Daubón had originally predicted, but it has shaped her approach.
IMAGE BY CAROLE GRAY-WIEHMAN
MORNING PALISADES :
"I'm not sure that I see a difference in perspective on volume," she admitted. "My paintings have gotten a little architectural. Sculpture has opened me to different materials. Before I was just painting on canvas. I wouldn't even consider using other materials."
Among the artists who joined Daubón in roaming the coastal countryside are an Atascadero resident whose past homes have included Mexico and Venezuela (John Barnard), a painter who describes her work as being in keeping with the Hawthorne-Henche tradition (Carole Gray-Wiehman), an artist who paints with watercolors on Yupo plastic (Kevin Davidson), and a woman who has hiked across North Africa and lived on beaches for months at a time (Molly Lipsher). They hail from Minneapolis, Sonoma, Pasadena via Madrid, Wisconsin, and Atlanta. It's an invasion of sorts, though a friendly one with palettes and brushes.

Arts Editor Ashley Schwellenbach doesn't paint pretty. Send ugly to aschwellenbach@newtimesslo.com.