Santa Barbara native Glen Phillips has a voice that sounds as if it's been dipped in honey, expressing the entire emotional spectrum evoked by his intelligent lyrics. As singer-songwriter and frontman for Toad the Wet Sprocket—one of the most successful alternative rock bands of the early '90s—he has a vast repertoire of chart-topping hits.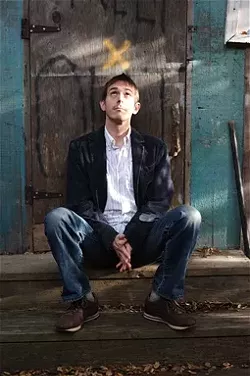 PHOTO COURTESY OF GLEN PHILLIPS
SPROCKET MAN : Singer-songwriter Glen Phillips performs along with Delaney Gibson in a benefit concert at Castoro Cellars on Aug. 27.
These days he enjoys performing solo, choosing an acoustic guitar rather than an electric one, and has several acclaimed solo albums. He still collaborates musically, forming other recording and touring music groups—Works Progress Administration,
Plover, and Mutual Admiration Society—which included members of Nickel Creek and John Paul Jones of Led Zeppelin.
Toad the Wet Sprocket sold more than three million albums, with hits including "All I Want," "Walk on the Ocean," "Something's Always Wrong," and the mega-hit "Fall Down," No. 1 on Billboard's Modern Rock Tracks for six weeks. Their music has been featured on film soundtracks and theme songs for TV shows including Friends, Scrubs, and My So-Called Life.
Glen Phillips brings his mellow, melodic folk-pop sound to Castoro Cellars Winery (1315 North Bethel Road, Templeton) for a benefit for Escuela del Rio, along with pianist-singer Delaney Gibson, on Saturday, Aug. 27. Gates open at 6 p.m., the show starts at 7 p.m., and the Paso Robles Kiwanis will be on hand with barbecued food for purchase. Tickets for the benefit cost $30 (buy advance tickets at castorocellars.com, Faultline Music, or KManCycle and Run).
PHOTO COURTESY OF DELANEY GIBSON
BURNIN' HOT : Described as a torch singer with bite, Delaney Gibson is a featured performer in a benefit concert for Escuela del Rio on Aug. 27.
Known as a torch singer with bite, red-haired Irish-Cherokee vocalist-pianist-songwriter Delaney Gibson has backed music legends including Barbra Streisand, Andrea Bocelli, Barry Manilow, and David Foster in concert. Her songs have been featured on MTV and Oxygen, as well as Jimmy Kimmel Live and Baywatch. A five-time MAVRIC Award winner, she'll be joined onstage at Castoro Cellars by Matthew Kiss on guitar and Laura Milhalka on cello.
Escuela del Rio is a day program that helps adults with developmental disabilities in North County maximize their choices for living and working in society, a very worthy cause to support while you enjoy performances of original songs by some fine musicians.
With or without seeds
SLO Brewing Company has a slew of all-ages shows before Cal Poly students come back to town, starting on Thursday, Aug. 25, with San Diego-based reggae-rock-roots band Tribal Seeds (7:30 p.m., all ages, $14 advance from ticketweb.com or Boo Boo Records, $16 at the door). Headed by two brothers, Tribal Seeds is heavily influenced by Bob Marley, Steel Pulse, Midnite, and the Police. Seedless opens the show.
Next up is Mac Lethal on Friday, Aug. 26 (7 p.m., all ages, $10 advance and $10 at the door). Then it's indie-rock-soul trio Nico Vega on Saturday, Aug. 27 (7:30 p.m., all ages, $10 advance, $11 at the door), followed on Sunday, Aug. 28, with Callista (7 p.m., all ages, $8 advance, $9 at the door).

PHOTO COURTESY OF NEEDTOBREATHE
INHALE NOW : South Carolina band NeedToBreathe brings their Southern-flavored rock to SLO Brew on Aug. 31.
Coming to SLO Brew all the way from South Carolina is rock band NeedToBreathe on Wednesday, Aug. 31. Their new album The Reckoning is due out on Atlantic Records next month, a follow-up to The Outsiders, which debuted in the Top 20 of the Billboard Top 200 and was praised by Spin, USA Today, Entertainment Weekly, and E! News for "songwriting that touches on the classic elements of rock with arena-ready choruses," according to press materials. They've built up a dedicated fan base with nonstop touring and appearances at events such as the Bonnaroo Music and Arts Festival. Check out their new single, "Drive All Night," at needtobreathe.net/music/83c000-drive-all-night.
Songwriters At Play
Santa Margarita singer-songwriter-guitarist Jade Jackson makes a farewell appearance as the featured act at the Porch (22322 El Camino, Santa Margarita) on Thursday, Aug. 25, before heading off to college in Southern California. She's opened for the Charlie Daniels Band, the Devil Makes Three, and Merle Haggard, and recently released her debut CD Vintage Heart, recorded at Painted Sky Studios in Cambria. Joining her in the Jade Jackson Trio are Charlie Kleemann on bass and Jeff Bedrosian on lead guitar. The showcase runs from 6:30 to 9:30 p.m., with four-song sets from a variety of performers (all ages, pass-the-hat).
The Karen Tyler Trio featuring Valerie Johnson and Al B Blue makes an encore appearance at Sculpterra Winery (5015 Linne Road in Paso Robles) for a Songwriters at Play showcase starting at 1 p.m. on Sunday, Aug. 28. Tyler is an award-winning blues singer, songwriter, and guitarist, while Valerie Johnson and Al B Blue add some more blues, plus jazz, gospel, and Janis Joplin-esque rock'n'roll. "Two big voices that blend like sister-singers, two guitars, side orders of resonator mandolin and dobro, and the bring-it-on-home drive of Miss Val's washboard playing provide an old-time charm that pleases the ears and feeds the soul. Add to that knockout gospel tunes sung only the way Tyler and Johnson can sing them, and you have a little slice of heaven for dessert," according to press materials. Other singer-songwriters play four-song sets (all ages, pass-the-hat).
PHOTO COURTESY OF KATIE BOECK
'SOUL-FOLK' : South County singer-songwriter Katie Boeck is back from studying and singing in L.A. for an Aug. 29 concert at The Spot.
Then it's the hometown girl made good Katie Boeck returning from the wilds of L.A. for a special concert at The Spot, 116 W. Branch St. in Arroyo Grande, on Monday, Aug. 29 (7 p.m., $10 at the door, thespotag.com). Boeck is a graduate of UCLA's Ray Bolger Musical Theater program who's performed at various L.A. venues, including the House of Blues. She calls her blend of genres "soul-folk," somewhere between Joni Mitchell, Alison Krauss, and Lauryn Hill. "Her guitar- and piano-driven songs blended with her soaring melodies and densely metaphorical lyrics evoke messages about self-empowerment, and the pain and beauty of familial and romantic love," said promoters. Special guests include Aireene Espiritu and Santa Barbara's Kat Devlin.
Kreuzberg in downtown SLO is the venue for a Songwriters at Play showcase featuring Philippine native Aireene Espiritu. Inspired by Odetta and Leadbelly, she also writes her own rootsy originals, drawing on Latin and African rhythms, folk, bluegrass, and gospel. Special guests include Lucy Billings, Stephanie Austin, and Ted Waterhouse, all on Tuesday, Aug. 30, from 6:30 to 9:30 p.m. (all ages, pass-the-hat).
More music …
PHOTO COURTESY OF DAVID LYNCH
CALIFORNIA AMBASSADOR : Award-winning local singer-songwriter David Lynch and his family are taking the laid-back Central Coast vibe around the world.
SLO County's own award-winning singer-songwriter-guitarist David Lynch has a few local performances before he takes his signature "California blue-grusion"—plus his wife Dru and three teenage sons—on a year-long world tour. First stop: a special show and workshop for the Guitar Association of New Zealand. His latest recording, I Can See Sound, has been garnering rave reviews nationally and internationally. "It's always been about the songwriting for me," Lynch said in a recent interview. "I think deep down I'm a poet. I've given up trying to define what's driving me—I just have to go!" Check out Lynch Family Adventure on YouTube, the family's bid to attract sponsors for their trip, or e-mail davidlynchmusic@gmail.com if you have any ideas or contacts to help them out. You may even be able to pick up some bargain-priced instruments and more at their big leaving-town sale on Saturday and Sunday, Aug. 27 and 28 (2090 Pine, Los Osos). You can hear David Lynch at Luna Red in downtown SLO on Saturday, Aug. 27, at 9:30 p.m.; at Stacked in Grover Beach on Sunday, Aug. 28, at 1 p.m.; again at Luna Red on Friday, Sept. 2, and Sunday, Sept. 11, and at Clayhouse Wines in Paso Robles on Saturday, Sept. 10.
Farmers Market in downtown SLO features surf music by Chum on Thursday, Aug. 25. The band is touring California in support of its new CD, Fighting Words.
Head out to Sweet Springs in Los Osos on Friday, Aug. 26, for a rockfest featuring the Dirty Pink Slips, Deathbear, Bad Assets, and Dogons, along with other special guests. Music starts at 9 p.m., and the cover's a mere $5.
Pop jazz singer-songwriter Slim Man performs at D'Anbino Vineyards tasting room in downtown Paso Robles on Friday, Aug. 26. Singing since he was a 5-year-old inspired by Louie Armstrong, Slim Man (who was once Slim Boy) is "a near-perfect example of how jazz and soul can be combined as pop," according to Rolling Stone. Tickets are $10.
A free concert promoted by the SLO Jazz Festival is set for noon on Saturday, Aug. 27, when the Black Market Trio takes you on a musical journey with stops in Morocco and Cuba. Listen up for an unusual combination of instruments: sax, conga/bongos, and bass. It's all up the steps at the Court Street Terrace in downtown SLO.
Bobby Santa Cruz and the Mystics dish up some groovin' funk at the Sea Pines Golf Resort on Saturday, Aug. 27, from 2 to 6 p.m., part of the free Indian Summer Concert Series running at the venue-with-a-view through Oct. 15.
Saddle up for some country music by Monte Mills and the Lucky Horseshoe Band at the Loading Chute in Creston on Saturday, Aug. 27. Cowgirls get in free, and cowboys pay $5 at the door.
The music of the '60s comes to life at the "British Invasion," a tribute to the rock'n'roll era's classic hits from across the pond. Unfinished Business will perform tunes by the Beatles, the Rolling Stones, the Animals, the Zombies, the Kinks, the Moody Blues, and more, in a benefit for Big Brothers Big Sisters at Vina Robles Winery in Paso Robles on Saturday, Aug. 27. Unfinished Business includes Grammy nominee Terry Lawless on keyboards plus drummer Jim Stromberg, Jim Witt on bass and vocals, Ben Davis on rhythm guitar and vocals, and Ed Miller on lead guitar and vocals. Festivities will include a showing of the Beatles' first appearance on TV's Ed Sullivan Show in 1964 as well as Martin Scorsese's documentary on the Rolling Stones, Shine a Light. Doors open at 5:30 p.m., with music starting at 7 p.m. Tickets cost $25, with food, beer, and wine also available. Groovy '60s attire is welcome! Find out more at vinarobles.com or unfinished-business.org.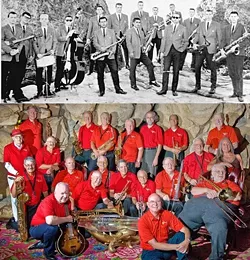 PHOTO COURTESY OF CAL POLY COLLEGIANS ALUMNI BIG BAND
SWINGIN' IT : Cal Poly graduates from decades past perform as the Cal Poly Collegians Alumni Big Band at the Madonna Inn Ballroom on Aug. 27.
Another blast from the past comes your way on Saturday, Aug. 27, from 7:30 to 10:30 p.m., when the Cal Poly Collegians Alumni Big Band pumps out the swinging sounds of big bands of the 1940s through the '60s. Two winners of this year's Collegians' Jazz Scholarship—music majors Dylan Weddle on trumpet and Jonathan Withem on percussion—will share the Madonna Inn Ballroom stage. The all-male ensemble was originally formed in 1937, and now includes Cal Poly graduates from the '40s, '50s, and '60s. Admission is free, but you may want to bring along a contribution for the scholarship fund along with your dancing shoes.
Jump into your rowboat, kayak, or canoe, or hop onto your surfboard to catch some tunes floating over the estuary at Baywood on Sunday, Aug. 28, when the Baywood Navy presents Boatzart 2011. This year's event features vocalist Judy Philbin, guitarist Adam Levine, and bassist Ken Hustad performing on the pier at 2nd Street. The free concert starts at noon, with tunes from the Great American Songbook, plus favorites such as James Taylor, Van Morrison, the Eagles, Diana Krall, and more. Watch for the famous Boatzart Cookie Boat!
PHOTO COURTESY OF THE NORTHSTAR SESSION
REMINISCENT ROCK : Evoking the sounds of the '60s and '70s, Southern California rock band the Northstar Session kicks off a weeklong SLO County tour at Robert Hall Winery on Aug. 28.
Catchy pop-rock that sounds like a combination of Crosby, Stills, Nash, and Young and Ryan Adams is coming our way with the Northstar Session, an L.A.-based band that features a prolific songwriting team and ultra-tight vocal harmonies. "The Northstar Session has the best combination of Wilco's neo-country glow and Travis' earnest optimism," says Music Connection Magazine. You have a few chances to hear the Northstar Session: Sunday, Aug. 28, at 2 p.m. at Robert Hall Winery; Thursday, Sept. 1, at Frog and Peach; Friday, Sept. 2, at the Pour House; Saturday, Sept. 3, at the Cliffs at 1 p.m. and Mongo's at 10 p.m.; and Sunday, Sept. 4, at the Cliffs. Now that's some tireless touring!
Trumpeter Don Rader is the next attraction at the Famous Jazz Artist Series at the Hamlet in Cambria on Sunday, Aug. 28. Rader's been one of the premier jazz trumpet players on the West Coast for decades, playing with the legendary bands of Count Basie, Woody Herman, and Stan Kenton, among others. He'll be accompanied by our local rhythm section stars Dylan Johnson on bass and Darrell Voss on drums, and as usual the series co-producers Charlie and Sandie Shoemake will be on hand, too, on piano/vibraphone and vocals. The 4 p.m. show is $15; the 7:15 p.m. show is $12; or see both shows for $20. Call 927-0567 for reservations.
Lone Madrone (the band, not the winery) plays at Frog and Peach in downtown SLO on Sunday, Aug. 28 (10 p.m., $6 cover). "We've been described as 'foot-stomping folk rockers whose roots and Western songs charm,'" the band writes.
L.A. rockers One High Five take the stage at Linnaea's Café in downtown SLO on Wednesday, Aug. 31. Describing themselves as "a wall of sound with a glory hole in it," the band blends rock, punk, surf, and indie pop into a unique sonic adventure.
One of America's best-known composers, Philip Glass, is starting an annual summer event called the Days and Nights Festival, with music, dance, theater, poetry, and film. Most of the performances take place in Carmel Valley, but the Henry Miller Library in Big Sur will be the venue for an evening of poetry and music by Philip Glass on Wednesday, Aug. 31, at 8:30 p.m. The Philip Glass Ensemble will perform the original musical score of the 1931 classic film Dracula on Thursday, Sept. 1, at 8:30 p.m. while the film is screened on the Henry Miller Library's new outdoor film stage. For tickets, visit daysandnightsfestival.com.
And be sure to enjoy plenty of days and nights of live music!
Contributing Writer Kathy Johnston is filling in for Glen Starkey, who's taking a staycation. Let him know you miss him at gstarkey@newtimesslo.com.