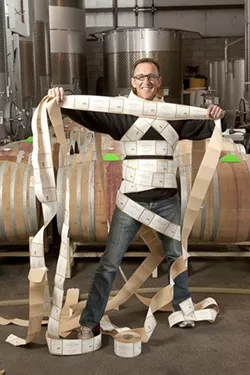 PHOTO BY STEVE E. MILLER
WRAPPED UP IN HIS WORK : Brian Talley is proud to put his vineyards' name on the Bishop's Peak label. He's also excited to be working with the new team of assistant winemaker Eric Johnson and winemaking consultant Byron Kosuge.
I live for that next great glass of wine and willingly pay the price for the opportunity to indulge in a really special bottle. While I'm spoiled enough to enjoy good wine with dinner nightly, I certainly can't afford luxury-priced wines daily. That's why I'm constantly on the lookout for less costly brands, often wrongly referred to as "second labels." I say wrongly because "second" implies inferior quality such as you'd find in a jug of plonk.
At my dinner table, not just any cheaply priced bottle—like two-buck Chuck—will do. I carefully choose wines made by reputable wineries that consistently produce premium-quality wines. That's why I've always favored the Bishop's Peak wines produced by Talley Vineyards.
Talley Vineyards, founded by Don Talley in 1985, has produced a value-priced line that offers much more quality in the bottle than others at this price range. From Bishop's Peak's first releases in 2001, vintner Brian Talley, Don's son, has asked the media: "Please, don't call it our second label. That infers second class, and that's not what we're doing with this brand."
Through the years, quality has been foremost for Bishop's Peak wines, no matter which variety or blend they've bottled. There has been one rather large problem, however. Because it was treated as a stand-alone brand, the Talley name wasn't on the labels; few consumers, therefore, had any idea of its true pedigree. According to Brian Talley: "We got feedback from people in the wine industry who said they thought our wines were better than the packaging expressed. We wanted to convey our pride in this product, and that's why we made the decision to add: 'hand-crafted by Talley Vineyards' on the front label."
Talley invited me to rural Arroyo Grande Valley for a comparison tasting of Bishop's Peak and Talley estate wines—pretty daring considering that the estate wines are strictly made from their estate vineyards. Some of the varieties in the Bishop's Peak wines and blends are purchased from other local growers. During that tasting of new releases at Talley Vineyards, which included both the 2007 and 2008 vintages, the Chardonnays and Pinot Noirs from both labels were impressive.
"The estate and Bishop's Peak Chardonnays are treated with the same winemaking process, with a few differences," Talley said. "We purchase grapes and stainless steel ferment the Chardonnay for Bishop's Peak; and we whole cluster press and ferment the estate Chardonnay in French oak, 20 to 25 percent of which is new. In the estate, we get green apple and white peach flavors. I'm really proud of the balance between fruit and oak."
He considers the Bishop's Peak more of a regional blend because it's a blend of grapes grown in Monterey County and Edna Valley.
While comparing the estate 2007 Pinot Noir and Bishop's Peak 2008 Pinot Noir, he explained that the wines are both hand-picked, 100 percent of the stems are removed, they're fermented in small bins, and neither one is inoculated with yeast.
"We don't inoculate in primary or secondary fermentation because native yeast is a characteristic of the vineyards and the expression of each vineyard site," Talley pointed out.
The estate is a blend of 85 percent Rincon Vineyard (adjacent to the tasting room and winery) and 15 percent Rosemary's Vineyard, only one mile apart. It has the structure and acidity to evolve over the next few years.
"The Bishop's Peak Pinot Noir is a lighter style that's made to be consumed immediately. It has more bright red fruit flavor that makes it immediately approachable," Talley explained. "The Bishop's Peak wines reflect our wine-growing approach: finesse, elegance, and balance, as opposed to big powerful wines. The new packaging puts a fine point on that."
The Bishop's Peak 2007 Cabernet Sauvignon, blended with 22 percent Cabernet Franc—both grown in Talley's Hazel Vineyard in Paso Robles—is delicious without the ripe fruit flavors typically found in warmer-climate appellations.
Late in July, Talley announced the departure of winemaker Leslie Mead Renaud, now at Foley Wine Group's Lincourt in Santa Ynez Valley. She replaced Talley's original winemaker Steve Rasmussen in 2005. Her enologist, Eric Johnson, who was hired in 2007, was promoted to assistant winemaker. Talley said he will take on a more active role in all aspects of winemaking with this year's harvest. He also brought in winemaking veteran Byron Kosuge from Napa Valley as winemaking consultant. He cited Kosuge's long history of making Chardonnay, Pinot Noir, and Syrah in Napa and Sonoma counties.
Kosuge is no newcomer to Arroyo Grande and has worked with Talley for the last decade, buying their grapes for the Miura brand owned by Emmanuel Kemiji, a certified master sommelier who works in the Bay Area. Kosuge and Talley have known each other since 1995.
As enthusiastic about the family winery as ever, Talley has a bright outlook on the future: "I think this opens a great new chapter in the story of Talley Vineyards. [Johnson] comes from a farming family. He grew up in California's Central Valley and has an appreciation for farming. Like me, he believes that the world's greatest wines are defined by place as opposed to winemaking manipulation."
Johnson studied wine and viticulture at Cal Poly and has taken continuing education classes on wine at UC Davis. He's worked closely with Mead Renaud since he started working at Talley.
"In addition, [Johnson] has an amazing work ethic and passion for excellence that's inspiring to everyone here," Talley said.
"[Kosuge] and I have known each other for 15 years, and worked together 10 years—since the time he started making a Talley Vineyard designated Chardonnay for Emmanuel," he continued. "We have often discussed more collaboration, but it never really made sense until now."
Talley plans to uphold the tradition of quality that has been the earmark of Talley Farms since his grandfather, Oliver Talley, established the business in 1948. Kosuge has already traveled here several times this year to connect with Talley and Johnson as they prepare for the upcoming harvest.
"[Kosuge] and [Johnson] are excited about working together and think thatthe experience will result in wines that truly capture the essence of our vineyard," Talley said.
Cuisine columnist Kathy Marcks Hardesty can be reached at kathymhardesty@sbcglobal.net.