Ever since I was about 12 years old, I really wanted to get a tattoo. So last year, after more than another 12 years of living, I finally got one.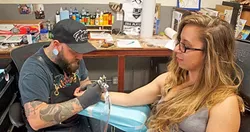 PHOTO COURTESY OF RYAH COOLEY
NO MUD, NO LOTUS: New Times Arts Editor Ryah Cooley's sneaks a peek while Nik Blakhart of Sink or Swim Tattoo in Grover Beach works on a lotus flower design on her wrist.
In a cursive loopy scrawl far neater than my own, it says "Michael Cooley" on my left ankle, a nod to my dad who died when I was about 5 years old. I walked into a tattoo shop on what would have been his 54th birthday on a warm day in April, my birth certificate in hand with my dad's signature for the artist to blow up and trace.
And I thought that was it for me and the inked life, but fast forward to just about a year later on another warm day in April, and I find myself sitting in a different tattoo artist's chair, ready for round two. Like the proverbial potato chip, it turns out it's hard to stop at just one tattoo.
This time, this tattoo isn't to honor anyone's passing, but to remind myself what I've been through and where I'm going. After a lot of things fell apart for me in 2014, I enrolled in a yoga teacher-training program in 2015. It provided me with an energetic shift that I desperately needed.
The chakras, or energy centers found along the body, were one aspect of yoga that I didn't expect to get into, but the more I learned, the more the chakras fascinated me. The crown chakra, located at the top of the head, is how we receive wisdom and enlightenment. It's also referred to as the thousand-petaled lotus, which is why I found myself at Sink or Swim Tattoo in Grover Beach, waiting to get a black lotus flower done on my wrist by tattoo artist Nik Blakhart.
PHOTO COURTESY OF
RYAH COOLEY
With my first tattoo, I simply strolled in to a shop without an appointment, since that design was literally a tracing that any artist could handle. This time, I did my homework. I got a referral from another yogi friend who had a mala bead and Sanskrit design done on his arm by Nik. About a month before my appointment, Nik and I sat down, talked about what I wanted, and he sketched out a design. Nik is also a yogi with a niche in the area of Eastern and yoga-themed tattoos, so I knew he was the right man for the job.
My friend Zahara, who accompanied me for this momentous occasion, chats with Nik about what kind of tattoo she might want to get down the line, while I mentally prepare myself for the pain that comes with having ink permanently emblazoned on my skin.
"You hear all these descriptions of what the pain is like, and none of them make any sense until you get a tattoo," Nik says.
And he's right. The artist that I went to for my first tattoo described it as getting a cat scratch on a sunburn, but it definitely hurts more than that.

TATTED : Check out more of tattoo artist Nik Blakhart's work on Instagram by following

@blakharttattoosmith

.
Nik wipes the back of my wrist and arm clean and presses the tracing onto my skin. It's a shaded lotus with a stem (as if it was just plucked out of the water). I hear the vibrating of the needle, and I immediately look away to steel myself. Giant baby that I am, getting any kind of painful procedure done, whether it's a tattoo or a flu shot, always seems like it hurts so much more if I'm actually watching it happen. So instead I distract myself from the physical pain with Jason Segal's emotional pain in Forgetting Sarah Marshall, which is playing on the TV in the shop.
About an hour later, we're all done here. My skin is a bit red and puffy from the fresh tattoo, but I already love it. I look at my lotus and think of the past year and the saying, "No mud, no lotus." I'll take it.
New Times Arts Editor Ryah Cooley's wrist still hurts at rcooley@newtimesslo.com.