PHOTO COURTESY OF SANTI VISALLI
ROBERT DE NIRO, 1973:
Think about this for a second," venerable photographer Santi Visalli told me. "You see an image, and your eye will tell your brain to tell your finger to click. And it is maybe a millionth of a second that passes, but there is a lapse of time. You have to be so sharp, so ahead of it, to determine what is going to happen in a millionth of a second from now."
We were seated at the kitchen table of his elegant Santa Barbara home, where he's lived for the past 11 years.
"Things don't happen by accident," he concluded.
A layer of mist obscured our view of the Channel Islands—a white view from a pristinely white home.
A photography career spanning four decades has given Visalli ample opportunity to sharpen his sense of time. His decades-long relationship with the likes of Time, Newsweek, and The New York Times led him to capture images of America in a more innocent time. Before heightened security measures could prevent him, Visalli was scaling the Golden Gate Bridge (a 740-foot feat) or dangling his camera through the roof of the New York Stock Exchange to get the most breathtaking shot. Before trashy gossip magazines stalked celebrities, angling for a flash of cellulite, Visalli was creating portraits of personalities in the best light possible, his work informed more by Renaissance painters than by his fellow news photographers.
"The most asked question is, 'How did you get to all those people?'" Visalli said, referring to his images of De Niro, Dali, Warhol, Kennedy (John F. and Jackie O.), Fellini, and many more on display this month at Cal Poly's University Art Gallery. "Well, my ego wants to say, 'Because I'm the best.' The real reason is that the people were accessible in those days."
The photographer immigrated to New York from Sicily in the early '60s with nothing but his modest Leica and boundless sense of wonder. He was forced to sell the Leica for $60, he explained, because he had to eat, but the sense of wonder he kept, all through his days at New York University, where he began studying economics and learning English, his fourth language. There, Visalli met his wife, Gayla, who gave him an old Swiss camera.
PHOTO COURTESY OF SANTI VISALLI
SOFIA LOREN AT THE MOMA, 1967:
Visalli's hobby of taking pictures in his spare time quickly blossomed into a passion. He showed the results to an Italian news agency that didn't have anyone working in New York, and was offered some modest payment for his photographs.
Now, said Visalli, "I had a little bit of money, and my wife was doing some part time work. The two of us could survive, and I could concentrate on taking pictures."
He began working as a photojournalist, capturing images to illustrate news stories. With an entire ocean separating him from his boss, the young photographer enjoyed the freedom to capture an event or a subject as he pleased, and his images often transcended the assignment he was given, telling stories of their own.
He referenced a photo of an anti-Miss America demonstration, dated 1969: "In my mind, it was a cartoon," he divulged. Visalli's pictures are characterized by minute details, creating a tableau of almost Rockwellian quality. Here, angry women thrust signs into the air, and we catch a glimpse of the words "I'm already liberated." Balled fists, megaphones, and the occasional nipple, seen through a blouse, jut out at random. The protestors seem to be swarming in all different directions, like angry hornets, reflecting the chaotic nature of the women's lib movement in its beginning stages. The nipple is of specific importance to the photo's composition, Visalli noted: At the time, it was the only area in which women were liberated.
"They didn't have that place in society yet," he said. "The only thing they had gained was that they had lost their bras.
"People ask me, 'What advice do you have for young people?' And I say, 'Take pictures,'" he said. "It's very simplistic, but it's the truth, because the more pictures you take, the more experience you gain. So I concentrated, and I made a lot of mistakes, because I never went to a formal school of photography. I learned on my own. I made a point to meet some photographers, and some helped, and explained to me a few things, but I never had a formal schooling. And all this practice I had, and all the mistakes I made, they made me better. Until I really got there."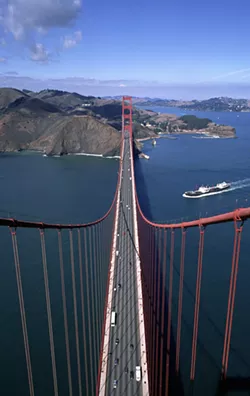 PHOTO COURTESY OF SANTI VISALLI
GOLDEN GATE BRIDGE, 1988:
Visalli "got there" in 1967, with an invitation to Truman Capote's renowned Black and White Ball. As the only photographer in attendance, he knew the value of the images he captured.
"I took the photographs to Newsweek and offered them exclusively," Visalli told The Santa Barbara Independent decades later. "I told them they could have the story for free as long as someone would look at my portfolio."
He got his break, and suddenly Visalli was one of New York's premier freelance photographers. His close ties to the city's Italian community meant a slew of assignments with Italian actors and film directors. But Visalli didn't want his career dictated by his heritage alone, and he began turning down "Italian" assignments every so often to avoid being pigeonholed.
"Somebody once said to me, 'Oh, can you do this [assignment] for us?' He's an Italian movie director; you'll be very good at it.'" In reality, Visalli said, his Italianity, as he put it, had nothing to do with the quality of the shot. "I didn't want Newsweek or Time magazine to get used to the fact that I was good at that particular thing. So sometimes, I had to say, 'I'm sorry, I am busy but I'll do something tomorrow'"—even though he wasn't busy.
"Not that I had enough money to do that. But the point was, I'm suffering today for a few hundred dollars, but at the end, I'm not being boxed, that was my aim," Visalli explained, fitting two distinct syllables into the word "boxed," as if to underscore his distaste for the concept.
Visalli still has the telegram he received from the director of the press office of the Metropolitan Opera, tipping him off about a celebrity appearance.
PHOTO COURTESY OF SANTI VISALLI
NEW YORK STOCK EXCHANGE, 1979:
"Impossible to get you on the phone," it reads. "Jackie's going to be at the house tonight. Please come."
Jackie, he knew, was Jackie O. "At the house" was the Metropolitan Opera House. "And sure enough," he said, "I went there, and I filled Europe with those pictures."
As his portfolio expanded, Visalli moved from photojournalism to celebrity portraiture. In this realm, too, his shots went beyond fulfilling the criteria of the assignment. Where other photographers would zoom in eagerly on a given celebrity, Visalli would pan out, planting each subject firmly in a specific place and time.
The image of Jacqueline Kennedy Onassis in particular, part of the current University Art Gallery exhibit, shows the First Lady surrounded by several men who walk a pace behind her. A closer look reveals her face to be slightly blurred, while the men looking at her are in sharp focus.
Another assignment, from the German newspaper Stern, required Visalli to photograph Muhammad Ali in his gym as he trained for a fight. Visalli was after action shots for Stern, but something outside of the ring caught his eye: two posters of the fighter in his teens, signed Cassius Clay. The photographer brought Ali out of the ring and asked him to stand in front of the posters. The shot Visalli produced shows the boxer absorbed in the activity of wrapping his hand as images of his former self, bearing another name, seem to peer out at him from the past.
Though he hated letting his heritage drive his artistic career, Visalli's Italianity would ultimately provide him with one last big break. It began with his next-door neighbor, actress Jo Van Fleet, who turned to Visalli for help on her lead role as an Italian mama in the gangster spoof movie The Gang That Couldn't Shoot Straight. Visalli helped Van Fleet polish her Italian mannerisms, unaware that their on-set lessons were being watched by a young, emerging actor with a minor part in the film. It was Robert De Niro.
When he realized his role as a younger Vito Corleone in The Godfather II required him to speak Sicilian, De Niro turned to Visalli for help. The two worked together for about three months. The closeness that developed during their regular lessons in the Sicilian dialect is evident in the friendly, unguarded photographs Visalli later shot of De Niro.
When The New York Times needed a photograph of the actor to illustrate a feature story, Visalli was the obvious choice.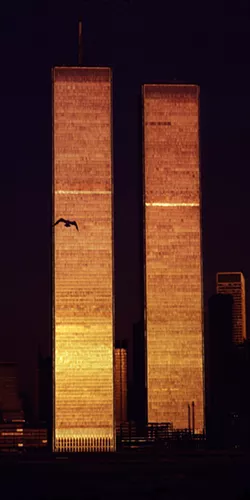 PHOTO COURTESY OF SANTI VISALLI
WORLD TRADE CENTER, 1979:
"My assignment was, 'Make him look very Italian,'" Visalli said, bringing up a host of images on his computer. The two walked around New York City in search of the most Italian-looking corners. In one photograph, the Academy Award winner slings his sweater jauntily over one shoulder, a classically European gesture. One portrait in particular, which the photographer took independently of the assignment, is the most disarmingly relaxed, the actor's quiet gaze revealing his trust in Visalli.
The shot the Times editors eventually chose provides a rare glimpse of De Niro with a surprised, playful expression on his face. The actor gesticulates with his hands, which, by a trick of perspective, appear gigantic.
"I did that to emphasize the Italian way of speaking," the photographer explained.
Jeff Van Kleeck, of the University Art Gallery, pointed out that Visalli's technique came decades before famed photographer Platon shot President Clinton using a comparable approach; Clinton's hands, resting on his knees, look like giant mitts.
"I broke through barriers," Visalli said. Having no formal training in photography, he worked outside of its established rules.
"The other thing," he added, "is that when you're coming from a country where, all your life, you're surrounded by classic art, you are influenced a lot by it. I think that put me a little bit in an advantaged position. Other photographers probably have not been exposed to that much beauty and art. It makes you more sensitive of your subject. I think of the picture of Sophia Loren: I had in mind Mona Lisa.
PHOTO COURTESY OF SANTI VISALLI
ANTI-MISS AMERICA DEMONSTRATION, 1969:
"In the photographs," he continued, "I always looked toward Renaissance paintings for the source of light. Without light, you will not have a photograph—at least in the old days, with film. It has to be tarnished by light. The light is the vehicle … the bridge from the eye of the viewer to the subject."
For years, Visalli continued to shoot famous figures, despite occasionally becoming annoyed at people's complaints that their best side wasn't being shown. But after one assignment in particular, he felt a distinct need to move on.
Visalli had photographed Chilean president Salvador Allende shortly before the leader's death in 1973. Visalli was proud to have that image grace the cover of Newsweek, but seeing the magazine being flipped through and then tossed out once the week was up bothered him greatly.
"I had pictures in that magazine," he said. "My art went into that wastebasket! I was so upset that I thought, 'Maybe I should do something more permanent than the weekly news.'"
His next direction, architecture books, gave his work a little more longevity. He referenced a shot of New York's twin towers, the setting sun coloring them red and gold, the silhouette of a bird adding to the impossible perfection of the shot.
For a building that had already been photographed so many times, Visalli said, it wasn't a question of first impression, but of maturity. The structures were stationary, but the sun hit it at different times of the day, the month, and the year.
"So, in 365 days—in 12 months—this building has a peak of beauty," he explained.
PHOTO COURTESY OF SANTI VISALLI
MUHAMMAD ALI IN TRAINING, 1975:
First, Visalli studied the building. The architect, a Japanese man named Minoru Kawasaki, had gone to Italy for four months to study the functionality of the Italian piazza, Visalli found out.
"Everything since Renaissance time in Italy has happened in a piazza. The piazza for the Italian is a stage," the photographer emphasized.
In other words, it's the place where you get your espresso, your newspaper, your gossip; the place where you meet your first love, your girlfriend, where you walk with your wife and children in the afternoons.
Kawasaki had the piazza in mind for the front of the twin towers.
"Now, as an Italian photographer, I am so honored that this architect does that, that I want to do something that looks very Japanese to honor his thought," Visalli said.
He brought the photograph of the towers to our table, and sure enough, there's a slight nod to Japanese etching in the way the towers are colored.

A 50TH OF A SECOND: Santi Visalli's fine art photography is on display at the Cal Poly University Art Gallery from Jan. 7 through Feb. 19. An artist's talk takes place on Jan. 7 at 5 p.m. in Building 34, room 227, on the Cal Poly Campus, followed by a reception at 6 p.m. in the gallery.
Now, with the towers a thing of history, the shot is even more of a rarity, like the image of the New York Stock Exchange, in which brokers, milling about like bees in a hive, use paper tickets to trade on the floor. The photographer captured things we only think of in the context of their obsolescence or destruction, or—in the case of J.F.K. or Martin Luther King—assassination. Visalli's knack for capturing history is uncanny.
"When I saw Martin Luther King, the first time," Visalli remembered, "I said, 'There is a man that will go down in history.' That's the feeling that I had when I was looking at him. I knew he was somebody special. I didn't know he was going to be assassinated, but I knew that he was a historical person.
"Let me tell you one thing that has been going in my mind since I started," he went on. "First of all, I'm recording for history. I may be presumptuous, but I always thought that whatever I click today, I always have to do it well, because people will look at it 200 years from now. And I understood at an early age that I was recording history. A 30th of a second—a 50th of a second—was a 50th of a second of history."

Contact Arts Editor Anna Weltner at aweltner@newtimesslo.com.