PHOTO BY STEVE E. MILLER
A TASTE OF AUTUMN : Pumpkin soup is one of several dishes now being served at Gather Wine Bar in the village of Arroyo Grande.
Ever since this popular spot opened in spring 2009, Gather Wine Bar has been a great choice for tasting new Central Coast wines coming into the marketplace. Recently, owner Kari Ziegler added a new menu to lure people to the historic village of Arroyo Grande for lunch and dinner. She always offered a small menu of finger foods to enjoy with the wines you taste. But now the new "Gather Nibbles" menu features much more, with everything from soup, chili, sandwiches, and panini to cheese specialties.
Although Ziegler says she's always enjoyed cooking, she was wise enough to know she needed a professional chef to set up a menu: "I realize there's a difference between somebody who likes cooking and making comfort foods, and somebody who actually knows what they're doing."
Ziegler has two chefs cooking at Gather: Kim Frederick, formerly the catering chef for chef Rick Manson of Chef Rick's in Orcutt; and Tim Flickwir, who grew up in Southern California, a graduate of the Le Cordon Bleu Culinary School in Scottsdale, Ariz.
"Tim knows what he's doing," Ziegler said of her full-time chef. "When he made a béchamel, I tasted it and thought, 'Wow, that's how it should be done.'"
Frederick, a family friend of Ziegler's, came on as a part-time chef to help her get the new menu started. I've written about her cooking and baking talent since she was at Old Edna's deli in wine country. Flickwir had relocated to the South County only two months earlier and was looking for work, when he happened to stop in at Gather to connect with a friend. He talked with Ziegler, and she told him of her plans to expand the menu. He told her he was interested. Only 27 years old, Flickwir explained he attended culinary school right after graduating from high school.

MEET UP: Gather Wine Bar is at 122 E. Branch St. in Arroyo Grande. For more information, call 474-4771.
"This was something different, and I thought I'd try it," he said. "I believe in building a relationship with local farmers, and buying at the Farmers Markets."
Flickwir previously cooked at the Hotel del Coronado near San Diego, and at Bradley Ogden's Lark Creek Restaurant in the Bay Area.
"I like to let the flavors of the food stand out," Flickwir explained. "I don't like masking food. The most important thing with food is asking yourself, 'Does it taste good?'"
This menu isn't your ordinary bar food; you won't find those cheap ham and American cheese sandwiches on stale buns reheated in a toaster oven. No Beer Nuts, either. The Gather chefs are whipping up fresh loaves of golden raisin bread, pumpkin soup, Red Zeppelin Syrah chili, flatbread pizzas, and double chocolate brownies with caramel sauce. I enjoyed the Cobb salad (served only at lunch, $10 large/$7 small) with cold chicken breast, corn, beets, tomato, bacon, lettuce, hard-boiled egg, and fresh market greens with a choice of creamy herb or balsamic dressing. I was with four friends, and we all loved the housemade bread-and-butter pickles with crunchy strips of pickled onion. We thought it was lemon rind, but the cool crunchy strips were clearly not lemon—and didn't taste like onion.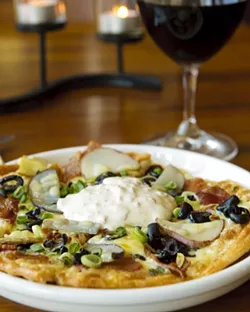 PHOTO BY STEVE E. MILLER
POTATO PIZZA? : Dishes like baked stuffed potato pizza cleverly meld comfort food and culinary art.
The menu also has pizzas with housemade flatbreads, all $8, with various topping choices, such as beet and apple with gruyere; and red, blue, and white potato slices, olives, scallions, bacon, and Dubliner cheese, topped with a shallot-bacon sour cream. There's a cheese plate, $12, with four cheeses, spicy and mild salami, and dried fruit. Her comfort dish is mac and cheese: $8 with choice of scallions, butternut squash, or market tomatoes. For only $1 more, you get bacon in it. Crunchy panini, the Italian sandwich that's become all the rage, are $8 to $10 with choices that include salami and provolone with tapenade; thyme roasted chicken with rosemary aioli; roasted red bell peppers; and chicken sausage with cranberry-horseradish sauce, caramelized onions, and Manchego cheese. The first two sandwiches come with quinoa salad, and all sandwiches are served with those good bread-and-butter pickles.
"It's never going to be a full restaurant," Ziegler pointed out, "but we'll always offer local wines with local foods that are much better than you'd find in any other bar."
On Mondays, beginning at 4 p.m., there are specials for everyone who drops by: Buy a bottle of wine to go, and you'll get 15 percent off the retail price; if you work in the food or wine industry, you'll get 20 percent off wine by the glass, and 10 percent off the foods you order.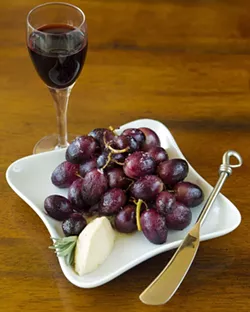 PHOTO BY STEVE E. MILLER
MANNA : Though Kari Ziegler has no plans to expand to a full restaurant, dishes she offers—like honey-roasted grapes—make a quick and appetizing meal.
This is no wine shop, so she doesn't carry an extensive selection of wines. But it's a well-chosen list that includes excellent Central Coast labels, including Carlson, Chamisal, Cold Heaven, Core, Ethan, Laetitia, Makor, Ortman Family, Red Zeppelin, Robert Hall, and Sinor LaVallee. Gather specializes in Central Coast wines from Monterey to Santa Barbara with a wide selection of wines by the glass, priced $6 to $12. You can also order interesting flights: all Rhones, all Pinots, fun whites, or "real men drink pink," which offers three good Rosés. Each flight provides two ounces each of three different wines for $10.
They've added an exciting new dinner called Sunday night supper on the first Sunday of each month. It takes place from 5:30 to 8:30 p.m., when Flickwir creates new dishes for the menu and you get to taste each one. The meal is prixe fixe, $20 per person. Wines are purchased separately, or you can bring in a bottle of wine and you won't be charged a corkage fee. Ziegler maintains a library of old vintages from local wineries. With a minimum two-glass order, she said she'll open any bottle, and that's available anytime Gather is open. There's live music Thursday through Saturday nights. It's a great place for joining friends, inside or alfresco on the patio, for a taste of the good things we locals enjoy on the Central Coast daily.

Contact New Times' Cuisine columnist at khardesty@newtimesslo.com.