What makes up a classic VW bus? If you grew up in the '60s and '70s, you'll probably say way more than four tires, a bright coat of paint, and some fuzzy dice. For many folks, the mere sighting of these rotund automobiles is enough to get old memories freshly flowing. Romantic drive-in movies, spontaneous surf trips, and jam-packed family vacations were all tightly wedged between those ample bench seats.
PHOTO COURTESY OF WINE, WAVES & BEYOND
CHEERS TO A GOOD CAUSE: Wine, Waves & Beyond has raised more than $170,000 for local nonprofit organizations over the past eight years. This year's event will benefit GleanSLO, savers of local produce, as well as Still Frothy, which helps at-risk youth get off their computers and into wetsuits.
Terri Reay, who heads up the VW car show portion of the Wine, Waves & Beyond food festival this June 2 through 4 in Pismo Beach, said she's seen the buses kick-start hearts first-hand.
"As people walk around and view the buses, they have all these memories come up," she said. "It's like, 'Oh, I dated a boy who had a VW bus like that'; 'I went camping with my family in that kind of bus.' Something about the VW just makes people happy—brings smiles to peoples' faces."
If you crave those laid-back days of beaded curtains, hanging with your friends, and listening to the Beach Boys wax poetic over that "Little Deuce Coupe" (or if you just feel you were born in the wrong era), listen up.
On Sunday, June 4, about 100 freshly waxed VW buses will park it at the SeaVenture Resort in Pismo Beach in honor of the eighth annual food, wine, and surf event benefitting local charities.
And that's just at the end of the weekend, which culminates in a beach party, surf contest, Firestone beer, and food trucks.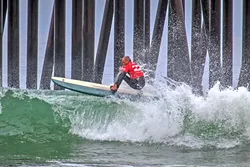 PHOTO COURTESY OF WINE, WAVES & BEYOND
WINEMAKERS MAKE WAVES: Local surfers, visiting competitors, and area winemakers will grab their boards and head for Pismo Beach this June 2 through 4 for the Wine, Waves & Beyond Surf Classic. Of course, working up a sweat calls for cold beer and local grub, a main feature of this three-day event benefitting local charities.
This year, the event has consolidated from four to three days and the celebrated Barrel to Barrel tasting event—featuring 40 visiting breweries, area wineries, local cuisines, and live music by Joe Koenig and the Homewreckers at The Cliffs Resort in Pismo—has been moved from Friday evening to earlier on Saturday afternoon. Why? Well, of course, all the better to enjoy the sun's rays and coastal sunset.
Another big difference this year: The fancy winemaker dinner has been pulled to make more room for low-key beachy adventures. All of these changes are centered on keeping the locally loved event as chill as possible. After all, Pismo is not Malibu (yet).
"We want to keep the fun, laid-back lifestyle of Pismo and the Central Coast alive. We still have that throwback California vibe," said SeaVenture General Manager Mark Eads. "One major thing that sets us apart from other California beaches is our proximity of the wineries; we have winemakers that make the Central Coast their home, and so many of these winemakers are surfers—hence why we have the winemakers' heat in the surf competition."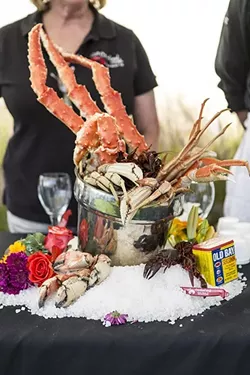 PHOTO COURTESY OF WINE, WAVES & BEYOND
WET AND WILD: Beverages and bites from more than 40 winemakers, breweries, and local chefs will be served up fresh during the seaside Wine, Waves & Beyond event slated for June 2 to 4 in Pismo Beach.
The new surf flick Under an Arctic Sky will run Friday night at the Fremont Theater, showcasing the riveting journey of local director Chris Burkard from Central Coast surfer to shivering arctic surf documentarian.
The movie centers on Burkard and a gang of surfers who set out to do the insane: surf the frigid, frozen waters of the arctic, despite storms, ice, and seemingly insurmountable obstacles. Just watching the promo video will make the hairs on the back of your neck stand on end and make you wonder just how far you'd go to catch that perfect wave.
Perhaps that's the whole point of the weekend—this might just be the "beyond" that event organizers strive to achieve year after year.
Whatever your "beyond" may be, remember to experience the moment, savor the sand, and breathe easy knowing that Pismo has somehow found a way to fly under the radar for one more year. Keep calm, and surf on.

STAY FROTHY, MY FRIENDS: Grab your buds! Dive into a tasty set of beer, wine, food, live music, vintage VW buses, surf contests, and more during the three day Wine, Waves & Beyond fundraiser kicking off June 2-4 in Pismo Beach. The event is hosted by the Boutique Hotel Collection and sponsored by a host of local businesses. For tickets and information on the list of events, sponsors, vendors, and beneficiaries, go to winewavesandbeyond.com.
"When you have a theater packed with surfers showcasing a local hometown director, that's great energy," Eads added. "Really, Wine, Waves & Beyond is: No. 1, about the sun; No. 2, about the fun; and then there's the camaraderie."
Hayley Thomas Cain is feeling those VW bus vibes at hthomas@newtimesslo.com.