Rip off that bonnet, set fire to the crochet doilies, and for the love of all things holy, chuck those prim watercress finger sandwiches out the window (no one ever eats them anyway).
Teatime is about to get extreme!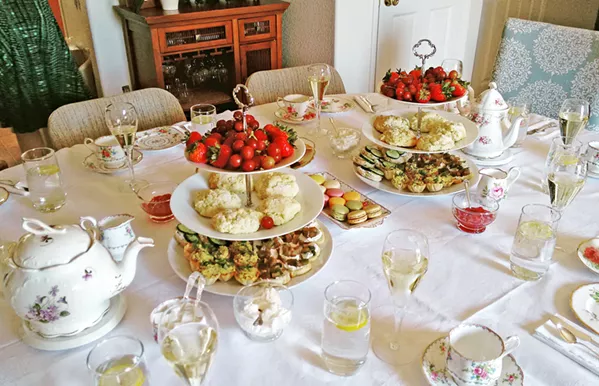 Photo Courtesy Of Kristin Raynor Photography
PINKIES DOWN Whitney Taylor is breathing fresh life into old fashioned tea parties.
Whitney Taylor is breathing fresh life into the concept. In other words: English Breakfast ain't just for grandma anymore.
"I've always loved English Breakfast," Taylor says. "But you can go with so many different options for a tea service­—herbal, chai."
The Atascadero tea fiend is owner of Cup and Carriage, which brings the tea party—including vintage cups, saucers, teapot, teapot cozy, and tiered stand brimming with scones—to you. It doesn't matter if you're sitting in your living room, a friend's backyard, or your kid's precariously perched tree house. Taylor can and will make it happen. She's pretty stringent when it comes to tea, just not in the way you'd expect.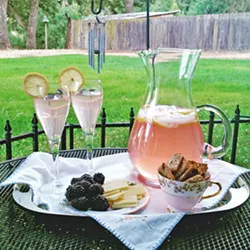 Photo Courtesy Of Kristin Raynor Photography
"Hey, if you don't like tea, you can have a whiskey 'tea party'; I won't judge," Taylor says with a laugh. "This isn't about 'back straight, pinkies up.' A tea party should be a fun, laid-back experience."
If the idea of booze at a tea party blows your mind, I'm with you. Thankfully, Taylor was happy to educate me on the fanciful, time-honored "Royale Tea," which includes champagne to start and sherry at the end.
"It's not unlike brunch, where you'd enjoy a mimosa and coffee," the guru explains. "Really, I prefer to let the client's imagination guide my process. Whatever they prefer—gluten-free sweets, vegan scones, or a traditional service, I can do it."
But before we buck hundreds of years of tradition, we should probably get to know the historical standards of the tea world, no?
I'll admit, I have never actually sat down to tea, and I've been to London a few times. Plus, I love to wear frilly hats! A quick scroll through an abbreviated teatime compendium inspired some very real pangs of regret in my gut.
There is "Cream Tea," a simple service with scones, clotted cream, marmalade, or lemon curd; "Elevensies" is akin to the American coffee break but with a way cuter name; "Afternoon Tea," which is what we all imagine a "proper" British tea to be (served between 2 and 4 p.m. with crustless sandwiches, scones, clotted cream, curd, and two to three sweets); and "Low Tea," where guests are seated in low armchairs with low side tables on which to place their fancy cups and saucers. Don't ask me why the emphasis on being low to the ground. Perhaps to avoid the bad humors wafting about in the air?
As it turns out, there are more English teatimes than there are American latte flavors. Like what, you ask? "Celebration Tea," served with a special cake and other sweets; and—of course—the famous "High Tea" is served with a meal and enjoyed later in the afternoon or early evening.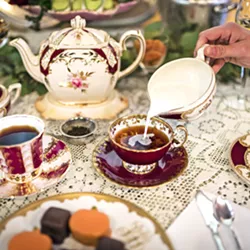 Photo Courtesy Of Kristin Raynor Photography
A quick look through Instagram's myriad "lifestyle bloggers" will turn up all kinds of vintage teaware. Although Taylor is all for mismatched eras among the same service, she does have one rule. I mean, c'mon. The tea lady is allowed one "stuffy rule."
"Please, don't mismatch your teacup and the saucer," she said. "That drives me completely crazy."
Taylor fell into her own tea wonderland many years ago. While her husband went to school in Ohio, Taylor found herself antiquing more and more. She felt like Alice in wonderland.
A '50s era tea set given to her as a child by her mother had sparked a bit of interest, but it wasn't until she arrived in flat, non-earthquake prone Ohio—with its well preserved antique cups, saucers, and teapots—that Taylor begun to collect like crazy.
"I didn't know anyone around, and I love tea and antiquing, so I started 'going around,' as my family calls it. That just means, 'I've gone treasure hunting.'"
When the couple returned to the Central Coast last year, Taylor had filled an entire truck with teacup treasures—many harvested from quiet and sturdy Midwestern basements.
She's got bone china and Victorian relics and tea cozies (you know, the sweaters that wrap around the teapot to keep it warm). The collector especially adores Art Deco pieces, which drip with drama and pomp.
Photo Courtesy Of Kristin Raynor Photography
DO YOU TAKE CREAM? Whitney Taylor of Cup and Carriage is a tea fanatic who will bring the tea party to you. Using locally made goodies—including scones, cookies, cakes, and more—she can customize your own tea experience.
"Amazingly, not one piece of my collection broke on the way back home," she says of that Great Teaware Migration. "I ended up doing a baby shower for a friend who wanted a tea party out here. From there, I got to thinking about turning my obsession into a business."
Whether you're hosting a bridal party, kid's party, or just a humble get-together, Taylor says there's something special about gathering around a warm cup.
"It's an amazing way to gather together, both guys and girls," she said
So many so-called antiquated traditions—garden parties, dances—have the ability to bring warmth and human connection into our tech-driven lives.
"Guys, gals, whoever," Taylor said. "Tea parties are for everyone. It's all about gathering together." Δ
Hayley Thomas Cain thinks booze and tea go together like a horse and carriage. Send comments to hthomas@newtimesslo.com.