While SLO County officials grapple with just how they will fulfill promises to improve treatment and services for mentally ill individuals, the construction of a new psychiatric hospital that could help their efforts is still years away.
The county gave the green light to the construction of a 91-bed psychiatric hospital in Templeton in March 2016 after a contentious approval process that included an appeal to the SLO County Board of Supervisors. More than a year later, the facility has yet to break ground, leaving some officials to wonder were exactly the project stands.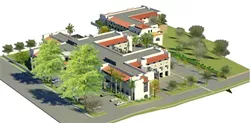 File Photo
A LONG WAIT A planned 91-bed psychiatric hospital in Templeton is still years away from completion and needs to secure funding and approval from the state before it can open its doors to patients.
"We approved it unanimously, but it seems like nothing is moving forward," 4th District Supervisor Lynn Compton said at a Dec. 5 meeting.
Behavioral Health Director Anne Robin said she'd been trying to get in touch with the project's developers but had not heard back. "Last I spoke to the finance people for that group, they were thinking of opening in 2021," Robin told supervisors.
Vizion Health, the company that will run the facility, did not respond to questions from New Times. The company's website states that the hospital is "coming soon," but does not provide a specific date. However, one of the project's developers said that they are still attempting to find financing for the project, which has an estimated cost of $65 million.
"We are doing the best we can to move our project along as quickly as possible," said Melanie Billig, of Carmel, who along with her husband, Harvey, developed plans for the project and own the 5-acre plot of land on Las Tablas Road where the hospital will be built. "It just takes a long time to put together financing."
Once that funding is secured, Billig said that there will still be much more work to do, including a review and approval by the state of California. Billig declined to place a firm date of when she thought the hospital and attached memory care facility would open, but confirmed that it would be likely not be for years.
"We have no idea because it is all predicated on the financing," she said.
Billig said that the destruction of the Vista Del Mar psychiatric hospital in Ventura by the Thomas Fire might put pressure on the state.
"We are hoping that, with the unfortunate demise of the Ventura facility, that when we pull everything together in the near future, that the state will help expedite things because of this tremendous need," Billig said.
Billig said that many SLO residents seeking treatment for mental health issues utilize Vista Del Mar. But the facility was badly damaged in the fire and had to be evacuated. She said the facility's being out of commission meant that SLO County individuals seeking inpatient mental health treatment might now have to travel to Fremont, Santa Rosa, or Southern California to find a facility.
Speaking to New Times, Robin said that the county primarily sends children and non-Medicare eligible adults to Vista Del Mar. Thus far, the damage and evacuation of the Vista Del Mar had not had a major impact on the county, according to Robin.
"We haven't had any impact yet, but that's not to say that down the road it may get difficult to find beds," she said.
Meghan Boaz Alvarez, clinical director for the nonprofit Transitions Mental Health Association said the loss of the Ventura facility could have an impact on people seeking inpatient services for mental health issues in SLO and Santa Barbara counties, characterizing the loss of the facility's 82 beds as "significant".
"You don't want discharge decisions made because of [a lack of] bed availability," Boaz Alvarez said. "That's what's concerning about having 82 beds of inpatient care disappear."
The Board of Supervisors will hear an update on the Templeton project's status at a future board meeting in early 2018.