As Karen McNamara gazed up at the Atascadero Printery building on Feb. 15—at its brick exterior, broken windows, and crumbling stone columns—she reflected on the early days of the Atascadero Printery Foundation, the nonprofit she helped launch in 2016.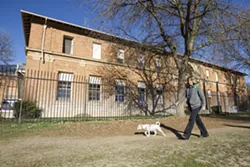 Photo By Jayson Mellom
SUPPORT THE PRINTERY Karen McNamara, president of the Atascadero Printery Foundation, walks in front of the printery on Feb. 15. The foundation is holding a fundraiser marathon on March 25 that will help restore the dilapidated building for community use.
McNamara remembered all the people who called their grassroots campaign to restore the dilapidated city landmark a pipe dream; she remembered the horrifying amounts of litter and graffiti she and community volunteers found inside during initial cleanups; and she remembered, with a chuckle, the turf war they had with local teenagers as they tried to reclaim it.
"The kids were going inside and tearing it up. We were like, 'If they can go in, then we can go in,'" McNamara recalled. "We started to seal it all off. ... One day we had sealed it at 3 p.m., and by 5:30 p.m., the kids had come and kicked the door back in. They were telling us it was their turf, and we weren't going to keep them out. We came back with screwdrivers and flashlights and sealed it even better. It was just amazing."
McNamara and the Printery Foundation have come a long way since those rough-and-tumble days. The organization now owns the Atascadero Printery—town founder E.G. Lewis' first building in 1912 that housed the first rotogravure press on the West Coast—after raising $300,100 to win a county tax auction last year.
Since then, in-kind professional architecture plans were completed, and the 18,000 square feet of floor space is envisioned to host a community theater, after-school arts programs, senior citizens' clubs, special events, meetings, dinners, a museum, and more.
But the foundation's next hurdle is the biggest yet: It needs roughly $7 million to fund engineering plans, the demolition of an accessory structure, and, ultimately, the retrofitting and renovation of the original printery.
The Printery Foundation hopes it can put a dent in that cost on March 25, with the inaugural Tent City Marathon fundraiser—the first-ever marathon held in Atascadero.
Adults and youth across San Luis Obispo County and beyond are invited to register for the full or half marathon, the 10K or 5K race, or the "none run," which means no running or walking.
The race will start in front of the Printery on Olmeda Avenue, and the route goes east down Highway 41, meanders north on Templeton Road to El Pomar, and then turns back. The finish line will be in front of the historic Atascadero City Hall. All finishers—including "none run" participants—will receive a medal, a T-shirt, and a free beer or cupcake.
"It's kind of symbolic in that we're starting [at the Printery] and finishing at a refurbished historic building," said Victoria Hartt, the marathon organizer and a foundation board member. "We're hoping once we're done raising money and everything is all set, we're going to have a beautiful, completely refurbished printery."
Hartt named the race the Tent City Marathon as another nod to local history: The first residents of Atascadero lived in a colony of tents while they waited for their homes to be built.
A frequent marathon runner herself, Hartt said she's tried to incorporate all of her favorite elements from other marathons into the Tent City Marathon.
"I've done so many races," Hartt said. "I've been to the ones that really sucked, and I've been to the ones that were really great, and I took all the fun ideas from the ones that were really great and stuck them into this one."
Water stations will be available every 2 miles along the race route. Afterward, a local yoga instructor will lead post-race yoga sessions. Festivities at Sunken Gardens (in front of City Hall) will continue throughout the day until 3 p.m. with live music, local food and drink vendors, and information booths about the printery and the foundation.
Interested runners, walkers, loungers, sponsors, and vendors are all encouraged to get involved by registering or contacting the Printery Foundation at tentcitymarathon.com.
All the proceeds from the event will go toward restoring the Printery building.
"It's an amazing piece of history," McNamara said. "It was the first building completed in Atascadero. It was the main employer in the county. It made a post office here; it made electricity here. If Lewis hadn't done this, the colony would not have survived." Δ
Staff Writer Peter Johnson can be reached at pjohnson@newtimesslo.com.