Once upon a time, I rocked baggy pants and dope hoodies. I cruised the streets in a mean whip with a blunt in my mouth and a lady by my side, the stereo bumping ill beats that rattled the windows like that scene in Jurassic Park with the T-rex stomping around. You know the one. My crew was pretty legit for a few months, maybe a year, but my hip hop days were little more than a phase (although that did rhyme entirely on accident. I still got it!).
PHOTOS BY NICK POWELL
HEY LADIES! : Jennifer and Heather seemed to think I was making up my reporter status as a flimsy excuse to talk to pretty girls. But I keep it real, always.
As a middle class white boy living in a ski resort town, I eventually had to face the fact that "keeping it real" meant listening to indie rock and wearing classy collared shirts. I don't know diddly about the streets, and I'm finally all right with that. Still, nothing gets the nostalgia roaring back like a funky beat smothered in hard rhymes, and on March 31, I got to make my teenage dream come true, by standing in a crowd of bobbing people at SLO Brew, all of us throwing W's in the air and shouting, "Wu! Tang! Wu! Tang!" while Ghostface Killah rocked the mic onstage. It was pretty great, and now the only things left on my teenage wish list (the G-rated one anyway) are fronting a Nirvana reunion tour and punching Jared from Subway in his big goofy head.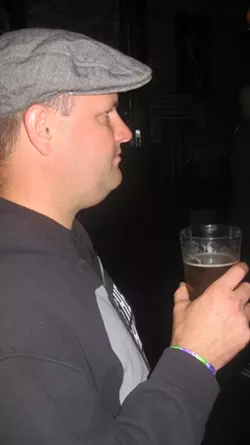 PHOTOS BY NICK POWELL
HIP HOP VIRGIN : Though thrasher punk and hardcore are much more in line with Marc's style, the inquisitive little fellow sampled his first live rap show, later declaring that it was "quite good." Pip, pip. Cheerio.
My buddy Marc had never been to a hip hop show, so I brought him along to provide an objective observation of sorts. Both of us were a bit worried that San Luis Obispo—the whitest, most homogenized town since Mayberry—would be a kind of awkward place to see someone like Ghostface take the stage, but we were entirely wrong. The crowd was surprisingly diverse, and everyone was getting into the show, especially the women. They were outnumbered probably four to one by dudes, but they were dancing like they couldn't care less.
The local opening act, Public Defendaz, didn't really get the love they deserved, but the vibe in the room changed immediately when Adrian Younge's band started jamming. They wore tailored suits and looked more like a backup band from the '60s than anything you'd expect to see at a hip hop show in 2013, but they owned the stage, playing soulful funk with a modern edge that got the crowd moving.
CLASS ACTS : About halfway through the show, I ran into New Times intern Jono Kinkade (right) and his buddy Jeff, who were definitely down for some Wu.
Halfway through their set, the mighty Ghostface strutted onstage to join them, and they never left! There were no DJs scratching pre-recorded music for the Killah. It was all live and all on point.
I employed all three of my dance moves that night: the bend and bob, the counter wiper, and the free throw, which is a lot like the bend and bob, except that my hand is in the air while my knees bend and my head bobs. Tricky stuff, but I pulled it off.
At one point, Ghostface invited any audience member who knew the words to come on stage and spit Ol' Dirt McGirt's (RIP) verse from "Shimmy Shimmy Yay," but no one could meet the challenge, not even yours truly. It was a bit embarrassing, but I don't think Ghostface judged us too harshly, not that gentleman of the streets.
Staff Writer Nick Powell receives correspondence at npowell@newtimesslo.com.