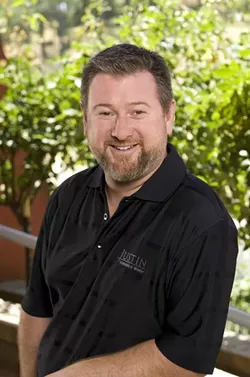 PHOTO COURTESY OF JUSTIN VINEYARDS
MIX IT UP: Justin Winemaker Scott Shirley is passionate about cabernet sauvignon blends.
I'm among the many long-time wine aficionados who has appreciated Paso Robles wines for well over two decades. In the early years, the wine community was made up of fewer than a dozen wineries. No local wine lover, however, will ever forget the year that Justin Vineyard's 1994 Isosceles won the Pichon Longueville Comtesse de Lalande trophy for "best blended red wine worldwide" in London. It was 1997 when the judging panel included 27 Masters of Wine.
Founder and proprietor Justin Baldwin couldn't have been more proud, deservedly so. Justin's wine was tasted among similar blends from 35 other countries that were competing. And that was the first time an American winery received such noteworthy recognition. I'd describe it as a shot heard round the world when the tiny appellation of Paso Robles took the top trophy. It was the beginning of many little pieces that began adding up to making our North County wine growing region considered one of the finest, not only in California, but in the world.
I recently attended a dinner in celebration of the 25th anniversary of Isosceles at the renovated Justin estate. Hosted by Justin Baldwin, a Master Sommelier (MS), two Bay Area wine writers, and Justin's new winemaker, we tasted through six older vintages that proved the Isosceles ages beautifully. A nostalgic Baldwin talked about his love of fine wine and what drew him to Paso Robles. I loved the trip looking back at Justin's history, much of which I experienced from 1996 on.
"I came here in 1981 looking for soil, lack of water, and elevation, which are still the most appealing characteristics of Paso Robles," said Baldwin connecting the old with the new. "There were just a few of us in Paso Robles at the time, Ken Volk, Gary Eberle, and a few other hearty souls. We knew Paso was for real, and we had the pioneering spirit. It's great to be a part of the history of modern winemaking in Paso."
Describing the region as "Randy Dunn (a Napa Valley legend for his cabernet sauvignons) country," Baldwin admitted he didn't know much when he started planting his first grapevines in 1981 and 1982. "I had read enough to get started from reading Hugh Johnson's The World Atlas of Wine, but I had a disproportionate amount of merlot. Sadly, I was the winemaker for a number of years," he confessed to our amusement.
As the region began to develop, he explained, the wineries attracted more educated interns who were passionate about wine and wanted to work some place new. Baldwin hired some talented winemakers who helped him bring Justin Vineyards deserved respect. The first winemaker I met was Steve Glossner (owner of Roxo Port Cellars) who made that aforementioned 1994 Isosceles. He helped Baldwin hire Jeff Branco in 1998 (currently winemaker at Paso's historic Rotta Winery) who replaced him as winemaker when Glossner moved to Adelaida Cellars.
During the reception we tasted a vertical of Isosceles from the winery library. The oldest was Branco's 1999, which amazed everyone there, including Joseph Spellman, a Master Sommelier and friend of Baldwin's who has worked with Justin Vineyards many years.
"This wine has amazing structure and development of the nose. It's about getting fruit from (unique) individual blocks on the property," Spellman explained. The '99 was a beautiful vintage, not excessive like the 1997. The '99 vintage was more like Bordeaux."
The other two vintages were at different stages not nearly as showy as the '99, but obviously filled with life. There's little better than a library tasting, particularly since I had tasted those wines when they were first released. I was excited about finding my other favorite was the 2011 Isoscles made by Justin's new winemaker Scott Shirley. I must admit, I've been crazy about the 2010 Isosceles and recommended it highly in Cuisine. But the 2011 vintage was very challenging for winemakers up and down the state, I worried it wouldn't impress. After tasting Shirley's, his first vintage at making the winery's flagship blend, I totally respected his taste and skill.
After learning of his past winemaking experience, it wasn't surprising to discover this talented winemaker could craft an exquisite wine despite a problematic vintage. After graduating from U.C. Davis, Shirley spent six years as enologist at Opus One and seven years as winemaker at Hess Collection in Napa Valley, both provided expert experience in making ultra-premium cabernet blends. His attraction to Paso Robles was much like Baldwin's was 33 years earlier.
"What struck me was Justin's commitment to the vineyard and making a Bordeaux blend under a philosophy I could get behind," explained Shirley, who's enthused over Justin's higher-quality cabernet franc vineyard. "I visited Margaux twice and found an amazing similarity of limestone rocks here and in Bordeaux. My goal is to make a blend of the three parts (cabernet sauvignon, cabernet franc, and merlot), but I don't want any one part to stand out. The sum is greater than its parts, and my goal is to make a wine that's greater than its parts. To make the best wine possible we handpick the grapes and ferment separately. Once the initial blends are ready, Justin, Joe and I taste them to figure out which blend is best to bottle."
It's a good time to visit the recently renovated Justin Vineyards. Not only is the spectacularly beautiful tasting room well worth visiting, Justin is offering its longtime aficionados some very special treats involving Isosceles starting in March through December in celebration of their flagship wine's 25th anniversary. The events include seminars, barrel tastings, and vertical tastings, some of which take place in the Isosceles library. For specific dates, pricing, and reservations go to Justinwine.com.
Come back to Cuisine next week for my review of The Restaurant at Justin Vineyard, and their impressive dining team led by their outstanding chef William Torres. I promise you this, even if you aren't a wine lover, this restaurant rates among the finest in SLO County.
Contact Cuisine columnist Kathy Marcks Hardesty at khardesty@newtimesslo.com.