It's Monday, June 20, and I'm standing in the shower watching rivulets of brown water circle down the drain—the remnants of the Live Oak Music Festival. I feel like if I cough, a puff of dust will come out of me. "Peace, love, and dirt" is the Live Oak motto, and the KCBX Public Radio station's annual fundraiser delivered big on each one.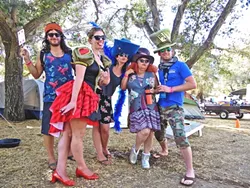 PHOTO BY GLEN STARKEY
LIVE OAKIES : A group of festival attendees got into the spirit of the Alice in Wonderland theme.
Five days ago, I loaded the truck with our camping stuff and headed south with the family, driving straight toward the Sherpa Fire, the smoke from which we could see each afternoon as the wind changed directions. Even though we were never in danger, it was ominous to see big billows rising into the sky, changing the sunsets into sepia-colored dreamscapes. The fire certainly never stopped us from having fun.
Whether we were at one of the three stages or just sitting in our campsite listening to Acorn Radio—the micro station KCBX ran during the festival that transmitted the live shows from the main stage, announced pertinent info, or played previously recorded Live Oak performances from past festivals—we enjoyed non-stop music.
PHOTO BY GLEN STARKEY
NEW FAVORITE: Live Oak Music Festival once again brought new discoveries to attendees, with New Yorker Sean Rowe being my favorite.
The Dustbowl Revival, whose name seemed particularly appropriate given the bone-dry conditions, was definitely a highlight of Friday. My wife, Anna; and her bestie, Jenny B, danced up their own little dust storm to the eclectic Americana octet. The Jay Farrar Trio was also terrific, playing songs off Trace, Son Volt's 1995 debut album. Farrar, who I found to be a tough interview a couple of weeks before, was even more reticent on stage. Aside from saying "thank you" about three times, the man hadn't one word for the crowd, happy instead to let his music do the talking.
During the peak of the heat on Saturday, folks retreated to their campsites, and since the festival theme was Alice in Wonderland this year, our camp had a Mad Hatter's tea party, and nothing puts the "T" in "tea" like tequila! Things were just getting started when the festival emcee Joe Craven rolled in with his mandolin and outlandish fashion sense. Soon he was joined by a fiddle, a guitar, percussion, and a washboard for a good old-fashioned hootenanny. The California Honeydrops really brought the party on Saturday night … and into Sunday morning. After playing a killer show on the main stage, they made their way around the camp area, sitting in and jamming with various folks until 4 a.m.!
PHOTO BY GLEN STARKEY
CRAVEN IN THE HOUSE: Festival emcee Joe Craven made an impromptu visit to our camp's Mad Hatter tea party and laid down some jams.
After some early morning shows at the Hot Licks Stage on Sunday, Santa Margarita resident Jade Jackson played the main stage at 10 a.m., bringing her beautiful songs of heartache. It was turning into the festival's hottest day, but that didn't stop folks from coming out to see Sean Rowe, my new favorite. His amazing percussive guitar playing gave him a huge sound; his songs sounded like John Moreland's, and his voice like Tom Waits'. Every year there's at least one artist at Live Oak that I'd never heard of but ended up making a huge fan of me, and that was Sean Rowe.
This morning we woke up early, broke down our camp and headed home, desperate for the hot shower I'm standing in right now. I look down toward the drain and see the water running clear again, the last of the Live Oak dirt washed away. All that's left are the memories of another amazing festival.
Glen Starkey is a New Times staff writer. Contact him at gstarkey@newtimesslo.com.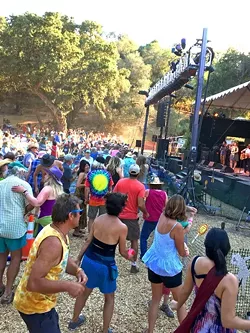 PHOTO BY GLEN STARKEY
DANCERS IN THE DUST: Dancers bust out their moves to the Dustbowl Revival.

THERE'S ALWAYS NEXT YEAR!: Keep abreast of the annual Live Oak Music Festival held every Father's Day weekend in Camp Live Oak at

liveoakfest.org

. The fundraiser for local public radio station KCBX is a three-day music event that plays a huge variety of music.