Photo by Glen Starkey
TO DYE FOR Sixteen-year-old Ezra Dickey finds a willing lady friend to apply electric blue hair dye, which he was gifted from an older Live Oak attendee with a blue beard.
It's Live Oak weekend and I'm sweating my ass off!
Temperatures climb deep into the 90s every day from June 16 to 18, and venturing into the direct sun is pretty brutal except in the early morning or late afternoon. Down at the Main Stage, chairs are set in a neat array across the expansive bowl-shaped field, but during daytime shows, concertgoers huddle to the sides under the shade of the massive oak trees, leaving the chairs in the sun empty. Yes, it's literally too hot to sit in the best seats in the house, yet despite the weather, spirits are high. You'd have to work pretty hard not to have a blast at the Live Oak Music Festival.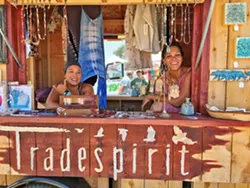 Photo by Glen Starkey
SPIRIT QUEENS Tradespirit Mobile Boutique proprietor Jen Chen (left) and her friend and co-worker Azere Wilson helm their adorable vendor trailer, vowing to return to Live Oak next year.
Music starts at 8 a.m. every morning on the Hotlicks Stage, and campers bring their coffee and breakfast and listen in as they start their day. After a couple of early performers every morning, the music moves to the Main Stage and runs from 10 a.m. until 2:15 p.m., when the action moves down to the smaller Stage Too venue, which offers a lot more shade. Then it's back to the Main Stage at 5 p.m. with music into the night until they start the bonfire outside the Hotlicks Stage and a nightly dance concert keeps things going until midnight. Those still awake find jams going on around the campground ... sometimes until the wee morning hours. It's a music lover's paradise.
Despite the many choices for live entertainment, it's not uncommon to hunker down in camp, and when we don't have the energy or the desire to brave the heat, we tune into the action on ACORN Radio, a micro station that broadcasts the live music happening onstage, and when there's no live music, they broadcast recordings from previous Live Oak fests. It's comforting to hear the same familiar DJ voices from our local public radio station KCBX 90.1FM, for which the festival is a fundraiser.
There's quite a bit of talk among campers of President Donald Trump's threats to cut federal funding to public stations including KCBX, which is a nonprofit staffed in large part by volunteers DJs. Even with its semiannual on-air pledge drives and its biggest fundraiser of the year—this very festival—the station struggles to stay afloat, but KCBX listeners are a passionate bunch, and despite federal funding or a lack there of, I have a feeling this community will rise to the occasion to keep this station on the air come hell or high water. After all, it's our public radio station.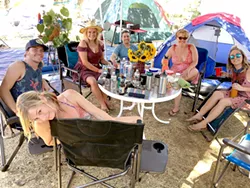 Photo by Glen Starkey
LIVE OAKIES! (Clockwise from bottom) Rakesha, Casey, Melinda, Ryan, Anna, and Micki find a shady spot during a hot 29th annual Live Oak Music Festival.
All weekend long, I keep running into people who regale me with tales of what they've experienced during the festival. My friend Rakesha Elliot ends up on stage during The Carolyn Sills Combo's late night Hotlicks concert when they cover a song by the alt-rock act Cake and she knows very word. She shimmy-shakes and sings along onstage and the crowd goes wild. Over at Camp Happy Face—a group that's been coming to camps together at Live Oak for years—they mount a Saturday afternoon beer tasting, and later than night, a bunch of the Main Stage performers—including Master of Ceremonies Joe Craven—show up and jam into the night. Ezra Dickey, a 16-year-old volunteer who a lot of the kids have gotten to know, gets the shout-out on the hayride shuttle whenever they ride past. "Hi, Ezra!" in chorus. On Sunday afternoon, Ezra finds a young gal to help him dye his hair blue. He also tells me that he's discovered that the Live Oak teen girls call the boys they think are cute "snacks." Yes, everyone who comes to Live Oak has a different experience, and everyone leaves with stories of the fun they had.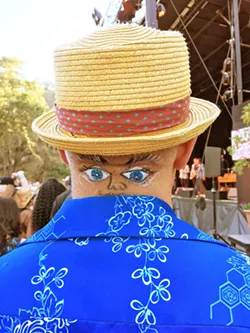 Photo by Glen Starkey
LOOKY-LOOKY Michael Souza has eyes in the back of his head when he heads to the Main Stage to check out Lee Fields and the Expressions.
This year, the music lineup is stellar, and it seems the band everyone's waiting for is Ozomatli. When they come marching onto the Main Stage on Saturday night, the crowd explodes, and Ozo goes on to deliver one of the most electrifying performances to one of the biggest crowds ever at Live Oak. It's like the band is leading us on a sonic journey. At one point, the entire crowd seems to pulse with energy, bouncing up and down like a giant human blanket covering the field in front of the stage.
One of the amazing things about Live Oak is that performers come off the Main Stage and head over to the performers' merch booth, so it's easy to walk over after a concert, buy a CD, meet the performers up close and in person, and have them autograph your CD. It's the sort of accessibility music fans crave.
We end up camping near Jen Chen and Azere Wilson, a couple of first-time Live Oakies who've come from Santa Margarita. Jen owns Tradespirit Mobile Boutique, and she and her friend and co-worker Azere have set up Jen's custom-made wooden trailer/vendor booth in the vending area, where they're selling American made clothing and jewelry.
Photo by Glen Starkey
UNDER THE SUN Big hats and parasols are a must this year as temperatures nudged toward 100 degrees.
"We can't believe how nice everyone is," Jen says. "All the other vendors are so welcoming and kind."
Tradespirit does a brisk business over the weekend, and when my wife, Anna, and I pack to go on Monday morning, Jen and Azere assure us they're coming back next year. The Live Oak bug has bitten two more!
Packing up is definitely the bittersweet part, but after a weekend outdoors, the thought of going home to a private shower and our own bed makes the work go faster. We're on the road by 9 a.m. and unpacking the truck 75 minutes later. Our dogs go crazy when we walk through the door. We're dirty and dusty and tired, but we wouldn't miss Live Oak for the world.
Glen Starkey is New Times' senior staff writer. Contact him at gstarkey@newtimesslo.com.