It's pretty hard to overstate Alan Parsons' contributions to rock 'n' roll. The songwriter, musician audio engineer, and record producer was instrumental in a number of iconic albums, from The Beatles' Abbey Road and Let It Be to Pink Floyd's The Dark Side of the Moon.
As the Alan Parsons Project, albums like I Robot (1977) peaked at No. 9 on the U.S. album charts. Eye in the Sky (1982) rose to No. 7. Singles like his No. 3 hit "Eye on the Sky" as well as charting singles such as "Time," "Don't Answer Me," and "Games People Play" are considered classic rock tracks.
PHOTO COURTESY OF ALAN PARSONS
EYE IN THE SKY : The Alan Parsons Project plays their hits on Nov. 3 at the SLOPAC's Harmon Hall.
Next Thursday, Nov. 3, Elegalworld Entertainment presents The Alan Parsons Live Project Greatest Hits Tour at The Harman Hall of the San Luis Obispo Performing Arts Center (7 p.m.; all ages; $55 to $75 available at 756-4849 or online at pacslo.org; there's also a limited number of meet-and-greet, VIP, photo-op packages for $150). This is just one of three California shows.
The 11-time Grammy nominee started performing in his teens playing folk and blues, but at age 19, he got a job at the famed Abbey Road Studios, which began his foray into engineering. For his live tour, expect to hear the hits as you remember them.
"We've established the Live Project to perform The Alan Parsons Project hits and we don't disappoint," Parsons said in press materials. "We don't go 'eclectic' with the set lists—I walked out of a Steely Dan concert [recently] for that reason, because it was so self-indulgent! The show is fun, liberating, and it's great to hear audience reaction. The fans will hear all the songs they know we have to play in the spectacular fashion they deserve!"
All that jazz!
Now celebrating its 40th year, the Pismo Jazz Jubilee returns to the Central Coast with another huge four-day slate of America's music starting Thursday, Oct. 27, through Sunday, Oct. 30, on five stages. This, quite literally, is too many shows and times to mention in this space, so to get a complete picture of the event, you'll need to visit their website at pismojazz.com. You can also call for tickets at 549-5696.
Highlights include collaborations between pianist and radio personality Carl Sonny Leyland and acts such as Jeff Barnhart, Red Skunk, and Scala, not to mention performances with his own trio and solo sets. Other performers include Rag Bone Saints, Crescent Katz, the Creole Syncopators, the Midiri Brothers, Cornet Chop Suey, and Ulysses Jasz.
PHOTO COURTESY OF THE CRESCENT KATZ
HOT JAZZ: The Crescent Katz are one of 27 acts playing the Pismo Jazz Jubilee, Oct. 27 through 30, in five venues in Pismo Beach.
On Saturday, Oct. 29, from 10 a.m. until 5:30 p.m. on the St. Anthony's Turk's Place stage, see a Women in Jazz celebration with the likes of Valerie Johnson, Maria Muldaur, and Molly Reeves among others. In the same location from 5:30 p.m. until midnight, come down for a costume dance party with Pacific Swing, Blue Street, and High Street among others.
All told, 27 bands will perform, many in combination. This also marks the farewell performances by Molly Reeves and Red Skunk. Also known as Jubilee by the Sea, which is hosted annually by the Basin Street Regulars Hot Jazz Society, this is the premiere West Coast festival for swing, Dixieland, New Orleans, and big band jazz.
All types of tickets will be available ranging from $25, $30, and $50 single-day passes (depending on the day) to $100 three-day festival passes. There is also plenty of food and drink to be had as well as shuttles to and from venues. If you love jazz, this is not to be missed!
Take your Good Medicine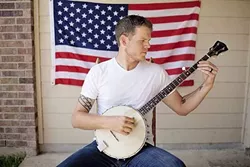 PHOTO COURTESY OF SAM RIGGS
AMERICAN MADE : Country singer-songwriter Sam Riggs plays Oct. 27 at the SLO Guild Hall.
Feeling blue that you didn't score $35 tickets to The Pixies at the Fremont Theater this Thursday, Oct. 27, or were unwilling to drop $250 at one of the online scalping sites for an aftermarket ticket? Well, turn that frown upside down with a different Good Medicine Presents show.
For instance, you could see country singer-songwriter Sam Riggs this Thursday, Oct. 27, at the SLO Guild Hall (7 p.m.; 21-and-older; $16 presale at ticketfly.com or $20 at the door). The Florida native moved to Austin, where his career quickly took off with the release of his debut album Outrun the Sun.
"We got tremendous support on the last album from fans and media," Riggs said in press materials. "This incredible buzz started getting ramped up and show attendance started to sky rocket. People really latched on to it."
In February, Riggs released his follow-up, Breathless, which peaked at No. 12 on the U.S. country charts. The album's first single "The Lucky Ones," "represents the first leg of his journey, a story told through 20/20 hindsight about the fortunes of struggle with a cameo performance from the University of North Texas Drum Line."
If you're more in the mood for some punk, check out CJ Ramone this Thursday, Oct. 27, at Sweet Springs Saloon (8 p.m.; 21-and-older; $13 presale at ticketfly.com or $15 at the door) with Johnny Madcap and the Distractions. Ramone, born Christopher Joseph Ward, replaced Dee Dee Ramone as bass player for the iconic punk act The Ramones.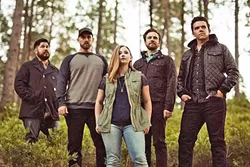 PHOTO COURTESY OF THE SHOW PONIES
PONIES ON THE BEACH : LA indie-grass act The Show Ponies play the final free Good Medicine Presents Cayucos Beach concert of the season on Oct. 29.
On Friday, Oct. 28, The Dustbowl Revival plays Tooth & Nail Winery (6:30 p.m.; all ages; $17 presale at ticketfly.com or $20 at the door). The Venice-based collective "merges old-school bluegrass, gospel, pre-war blues, and the hot swing of New Orleans to form a spicy roots cocktail," their bio accurately claims. I've seen them a few times now, and they put on a really engaging show—retro and yet contemporary, too.
On Saturday, Oct. 29, the last of the four-show Cayucos Beach concert series happens with The Show Ponies and The Mother Corn Shuckers (noon to 5 p.m.; all ages; free). The Show Ponies are an indie-grass, old timey string band out of LA, and local opener The Mother Corn Shuckers are a hard-charging country act with a bunch of hilarious original songs.
Finally, Hot Buttered Rum returns to SLO Town next Thursday, Nov. 3, with a show at the SLO Guild Hall (7 p.m.; all ages; $16 presale at ticketfly.com or $18 at the door). This is another great string band with three talented songwriters and great harmony vocals. It's also Good Medicine's last show until they return the following Thursday, Nov. 10, with Guttermouth at Sweet Springs Saloon. Visit their website at goodmedicinepresents.com to see all their upcoming concerts.
Brew-ha-ha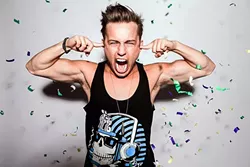 PHOTO COURTESY OF PARTY FAVOR
TWERK FOR A CAUSE: Electronic dance artist Party Favor plays a fundraiser for Boys and Girls Club on Nov. 2 at SLO Brew.
SLO Brew and Phi Kappa Psi present "Girls & Boys," a dance party featuring Party Favor, on Wednesday, Nov. 2 (10 p.m.; 18-and-older; $25 at ticketweb.com), with proceeds benefitting The Boys & Girls Club. Party Favor—aka Dylan Ragland—"is currently making groundbreaking remixes for names such as Dillon Francis, Diplo, Flosstradamus, and Major Lazer. He is also creating chart-topping original records such as 'Bap U' and 'Booty Loose,'" according to his bio.
"I think what's cool about house music, bass, twerk, whatever you want to call it … is that it's starting to bridge a lot of genres, styles. I just want to make stuff that's crazy energy and makes you groove," he said.
Ska, funk, punk, alt-rock act Fishbone plays SLO Brew next Thursday, Nov. 3 (9:30 p.m.; 18-and-older; $25 general admission or $35 VIP balcony). The band is celebrating 25 years of innovation that's influenced countless other acts.
More music …
Unfinished Business plays a '60s rock 'n' roll Halloween bash on Friday, Oct. 28, in the SLO Guild Hall (7:30 p.m.; $15 presale at ubhalloween2016.brownpapertickets.com or $20 at the door unless sold out). Hear covers of The Beatles, Beach Boys, Doors, Creedence Clearwater Revival, Rolling Stones, and more.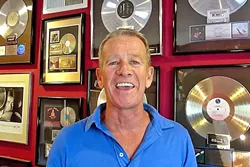 PHOTO COURTESY OF RICHARD BLADE
RIDE THE NEW WAVE: DJ Richard Blade (pictured) and new wave band Dark 8 Zero plays an EarthGen Alliance fundraiser Halloween costume ball on Oct. 29 in San Miguel's The Ranch.
The EarthGen Alliance, which works with farmers and organizations in San Luis Obispo to bring effective water and other needed green innovations to our community, will host a benefit concert on Saturday, Oct. 29 (6:30 p.m.; 21-and-older; $10 presale at dark8zero.com or $15 at the door), at The Ranch in San Miguel. "The costume party is a vampire-like ball that starts out with locally harvested food, wine, and beer tasting followed by a night of great dancing with live '80s music by Dark 8 Zero and DJs like Richard Blade of Sirius XM's New Wave Nation," according to organizers.
San Luis Obispo County Jazz Federation presents the Nicole Stromsoe Collective in the Unity Concert Hall on Saturday, Oct. 29 (7:30 p.m.; all ages; $20). The SLO County native is a graduate of the Berklee College of Music, who blends jazz and blues.
The Community Foundation of Estero Bay presents its eighth annual Morro Bay Sings event on Saturday, Oct. 29, in the Morro Bay Community Center. Featuring Billy Joel-themed music, this year's performers include Robi Duganne and Friends, The Noach Tangeras Band (with Bobby Santa Cruz on bass), and The Albert Jr. Band (with Deborah Windsong, Jeremy Lemen, and Bobby Santa Cruz). Tickets are $40 each (communityfoundationesterobay.org), which includes a light dinner of soups, salads, and breads catered by Morro Bay's own Galley Seafood Grill & Bar, with desserts served as well.
The San Luis Obispo Blues Society presents Rick Estrin and the Nightcats on Saturday, Oct. 29, at the SLO Vets Hall (8 p.m.; 21-and; older; $25 at the door or in advance at Boo Boo Records and Cheap Thrills Records). Costumes are encouraged. Expect blues and gritty roadhouse rock from the Nightcats. Catalina Eddy and the Blue Keys will open.
Raspin Stuwart plays this Sunday, Oct. 30, at Sculpterra Winery, as part of the Songwriters at Play showcase (1 p.m.; all ages; free). His most recent CD, We Do What We Do, has been described as exhibiting "intelligent lyricism" and "writerly sensitivity." Expect acoustic folk pop, jazz, R&B, even a touch of gospel.
The last concert of the season at Vina Robles Amphitheatre happens this Sunday, Oct. 30, with Mariachi Vargas de Tecalitlan (6 p.m.; all ages; $35 to $79.50 at vinaroblesamphitheatre.com). "Internationally acclaimed as 'the best mariachi in the world,' and originally founded by Don Gaspar Vargas, Manuel Mendoza, and two violinists in the town of Tecalitlan, Mexico, in 1898, this mariachi group has since starred in more than 200 movies, recorded dozens of albums of pasodobles, valses, bailables, polkas, and danzones, as well as collaborated with various artists including Juan Gabriel and Linda Ronstadt," their bio says. Yolanda del Rio opens.

Keep up with Glen Starkey via twitter at twitter.com/glenstarkey, friend him at facebook.com/glenstarkey, or contact him at gstarkey@newtimesslo.com.