The Santa Margarita barn is cool, musty, and mostly empty, save for a small pen in the corner. The sound of our cowboy boots swishing through the dirt alarms the mother ewe in the enclosed area. Worried, she seems to call out to us, "are you friend or foe?"
Behind her wide body, a leggy, 3-week old lamb emerges, its fleecy wool as stark white as a spring daisy. The lamb seems to defy gravity as it hops forward with plucky curiosity before bounding back to the safety of its mom.
"She was a surprise—born about a month early," said Farmgirl Creamery Owner Katy Lees. "Isn't she just the cutest thing?"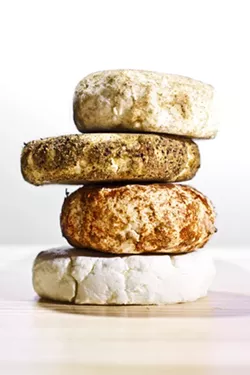 PHOTO BY FALERIOS
BIG CHEESE: Fans are falling over themselves to get Farmgirl Creamery's fromage blanc made with all natural sheep's milk. The delectable cheese is milder than goat's milk and more flavorful than cow's milk cheeses. Santa Margarita local and creamery owner Katy Lees loves to add a dollop to pizza or cook the cheese into rich risotto.
This is not Lees' farm, although it could be for narrative purposes. Her farm is located just 15 minutes down the road, and similarly full of animal life (her fiancé, Chad Pankey, raises beef, and Lees raises Jersey cows for milking).
While the artistinal dairy producer awaits the completion of her own cheese-making facility, Lees is renting space here, at Rinconada Dairy, owned by friends Jim and Christina Maguire.
"I worked at Cal Poly making cheese and doing dairy research, and for our farmstead cheese program, we came to this farm and took a tour," Lees said. "Coming out here and seeing the way Christina makes her cheese made me realize there was this whole artisanal side of it. She made a huge impact on me."
The state-of-the-art facility and farm-stay bed and breakfast is surrounded by green hills currently dotted by roaming animals ready to birth their young. Due to a mile of red tape, Lees cannot use her estate milk just yet, so she uses her neighbor's goat and sheep milk for now.
And it hasn't slowed her down one bit.
Regardless of whose milk is whose, Farmgirl Creamery products are already soaring off store shelves and farmers' market tables. Never seen a tub of Farmgirl Creamery cream-top cow milk yogurt, goat feta, or garlic and rosemary goat's cheese? That's probably because it sold out before you could even lay your eyes on it.
Not only are Lees' products hormone and antibiotic-free, they're made the 
old fashioned way, by one woman, 
working alone.
Quality means everything to Lees.
"Artisanal cheese—and we're not talking about Kraft—is absolutely beautiful to me," the pint-sized producer said, adding that she adores French-style cheeses.
"I like the stronger cheeses; and many people aren't into that or understand how they're made or why they're smelly," Lees added. "I think that understanding is growing slowly, and now there are more and more people interested in this kind of product."
Bev Michaels of Alcea Rosea Farm in Templeton is also producing artisinal farmstead dairy products, and small-yet-mighty cheese shops like SLO's Fromagerie Sophie and Paso Robles' Vivant Fine Cheese are opening the doors for people to explore all kinds of new flavors, rinds, and textures.
"What we all have in common is that we raise our own animals and use our own milk," Lees said of the tight-knit group. "It's about being self-sufficient, rather than sourcing milk from a place that may have its own complications. It's important to be aware of animal welfare and to have control over every aspect of the operation."
With her deep love of animals and her passion for ranch life, it's hard to believe that Lees didn't grow up in an agricultural family. In 2001, the Nevada native moved to the Central Coast to attend Cal Poly. After falling in love with the college's robust cheese program, she began to tinker with the art on her own time. What started in a barn six years ago has turned into an unstoppable passion.
"I just love cheese. It's this whole other world," Lees said. "There is so much more to it than you'd think. There's a big science aspect, but it's also an art form. Combining the two makes it really interesting."

MILK IT!: You don't have to travel to Santa Margarita to get your hands on a range of tasty Farmgirl Creamery products. Every Saturday, you can find Katy Lees herself at San Luis Madonna Plaza and Arroyo Grande Village farmers' market. You can also find Lees every other week at the 55 Fresh Pismo Market and SLO Grange Hall Market (Tuesday), Arroyo Grande and Atascadero Markets (Wednesday), and at the California Fresh Market in Morro Bay (Thursday). Pick up her all natural cheeses and yogurt at SLO Natural Foods Cooperative and at Sunshine Health Foods in Morro Bay—if it hasn't sold out! Want to learn more about her creamery operation? Visit farmgirlcreamery.wordpress.com or email farmgirlcreamery@gmail.com.
Lees started off producing her popular sheep's milk fromage blanc, more mild than goat's milk, and more flavorful than cow milk cheeses. With its soft texture, Lees tells her fans to try it in pastas, risottos, and on pizzas.
"That's our fresh cheese that everyone knows me for," Lees said. "I also produce semi-hard cheeses from cow milk, as well as a few blends of cow and sheep milk. I love that I can do a little bit of everything, but it always depends on the time of the year."
Kids and lambs will be born this month, and with that will come the opportunity for milking at Rinconada Dairy. Like wine harvest, Lees must milk, create, and age the cheese in one fell swoop. It is a hectic but gratifying time that leaves her feet aching and her hands sore. After the heavy lifting is done, Lees then hits the farmers' markets. I was surprised to learn the producer can be found at a whopping seven farmers' markets every other week.
"That week between is key, because it gives me time to actually make the product," Lees said with a laugh. "It's very labor intensive."
The production process goes something like this: The day starts at 6:30 a.m., and milk is poured into a large, stainless steel vat. After pasteurizing or leaving the milk raw, the liquid is heated to about 90 degrees Fahrenheit.
Top-quality bacteria (much of it sourced from Wisconsin) is allowed to replicate for about an hour before being combined with rennet, which coagulates the substance. After a 40-minute break, the mass is cut into smaller squares and cooked.
According to Lees, a drier cheese will be cooked longer, while a more moist cheese will cook for less time. Some cheeses—the super soft ones—move straight past this step altogether.
After hooping and putting the cheese into molds, the cheese is then pressed and left to sit overnight. Next, it undergoes a 24-hour brining process, which helps coax out even more moisture and develops that distinctive outer rind all artisan cheese lovers look for.
After that: Aging, which can take months to years. And we haven't even gotten into the prior milking process, either.
"It's a 15-hour day on days where I am making cheese," Lees said, adding that it's all she's ever wanted to do.
The next time I scoop into a tub of her creamy dessert-worthy vanilla cream-top yogurt, I suspect it will only taste better. I will imagine Lees socializing with the animals after a hard day crafting the anti-Kraft.
"For this work to be part of our family, and to pass it on to our future kids, is important," Lees said. "I love the animals, and I love the lifestyle, and that's what drives my passion."
Reach Hayley Thomas at 
hthomas@newtimesslo.com.