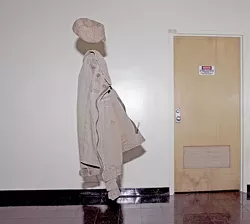 PHOTO BY JOHN ANDREWS
SUSPENDED:
Cal Poly graphic design and communications student Stephanie Zombeck branched out of her creative field a bit when she made her contribution to the department of art and design's annual juried student art show. She went off her ADHD meds for five days and made a video log of what happened. She talked to the camera with decreasing coherence about how it was going, periodically training the lens on the faces of her roommate Alicia and unsuspecting friend Ellen. The film shows a trajectory from normal to manic, as her brain reacted to the sudden absence of Vyvanse, an amphetamine used to improve attention span. The result is an intriguing crossover between art and medical experiment.
"I definitely didn't tell my mom about the project. She would have said no," Zombeck said. "But when she saw it, she cried. For me, it's funny. I didn't even notice half the time what I was doing."
Part of a class project on identity, the piece is partly intended to show other students, who might abuse the drug to stave off sleep, how serious the withdrawal can be.
It's one of a host of unique, varied, and nuanced offerings in this year's student art show. While some pieces directly reflect the artist's major, others, like Zombeck's, will catch you off guard.
Senior art major Christopher Iseri created a series of three large-scale drawings, titled Dark Plumes, by layering compositions of many images, one atop another, to create a final product he describes as "both micro and very large." One such piece takes him three to four weeks, he said. Iseri alternates between drawing and painting every quarter (he has an untitled painting in the show as well), but soon he'll have to find another way to break it up—he graduates in the spring.
It's hard to tell whether Kenny Sing is a ceramicist turned graphic designer, or the other way around. His contributions to the show entail both intricate ceramic vessels and innovative hypothetical redesigns of local businesses' logos and letterheads.
MOMENTS OF BEAUTY AND FRUSTRATION: Cal Poly's Department of Art and Design's Annual Juried Student Exhibition takes place in the University Art Gallery in the Dexter Building, room 171, through May 14. Gallery hours are Tuesday through Saturday, 11 a.m. through 4 p.m.
His success rate with some of his delicate ceramic pieces is about 50-50, he says. The tactile, messy realm of clay, where mistakes are more permanent, counters the clean, far less touchable world of graphic design.
John Andrews, another senior art major, spent the fall quarter throwing stuff into the air and photographing it. Or rather, his tireless assistant, Amber Thompson, threw the things, while Andrews clicked away. He bound the series into a book called Suspended, in which jackets and scarves seem to float effortlessly in the air, entirely shot on the Cal Poly campus.
It's the viewer's job, Andrews said, "to come up with conclusions: where they come from, or where they're going. I wanted more questions aroused than answers given."
A related series depicts purposely blurred shots of places and things, inspired, the artist explained, "by the idea of the fuzzy memory."
Both series were created for photography professor Eric Johnson's course. In his free time, though, Andrews makes wire sculptures, collages, and watercolor paintings—another blurry way of capturing the world.
The show, which hangs through May 14 at the University Art Gallery, is a testament to the wild variety of human experience: surprising, varied, and punctuated by moments of beauty and frustration.
Arts Editor Anna Weltner punctuates her stories with beautiful periods and frustrating question marks. Contact her at aweltner@newtimesslo.com.