It all started at an Acapulco Restaurant in Pasadena. That was where the future SLO mayor, Heidi Harmon, would sometimes go to dinner with her mom and sit, entranced by the waitresses wearing giant flowers in their hair.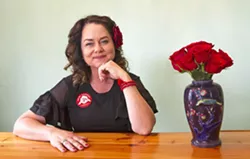 Photo By Jayson Mellom
FLOWER POWER Since her mayoral campaign in 2016, SLO Mayor Heidi Harmon has been associated with a red rose that she wears every day, but the trend actually started 20 years ago.
"For me, in my life at that time, they were a totally different kind of experience than what I was having at home," Harmon said.
That image stuck with her, though, as a child who grew up in Pasadena, the city of roses (her great-grandma was even in the first ever rose parade in 1890). When Harmon was around 30 years old and newly divorced, she started wearing a red rose of some sort in her hair every single day, switching it for a white one on occasions such as funerals. Nearly 20 years later, the habit is still going strong.
"That's when I started coming into my full self," Harmon said. "For me it's about remaining myself and remaining courageous, because it takes a surprising amount of courage to wear it. I think people sometimes have a lot of judgment around it."
Photo By Jayson Mellom
READING RED The Little Free Library in front of SLO Mayor Heidi Harmon's house in the downtown area is stamped with one of her iconic red roses.
Harmon's office is filled with the flower—an abstract rose painting; a watercolor print with a rose and the motto, "Nevertheless she persisted"; a banner with roses drawn on it by local elementary school students; and even a print of Shepard Fairey's political piece Defend Dignity, which features a woman with a red rose in her hair.
The roses Harmon's best known for are the red felt one she wears nearly every day in her hair (exact origins are unknown, though she said it likely came from a thrift store) and the red and white pin she wears that says "Heidi Harmon, Mayor of SLO." Roses are planted in her downtown backyard, another is painted on her Little Free Library out front, and a few roses are sprinkled through the artwork hanging on the walls. But still, the flora in her hair gets the most attention and comments, which Harmon said surprisingly come from other women, like an email she got recently that simply said, "Lose the rose." The woman included her full name, so Harmon looked her up and found she was 75 years old and lives in Cayucos.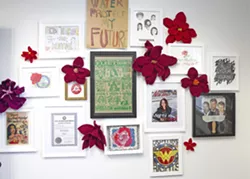 Photo By Jayson Mellom
ROSES EVERYWHERE The office of SLO Mayor Heidi Harmon is filled with rose-inspired artwork, many made and gifted by friends.
"I think for women in the generation or two above me, they really were not invited to be their full selves," Harmon said. "And they weren't really allowed to be in positions of power or politics, and if they were able to ascend in any way, they really had to do it from the masculine. They couldn't do it with any sense of style or flair or uniqueness, whatever that is for them."
When Harmon ran for mayor of SLO in 2016 she didn't plan on the rose becoming a political symbol of sorts, it just happened naturally. Her friend designed the pin that now compliments the felt rose in her hair, and then-incumbent Mayor Jan Marx, Harmon's opponent, called her "flamboyant."
"Women are really judged by how they look, whatever field they're in, but especially politics," Harmon said. "People really confuse solemnity for seriousness. I feel confident enough in my knowledge and skill set to do the work I'm doing without having to be this super serious, more masculine type of person." Δ
Arts Editor Ryah Cooley has a soft spot for tulips and sweet peas at rcooley@newtimesslo.com.