PHOTO COURTESY OF DAVE WAKELING
NEW WAVE FAV : The English Beat, fronted by Dave Wakeling, returns to Downtown Brew on May 2.
Song for song, I don't think you can find a better party band than The English Beat. "Mirror in the Bathroom," "Can't Get Used To Losing You," "Tears of a Clown," "Best Friends," "Hands Off She's Mine," "All Out To Get You," "Too Nice To Talk To," "Save It For Later," "Jeanette," "I Confess," "Ackee 1-2-3," "Stand Down Margaret" … well, I could go on. It's hard to find an unmemorable Beat song.

Yet their run was a fairly short one. Formed in Birmingham, England, in 1978, their first album hit the States in 1980, and by 1983 they had broken up. Frontmen Dave Wakeling and Ranking Roger went on to form General Public, while other band members formed Fine Young Cannibals. A short time later, both bands, like the New Wave movement, disappeared. After a near-two-decade hiatus, in 2003, most of the original members reunited for a show in the U.K., and eventually Wakeling reformed The English Beat in the U.S. with new members.

I remember when—a couple of years ago—they made their way to the stage at Downtown Brew. It was a sea of people in there, all bobbing up and down in time with the Beat's infectious reggae/ska/pop/soul rhythms (I also remember that night because I ended up with a $600 bar tab that my "friends" left me with, tools!).

The English Beat returns to Downtown Brew on Saturday, May 2, at 8 p.m. (21-and-older; $20 presale or $22 at the door), and you can expect to hear the old hits as well as some new material.

New Times spoke to Wakeling between shows in Canada.

"Oh yeah, we've got a load of new songs and put two or three in the set every night," said Wakeling, his English accent still going strong. "We're going into the studio to record in May or June, and this summer we're touring with Hepcat and Reel Big Fish."

How does Wakeling account for the resurging interest in his music?

"There're a number of reasons. This band I've got now is the best it's ever been, but there's also something about recession—a lot of the original songs were written during the recession of the late-'70s and early '80s, and you could feel the danger of unemployment, fear of nuclear power, and greed then as now. And I think the music gives people a chance to feel reconnected. In the last few decades, lots of money was made, and that has a way of keeping people separate and scared. When you can come to a concert with a reasonably priced ticket and lose yourself, become one with the band, the songs, and the crowd, that's a great feeling to enter your workweek with. It might even carry you over to hump day."

One of the great things about the last two Beat shows at Downtown Brew is they felt like reunions. People came out of the woodwork. For people my age—40-somethings—these were the anthems of our youth. Does Wakeling resent all that nostalgia?

"No, not at all. It's an honor, really, to be remembered, and it seems a bit childish to push against it. But in terms of songs, some of the new songs are some of the best songs, and when we bring them out, people line up at the merchandise table to see if they can buy them. Not yet, but we're recording soon."

Is the new material like the old?

"Similar but not exactly the same. We're still mixing reggae with pop, using different beats. We've got a nice ballad, 'We Said We Would Never Die,' and another song, 'The Love You Give Lasts Forever,' which is a real handclapping, audience participation song."

If they're anything like the old materials, we'll never get them out of our heads. And that's fine with me.


PHOTO BY MARGE COLLINS
GREEN SONGS FOR A STRUGGLING PLANET : Richard Green and his wife Lori Olsen Green, along with Richard's band, play May 3 at The Clubhouse to release his affecting new eco-themed album Better Days.
Ever Green
SLO County's one of those places that's pretty hard to leave once you get here, which probably accounts for why we have so many talented resident artists. Sure, they could go beat the doors down in a bigger market and fight their way to fame, but most seem content to stay here and be off-the-hook excellent—big fish in a small pond. I'm thinking of Bob & Wendy, Jill Knight, and Richard Green, the latter of whom just released Better Days, a new full-length studio album filled with Green's smartly written, hooky, jazz-and-folk-infused rock songs. He reminds me of Steely Dan's Donald Fagen.
On Better Days, Green taps his talented brother Matthew (who co-wrote some of the lyrics) and a bevy of our best local musicians to back him, including Bob Liepman from Bob & Wendy and pianist Brett Mitchell, as well as Green's wife Lori Olsen Green.
Thematically, Green explores our adversarial relationship with the planet, our concerns about humanity's future, and the general feeling of ennui that permeates contemporary culture. Sounds depressing, but through Green's songs runs a freshwater stream of hope, and the soaring melodies, rich harmony vocals, and deft arrangements make this recording endlessly fascinating. It's much more like a '60s or '70s record, a collection of songs that work best as a collection rather than as singles.
The Richard Green Band plays the Clubhouse on Sunday, May 3 from 6:30 to 9:30 p.m.

Soundcheck and the Newties!

The SLO County music scene has a lot to offer: great bands, great venues, great fans, and a great weekly newspaper to spread the word (Ouch, I think I just pulled a muscle patting myself on the back).

What we're missing is an all-inclusive annual reference guide, the kind of publication people will keep and refer to when they need to find a band, a recording studio, equipment rental, a promoter, or anything else music related.

Now New Times is ready to fill that gap this summer. On Thursday, Aug. 6, New Times will release the inaugural issue of Soundcheck, a complete guide to the Central Coast music scene. If you're involved in the music scene as a performer or in any other capacity, we want you to be a part of it, and it will cost you nothing but a few minutes of your time. Just e-mail soundcheck@newtimesslo.com with your info: artist or band name; contact name and phone number; URL (myspace, etc.), genre of music; and a 50-word blurb briefly describing what you do. If you're a rental company, sound engineer, recording studio, music store, etc., drop us an e-mail with your info, and we'll make sure you're a part of the next step in SLO County's musical evolution!

That's one piece of the puzzle. The other is a new SLO County music award, The Newties! This week on page 33, bands and artists will find an entry form for the New Times songwriting contest. Fill it out, send in your CD and entry fee, and you're in the running for a Newtie, SLO County's newest music award. Three bands and three solo artists will be invited to play the New Times Music Awards, also scheduled for August at Downtown Brew. Those six winners as well as several runners up will be included in the annual New Times Music Awards CD compilation.


PHOTO COURTESY OF THE VESPA EXPERIMENT
THE FUTURE IS UNRIDDEN : The Vespa Experiment, a group of three singer-songwriters—Jason Reeves, Brendan James, and Amber Rubarth—are in the middle of a two-week tour of the California coastline to raise awareness about global warming. They play May 7 at Downtown Brew.
The Vespa revolution
Anything on two wheels is OK in my book, but a Vespa holds a special place in my heart since it was my first licensed motorized vehicle. That's why I'm stoked to hear about The Vespa Experiment, a group of three singer-songwriters—Jason Reeves, Brendan James, and Amber Rubarth— who are in the middle of a two-week tour of the California coastline during which they hope to raise awareness about global warming. It's just three scooters, camping gear, musical instruments, and a vision: to inspire young people to consider their impact on their environment.

"It seems like back in the late-'60s and early-'70s, people turned to folk singers and songwriters for inspiration and answers to difficult questions," Reeves said. "We were very motivated by that idea and hope to influence a new generation to become more environmentally aware as they grow up and take command of their future."

On Thursday, May 7, The Vespa Experiment arrives in SLO and plays Downtown Brew, at 6 p.m. This all-ages show costs $6 presale or $8 at the door.
The three performers have hooked up with Greenpeace, a partner to help deliver their message. Greenpeace volunteers will be present at Downtown Brew to engage attendees and urge people to take action to protect the natural beauty of the West from the devastating impacts of global warming. You can take action at the concert by signing a giant postcard banner, writing letters, and making phone calls to local Representatives, urging them to be bold in their support for global warming solutions in Congress this year.

But why Vespas?

"If the 69 percent of Americans who own two or more cars would just switch one set of four wheels for two, the reduction in fuel consumption, emissions, congestion, and cost would be significant—not years from now, but right now," said Paolo Timoni, president and CEO, Piaggio Group Americas. "Even if Americans were to switch just 10 percent of their total mileage to scooters, they would consume 14 to 18 million gallons less fuel per day and carbon dioxide emissions could be reduced by 324 million pounds per day."

Ride on, noble Vespas!

Bluegrass rules!

Earthquake-magnet Parkfield will shake to the thunderous sounds of awesome bluegrass during the 11th Annual Parkfield Bluegrass Festival that runs Thursday, May 7 through Sunday, May 10. Parkfield is a bit out of New Times' range, but it's such a terrific event and really not that far away that I had to tell you about it. Like the upcoming Live Oak Festival, there's plenty of camping and fun for the whole family, but Parkfield tends to concentrate more on bluegrass music compared to Live Oak's eclecticism. To name a few of the many bands, you'll hear Special Consensus, John Reischman & The Jaybirds, High Country, Side Saddle, and Lost Highway. To learn more, visit parkfieldbluegrass
.com.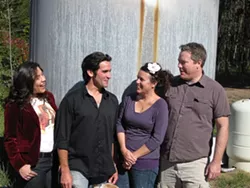 PHOTO COURTESY OF MAGNOLIA
FOLK FLOWER : During the weekly "Local Band Showcase" at the Clubhouse this April 30, check out folk-rock group Magnolia.
More music…
Every Thursday at 6:30 p.m., Anthony and the Engine hosts "Local Band Showcase" at the Clubhouse, and this Thursday, April 30, folk-rock group Magnolia is the guest of honor. I haven't heard Magnolia, but their bio goes a little something like this: "Fresh out of the barrel, Magnolia is redefining the folk rock sound of the Central Coast, drawing attention for its smooth sound and the irresistible vocal stylings of Jennifer Hayes, who also strums rhythm guitar. From the dreamy ode to love 'Catch Me I'm Falling' to the edgy relationship rant 'Talk To Me,' intelligent music gets a much needed makeover." The show is free and all-ages. Intriguing, no?

The corner of Chorro and Higuera Streets will be turned into a battleground this Thursday, April 30 from 6:30 to 8 p.m. That's when the Downtown Association along with sponsors Best Buy and Ernie Ball will set up the popular electronic game Rock Band, and let contestants compete to win $150 from Best Buy! Three-person bands (guitar, lead vocals, and drums) will perform songs from Rock Bands II to wow the fans. Contestants will be judged on over- all score as well as stage presence and audience participation.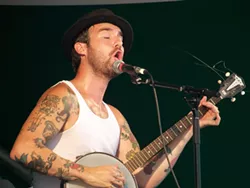 PHOTO COURTESY OF WILLIAM ELLIOTT WHITMORE
DEEP HOME AMERICANA : William Elliott Whitmore generates the kind of arresting stage presence that can quiet a rowdy crowd and make them bow down in wonder. See him April 30 at Downtown Brew.
William Elliott Whitmore worships Billy Bragg and Shane MacGowan of the Pogues, and that makes him A-OK in my book. His playing is raw and real, without affectation, just one talented mo-fo on stage generating the kind of arresting stage presence that can quiet a rowdy crowd and make them bow down in wonder. Whitmore delivers stark, urgent tales of desperation, songs that sound like 100-year-old traditionals written by a long lost backwoods genius. With a sonorous baritone, he weaves songs drenched in soul. If this sounds the least bit interesting, don't miss Whitmore when he plays at 8 p.m. this Thursday, April 30 at Downtown Brew. Fake Problems will open the 16-and-older, $10 show.

"A" Town Deli (7600 El Camino Real, in Atascadero) hosts local eclectic acoustic band The Paisanos this Friday, May 1 at 6:30 p.m. If you like your rock'n'roll, blues, and ballads played with infectious enthusiasm, then be there to hear Joe DiVincenzo, the band's founder; Americana musicologist extraordinaire Nancy Ross on Martin guitar, moving freely between songs from the '20s to the present; Dave Wilson singing and playing lead acoustic guitar like James Burton one minute and Jimmy Page the next; and the band's country and blues harp virtuoso, Roy Ross, making you think you're at the "Crossroads."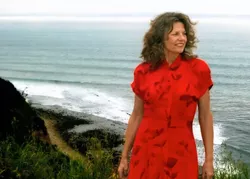 PHOTO COURTESY OF ROBIN ADLER
CLASSIC JAZZ : The next City Nights Jazz concert features San Diego vocalist Robin Adler, who plays with the Mike Raynor Group on May 1, at the Inn at Morro Bay.
The next City Nights Jazz concert features San Diego vocalist Robin Adler, who plays with the Mike Raynor Group on Friday, May 1, at the Inn at Morro Bay, from 7 to 10 p.m. Adler's early inspiration to sing came from listening to female jazz greats like Sarah Vaughan, Billie Holiday, Ella Fitzgerald, and Betty Carter, as well as some of the more sophisticated pop artists from her own generation, including Joni Mitchell, Sting, and Stevie Wonder. Lately, she's been appreciating some of the new generation of female jazz vocalists, including Cassandra Wilson, Holly Cole, Diana Krall, and Dianne Reeves. Adler's clearly got good taste! Check her out.
PHOTO COURTESY OF WHISKEY CHIMP
MONKEY ON MY BACK! : On May 2, the amazing Whiskey Chimp returns to the Red Barn Community Music Series at the South Bay Community Park.
The Chimp returns, bluegrass-and-beyond fans. This Saturday, May 2, the amazing Whiskey Chimp plays the Red Barn Community Music Series at the South Bay Community Park at 7 p.m. (potluck at 6!). A $10 donation is requested at the door. With tight four-part harmonies and blazing instrumental prowess, the group uses traditional bluegrass as a launching pad with punk rock roots and tangents toward rousing mariachi ballads. The seven members skillfully combine elements of bluegrass, punk, rockabilly, Cajun, swing, and Klezmer to create a spicy gumbo.
Beethoven's immortal 5th symphony highlights season finale of the San Luis Obispo Symphony's "Classics" series, and the performance includes the stirring playing of acclaimed violinist Anne Akiko Meyers, who will also perform Samuel Barber's Violin Concerto. It all happens at the Performing Arts Center on Saturday, May 2, at 8 p.m. Tickets range from $12.50 to $65. Call 756-2787. There's also a free dress rehearsal at 1 p.m. on the day of the concert. No tickets are required for this open rehearsal, but patrons are advised to arrive early to ensure seating.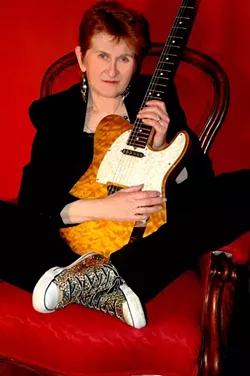 PHOTO COURTESY OF ALICE STUART
NATIONAL TREASURE : Alice Stuart has been called a national treasure, and SLO Folks hosts her on May 2, at Castoro Cellars, and May 3, at Coalesce Bookstore.
Alice Stuart has been called a national treasure, a unique and gifted guitar player and dynamic singer-songwriter. The Washington Blues Society recently inducted her into its Hall of Fame. Seattle Weekly voted her Best guitarist in 2004. After she was "discovered" by the director of the Berkeley Folk Festival, she performed alongside Joan Baez, Doc Watson, and Mississippi John Hurt. This weekend SLO Folks hosts Stuart on Saturday, May 2, at Castoro Cellars, at 7:30 p.m. (238-0725); and Sunday, May 3, at Coalesce Bookstore, at 2 p.m. (772-2880). Tickets are $20, at the venues or Boo Boo Records.
Local prog-rock and funk act Artiface will play Frog and Peach on Saturday, May 2 at 10 p.m. The quintet, since forming in 2003, has opened for the Expendables, Pepper, Steel Pulse, and Del the Funky Homosapien. They took the last four months off from gigging to write new material and focus on a new full-length album. A couple weeks ago, they beat Park Layne in New Rock 107.3 and Three Olives Vodka's Battle of the Bands at Mother's Tavern. They also return to Mother's on Wednesday, May 6 to face off against Criticnue, competing for the final two spots in the battle. Since it hasn't happened yet (as of the time I'm writing this), I don't know who won between The Prestige and JD Project on April 29, but one or the other will face Sad Lisa on Wednesday, May 13. The event culminates on Wednesday, May 20.
On Sunday, May 3, San Francisco pianist Dick Hindman and his trio will be the next attraction at the Famous Jazz Artist Series at the Hamlet in Cambria. Hindman, widely regarded as one of the West Coast's finest jazz keyboardists, will be joined by Seward McCain on bass and legendary drummer Colin Bailey. Series co-producers Charlie and Sandi Shoemake will also be on hand. There's a $15 show at 4 p.m., a $12 show at 7:15, or see them both for $20. Call 927-0567 for reservations.
Glen Starkey is also available in sober (Sorry, we're all out of sober). Pour him another at gstarkey@newtimesslo.com.
CD Reviews
Chris Isaak—Mr. Lucky
With a voice that hovers somewhere between Elvis Presley and Roy Orbison and a swagger that's all Elvis, Chris Isaak has always been one to make the girls swoon and the boys jealous. The singer-turned-actor used to play SLO Town, stringing plastic tiki lamps over the stage and wearing custom-made suits from cloth that looked like it was rejected from a tropical shirt company. He embraced his campy, retro sound and audiences loved it. On Mr. Lucky, his first new studio album in seven years, he delivers the same sorts of yearning, falsetto-soaring, heartbreak-ridden anthems that made him popular. From the opener "Cheater's Town" to the closer "Big Wide Wonderful World," Isaak transports listeners to the backseat of a massive 1950s Detroit sled parked on a knoll overlooking town. He provides the sounds, the make-out session is up to you.
Mike Herrera's Tumbledown—Tumbledown
Mike Herrera is best known as frontman for the hard-charging punk act MxPx, and that band's energy certainly bleeds into the sound of Tumbledown, Herrera's cow-punk-abilly side project. The band played Downtown Brew a couple weeks ago, so if you were there you'll have an idea of what this new self-titled CD will sound like when it's released on May 19. It opens with "Let's Drink," which starts with this line: "Let's drink. Let's drink till will fall down. Let's drink. I'll see you on the ground. Let's drink. Let's drink till will fall down. There's nothing else to do here in this town." The music's the bastard child of shopping mall punk, Eddie Cochran, and Johnny Cash—all beer, fists, and elbows. Chugging snare drums meet shredding guitars and slap-happy stand-up bass, and Herrera's rust-covered tenor voice ties it all together.
—Glen Starkey