New Times Tell me about the school you are attending, the Fine Arts Academy in Atascadero.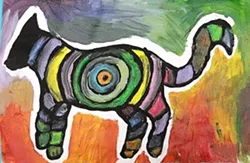 IMAGE COURTESY OF DORA CARY
SHHHH! THERE'S TALENT IN THE LIBRARY :
Carla Cary It's a school that has different programs: dance, art, band, and P.E. It is accelerated learning ; a school for kids with an artistic side, where they can learn more about what they are interested in. It can open up their interests so it can give them a better chance to be what they want to be when they grow up. It's helped to build onto my art skills. It's a really cool school. I'm in 7th grade and I am taking ceramics, band, and dance. I'm there until the 8th grade.
New Times No fine art classes?
Cary I took painting last year. They taught me more about technique, how other painters paint ... like the Impressionists did. I learned how to paint from my mom. I would watch her draw when I was younger.
New Times You're from Romania. Do you have any memories from that time in your life?
Cary When I was small I would always play in the snow and create interesting designs with my fingers and with sticks. I would draw pictures of the snow, too. And then when we came to America [when she was 4] I took up painting and drawing and my teacher saw that I was good. I would draw the Romanian flag.
New Times What are you making in ceramics right now?
Cary A mural of a wolf. I love wolves and cats.
New Times What is it about cats that you love?
Cary They have a way about them. With their big yellow, green, blue eyes, they have such cute characteristics, their big ears and big long whiskers, they are so soft. It is the ideal animal for me.
New Times When were the pieces that are hanging in the library done?
Cary In the last three years. I am working on five or six new pieces right now.
New Times Do you have a studio?
Cary My kitchen.
New Times Tell me about this show. How did a 12-year-old get an art exhibit?
Cary It was exciting. I won out of 28 artists. There were three judges. I was jumping for joy when I found out. I exhibited in a cafe; in SLO once and have participated at the Art at the Spa. Among all of the big people.
New Times Your first words were colors, not mom or dad. Why do you think that is?
Cary My mom had a garden and it's filled with flowers and I would pick them and press them and I would always have colors. I was a very colorful little girl. Anything with color draws me in.
New Times How is your room decorated?
Cary Pink! Hot pink with flowers. It's pink.
New Times What about your parents? What is the dynamic there?
Cary Whenever they see a chance for me to display my artwork they say, 'OK, let's try it' and they buy my art supplies.
New Times What does the future hold for you?
Cary I want to be an artist, or an architect, or a computer animator, or I want to start an animal shelter. I don't know. It's so confusing.
New Times Well Carla, you have plenty of time to decide.
---
IMAGE COURTESY OF DORA CARY
SHHHH! THERE'S TALENT IN THE LIBRARY Eloquent and talented, 12-year-old Carla Cary is the first child ever whose work will be exhibited at the Paso Robles Library. Cary's exhibit hangs through October. A collage of Carla's individual pieces is pictured, as well as the work "Abstract Cat." The Paso Robles library is located at 1000 Spring St., at 10th. Info on where to buy the art: 237-2509.
---
Christy Heron can be reached at cheron@newtimesslo.com.