Everything feels backwards.
I'm atop an 18-story building in New York City with a whiskey in my right hand, perplexedly watching the sun set over New Jersey, as the easterly Atlantic Ocean fades into darkness.
Photo By Peter Johnson
ROOFTOP SUNSET Looking out from the 18th floor of a hotel in China Town, the Empire State Building towers over the cityscape. Watching the sunset with a full view of Manhatten was so surreal and cool.
It's a remarkable sight, but one I'm having trouble getting my head around. As a coastal Californian, I'm so accustomed to seeing the sun set over the ocean that its inverse is really messing with me. In earth's history, the Atlantic Ocean has never experienced a sunset? Only sunrises? Weird.
That bout of disorientation didn't stand alone in my whirlwind 48-hour trip to New York City on July 10 and 11. There was the 5:30 p.m. rush-hour stampede at Penn Station; the time I mistakenly jumped into a Lyft car that already had a passenger in it; and the two hours of stand-up comedy that made me laugh so hard I thought I was losing my mind.
But chaos is an essential ingredient of the Big Apple experience, and I loved every moment of it. My girlfriend, Clare, and I were lucky enough to be able to stay in the heart of Greenwich Village, at her cousin's apartment. It was the ideal location to experience and explore the city, after spending three very quiet days on the north shore of Long Island visiting Clare's extended family.
It was also a pretty incredible time to be in New York City. While our subway train essentially passed under Trump Tower en route to Central Park, everyday New Yorkers were opening the New York Times to read the breaking news: Don Trump Jr. held a meeting with a Kremlin-connected Russian lawyer to dig up dirt on Hillary Clinton. You could definitely feel the weight and shock of the news in the air, as well as a sense of pride that the story was exclusively the local Times' doing.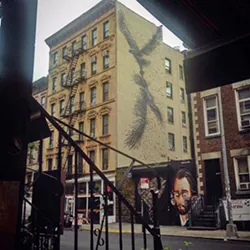 Photo By Peter Johnson
URBAN ART I snapped a photo of this street wall art while drinking refreshing lemonade at a Greenwich Village cafe.
It wasn't my first time in New York City, so I knew that two days wouldn't be close to enough to see all the top destinations. We decided to pick just a few tourist-y things to do, and to play everything else by ear. We toured the sprawling Metropolitan Museum of Art, strolled through Central Park, and walked the High Line. Those were great, but my favorite sequence of the trip was during our one night in the city.
We randomly chose a rooftop bar to check out in China Town, where we saw the (backwards) sunset. But there was more to look at than the sky and cityscape. We also watched two men doing hardcore samurai sword training on a lower rooftop! Afterward, we got some delicious noodles in China Town, and while we were eating, we reserved 11:30 p.m. tickets for the stand-up comedy show at the Comedy Cellar in The Village.
We walked all the way there, and then down the steps into the Cellar, made famous by comedian Louis C.K. in his TV show Louie. As we were getting settled in, the first comic of the night came out: Judd Apatow, producer of Bridesmaids, Forty-Year-Old Virgin, and Knocked Up. We were about 15 feet from him. Apatow was hilarious, as were the ensuing six comedians that performed until 2 a.m.—all incredibly engaging, topical, and intelligent and had the room in stiches.
Seeing New York City in a New York minute ain't a bad way to do it! Δ
Staff Writer Peter Johnson is enjoying Pacific Ocean sunsets at pjohnson@newtimesslo.com.