Director Michael Showalter (Hello, My Name is Doris) directs this semi-autographical screenplay by Emily V. Gordon and Kumail Nanjiani about a Pakistani stand-up comic named Kumail (Nanjiani) who falls for a white woman named Emily (Zoe Kazan) who heckles him during a performance. Their budding relationship is strained when Emily discovers Kumail has a stash of photos of Pakistani women his parents have been trying to set him up with in an arranged marriage, so she breaks things off. Later, she's taken to the hospital and put into an induced coma due to an infection, and Kumail realizes he made a mistake letting her go, but now it may be too late. (120 min.)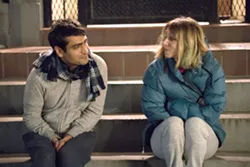 Photo Courtesy Of Apatow Productions
ROMANCE IS IN THE AIR Kumail (Kumail Nanjiani) and Emily (Zoe Kazan) begin a relationship troubled by his Pakistani ethnicity.
Glen Ah love! It's never easy as this big-hearted charmer proves. But this is more than a based-on-real-life love story; it's also an insightful treatise on what it means to be Muslim—or even perceived as Muslim—in America, as well as an examination of the Pakistani culture. Kumail was born in Pakistan, but he's embraced American life wholeheartedly, much to the disappointment of his traditional parents, who believe arranged marriage to a Pakistani woman is imperative to both Kumail's happiness and their family's honor. Of course, Kumail doesn't see it that way. He doesn't practice Islam or even know if he believes in Allah at all. He swears, drinks, and sleeps around—all of which he hides from his parents. To make a living, he's an Uber driver, but his passion is stand-up, and he's good! The film also looks at the behind-the-scenes world of stand-up comedy, and if you've seen the new Showtime series I'm Dying Up Here about the comedy scene in '70s LA, you'll have an idea about what goes on. Deftly balancing comedy and drama, The Big Sick threads a direct path between tears and laughter. It gave me the biggest laugh I've had in a film in a long time, and I was stifling back sobs at the moving story. I loved it!
Anna Balance is key between laugh-out-loud and tear-inducing moments in The Big Sick. Writers Gordon and Nanjiani pull it off with ease. No doubt living through the ordeal was great fuel for the script, and Nanjiani starring as himself leads to an earnest and sweet performance. Zoe Kazan is great as Emily as well, a total catch but also cautious with her love. After they meet and sleep together on the night of Kumail's show, he wants to take her out again, but she's "not dating." After some banter about never seeing each other again, it becomes clear the two just can't stay away from each other. Kumail's life is compartmentalized: The comic enjoys his American-style bachelorhood, and the dutiful son pretends to aspire to law and is a devout Muslim intent on the life his parents want for him. When told to pray before dessert, Kumail heads to the basement, lays down a rug, sets a timer for five minutes, and plays video games on his phone until his time is up. It's a balancing act, right? Keep the parents happy, you get to live your fun, albeit secret, life as you want to. Time is running short though. The constant presence of young women "just dropping by" during his family dinners makes that clear. Emily is more of an open book with her family, wanting to introduce her parents to Kumail when they come to visit, and telling her mom all of his dirty secrets once the romance goes awry, which does not endear Beth (Holly Hunter) to him at all when they meet in the hospital after Emily's coma is induced.
Photo Courtesy Of Apatow Productions
PARENTAL PROBLEMS Emily's parents, Beth (Holly Hunter) and Terry (Ray Romano), aren't sure about Kumail, but as he continues to visit the hospital during Emily's illness, they warm to him.
Glen Of all the performances, Holly Hunter's stands out. In fact, she's so amazingly good that she reminds you that Nanjiani and Ray Romano, as Emily's dad Terry, are acting. There's something very natural about her portrayal, and her character arc—how she warms to Kumail—gives the film more depth than it would have otherwise. Even though Romano isn't a great actor, he's well cast here, with his hangdog expression and deadpan delivery. Terry and Beth have marriage troubles of their own, but one of the things the story drives home is that love is a choice and that families depend on one another. Beth and Terry grow closer through Emily's illness. I don't know how accurate the story is, but in the closing credits, we get to see photos of Nanjiani's real-life parents. It was a reminder of how lucky I am to have a close, supportive family. Last week I saw and reviewed Maudie, another great love story. The beauty of film is there are so many ways to portray love, which is both the simplest and most complex thing humans express. When the screening ended at The Palm, the audience burst into applause, and this film is worthy. What a crowd pleaser!
Anna It's good enough that when I was telling a friend about the film and she said she wanted to see it, I enthusiastically replied, "I'll go with you!" Seeing the same film twice within a few days and without the allure of the reclining chairs that Downtown Centre has is a testament to how much I love this film. It's got some great laughs that I don't want to spoil for future audiences, but I was in serious stitches several times. Two minutes later, I'd be a crying mess just trying to keep my sniffling as quiet as possible. I'm so glad Jim Dee nabbed this film; The Palm is a great intimate venue for The Big Sick. Get there early for tickets though; I have a feeling once word gets out how great it is, The Palm's limited seating will sell out quickly. As you said, Hunter's performance is knockout good, and Romano's play at subtlety worked. When Emily is brought out of the coma, she's starting out at square one, while all of the people around her have gone through an experience that she was, quite literally, asleep for. While Kumail may have won Beth and Terry over, Emily is still sad and hurt for the same reasons she was before she got sick. Both change and forgiveness take time, and small steps toward them lead to big things. I'm in love with their love, and I bet you will be too once the credits roll. Δ
Split Screen is written by Senior Staff Writer Glen Starkey and his wife, Anna. Comment at gstarkey@newtimesslo.com.