The Marsh Street bridge rises up out of a dense tangle of vegetation. Framed with cracked concrete, the sounds of the vehicles that pass over it echo in the deep culvert.
It's one of the busier bridges in the city. An estimated 10,000 cars pass over the bridge each day, in addition to numerous pedestrians, including New Times staff trying to get to their office's auxiliary parking lot or to grab coffee from the nearby Blackhorse Coffee. Few know that the heavily used bridge was deemed structurally deficient by inspectors.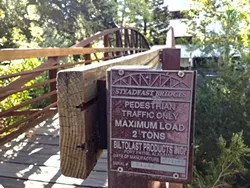 PHOTOS BY CHRIS MCGUINNESS
REPAIR OR REPLACE : SLO's bridges are aging, and it's up to the city to decide to repair them, or start from scratch and replace them completely.
According to data obtained by New Times, the Marsh Street bridge received the rating due to the condition of its superstructure, or the section that connects the underground base of the bridge with its surface. On a scale of one to 10, the bridge's superstructure was rated a four. Federal regulations state that any section of the bridge rated as four or lower during an inspection is deemed structurally deficient.
But don't worry; the bridge isn't likely to crumble into San Luis Obispo Creek tomorrow. A structurally deficient designation is cause for concern, but not all-out panic, according to Steve Davis, a spokesman for Transportation for America.
"It means that engineers have identified that the bridge needs repair or rehabilitation," said Davis, whose organization advocates for better funding for America's roads and bridges. "It doesn't necessarily mean it's an immediate safety hazard."
According to Transportation for America's online mapping tool, which aggregates bridge data from federal and states sources, there are eight bridges identified as structurally deficient within in a 10-mile radius of downtown SLO. Some, like the Marsh Street and California Street bridges, are located in high-traffic areas within the city. Others are farther out, like the bridge located on East Corrall De Piedra Circle on Highway 227.
Who is responsible for maintaining the bridges depends on where they're located. Bridges within city limits are usually in the hands of that municipality, and those outside fall under county jurisdiction. Still others, mainly bridges located on freeways like the 101, fall under the purview of the California Department of Transportation.
The city of SLO has an estimated 36 bridges, many of them cross San Luis Obispo Creek, which snakes through the heart of the city's downtown. While Caltrans takes care of bridge inspection, it's up to SLO to maintain its bridges, some of which were built as long ago as 1909—as is the case of the Marsh Street bridge.
When those bridges begin to age and wear down, it's time to decide whether they can be repaired or need to be replaced altogether.
"I like to compare bridges to people," said Barbara Lynch, deputy director and city engineer for the city of SLO's public works department. "At 50, maybe you need a couple of extra tests. At 80, you might need a knee replacement."
When it comes to very old bridges, Lynch said that the substructure is often a concern, as some of the city's oldest bridges may have been built before the adoption of motorized vehicles. When it comes to fully replacing a bridge, Lynch said the city tries to start the process in June and finish by October.
"It's about the length of a summer season," she said.
The Marsh Street bridge is slated for replacement. In 2013, the City Council voted to spend a little more than $4 million to replace the bridge. Lynch said the city hopes to have the replacement completed by summer of 2016. To get a look at the results of a full bridge replacement, all you need to do is walk around the corner from the Marsh Street bridge to Santa Rosa Street. The original Santa Rosa Street bridge was built in the early 1900s, around the same time as the bridge on Marsh. The Santa Rose bridge was fully replaced, and the project was finished in 1999, complete with decorative railing depicting the area's Seven Sisters morros by artist Jim Jacobson.
Repairing and replacing aging bridges and infrastructure isn't cheap. In 2014, The Federal Highway Administration estimated that it would cost a staggering $20.5 billion a year to eliminate the nation's bridge backlog by 2028. But at the time, only $12.8 billion was being spent annually on the country's bridges. Much of the funding to repair, replace, and maintain the nation's bridges comes from federal and state funds, and therein lies the rub.
Transportation funding is a political football, causing gridlock between the nation's lawmakers and slowing funding for infrastructure. Transportation for America's Davis said that Congress has yet to pass a reauthorized transportation bill, opting instead to extend current funding for two years. It's the second time federal lawmakers have done so, Davis said.
"Transportation bills used to look out ahead six years, and states could look out up to 10 years and plan ahead for their needs," he said. "So there's uncertainty. When you don't know the funding your going to have in three years, … it can be very difficult."
Davis said that part of the reason for the lack of action on a transportation bill is the reluctance to raise revenues, such as the federal gas tax, to generate more money to address the nation's road and bridge infrastructure issues.
"The [federal] gas tax hasn't been raised since 1993," he said. "But a lot of people are unwilling to have a serious conversation about raising revenues."
The same political tug-of-war appears to be going on at the state level as well. In early September, California Gov. Jerry Brown rolled out a plan to put $3.6 billion toward fixing the state's transportation infrastructure. But that plan faced opposition from some Republican lawmakers, in part because it would raise the state gas tax and some fees.
Central Coast Assemblymember Katcho Achadjian, a Republican who also sits as vice-chair of the Assembly's transportation committee, said he was disappointed at the state of transportation funding.
"In the last two years the budget has increased, but not a penny for infrastructure," he said.
Achadjian chalked up state lawmakers' inability to come to a compromise on the issue as a "difference of opinion" on where the money should come from. He said that much of the money could come from existing funds such as vehicle weight fees and committing half of the state's strategic growth fund for transportation. Coupled with $2.3 billion in funding for transportation in the 2015-2016 budget, Achadjian said the total could come close to $6 billion.
Such a proposal would be a step toward regaining the faith of the public when it comes to spending, he said.
"If we don't do something like this to start, we won't have the trust of the public," he said. "Everybody wants roads, no doubt about it, but many people don't trust [state lawmakers] enough to give us more money."
Staff Writer Chris McGuinness can be reached at cmcguinness@newtimesslo.com, or on Twitter at @CWMcGuinness.