It appears the un-seasonal, muggy weather is dissipating just in time for the California Mid-State Fair, "the biggest little fair anywhere!" Thank goodness, because it's usually hot enough in Paso in July with just the normal summer heat.

PHOTO COURTESY OF MÖTLEY CRÜE

MÖTLEY FÄIR: Mötley Crüe (pictured) plays a doubleheader with Alice Cooper on July 25 at the California Mid-State Fair.
This year marks the 59th anniversary of the Mid-State Fair. Just imagine the sheer number of hotdogs, deep fried Twinkies, draft beers, and cotton candy cones that have been consumed since 1946! Imagine how many kids have ralphed after riding the spinning berries ride. Imagine how many people have tried their luck throwing darts at balloons in a mirror joint. Imagine how many 4-H kids have trotted their animals around the show floor and learned the value of hard work as well as where our food comes from. Imagine how many hopeful young beauties have been crowned Miss CMSF … and how many have been left with crushed dreams and some costumes they'll never wear again.
Of course, for many, the Mid-State Fair is about the entertainment. Remember when—before producer Rick Rubin reinvigorated his career with the American Recordings series—you could see Johnny Cash play for free on the Fort Frontier Stage? Everyone from Aerosmith (awesome) to Justin Bieber (sad face) has played the 10,000-seat Grand Stand.
This year's lineup runs the gamut, from country to rock to pop, acts old and new, and the whole lineup as well as tickets are available by visiting midstatefair.com. A few highlights follow.
This Thursday, July 23, Pitbull ($41 to $96) brings his international hits to the Grand Stand. He's had No. 1 songs in more than 15 countries and 3 billion music video views online. This guy's hot, hot, hot! Like all Grand Stand shows, the concert starts at 7:30 p.m.
Get your country on when two-time ACM Male Vocalist of the Year Jason Aldean and "This Is How We Roll" singer-songwriter Cole Swindell play Friday, July 24 ($41 to $96), on the Grand Stand.
This may be your last chance to see Mötley Crüe as they say they'll end their touring career on Dec. 31, 2015, with a concert at Staples Center. They play the Grand Stand Saturday, July 25, with Alice Cooper ($45 to $150). Will Cooper's concert end with his death? Will he bite a chicken head off on stage? It doesn't matter because it's Alice "Freakin'" Cooper!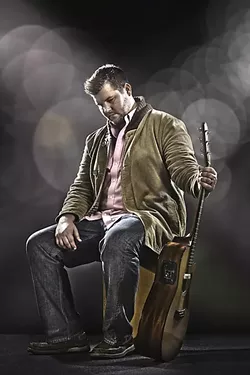 PHOTO COURTESY OF MOONSHINER COLLECTIVE
SHINE ON: Moonshiner Collective (aka Dan Curcio) plays a free Good Medicine Presents show on July 24 at Tooth & Nail Winery.
It's Paso. It's fair time. That means more country when Brantley Gilbert with Colt Ford play the Grand Stand on Sunday, July 26 ($32 to $77). Gilbert hit it big in 2010 with the Platinum-certified album Halfway To Heaven, which produced back-to-back No. 1 singles "Country Must Be Country Wide" and "You Don't Know Her Like I Do." Ford is a one-time pro golfer turned songwriter and musician.
On Monday, July 27, Def Leppard and Tesla ($56 to $131) bring their hard rockin' ways to the Grand Stand. Def Leppard's albums Pyromania and Hysteria are classics! Fellow multi-platinum sellers Tesla deliver hard-driving, blues-based rhythms. Rock on, headbangers!
Get your old school country fix with icon Alan Jackson, who plays the Grand Stand on Tuesday, July 28, with opener Brett Eldredge ($36 to $81). Jackson's played the fair more than any other artist. He, like Paul McCartney and John Lennon, is among an elite group of songwriters who've penned more than 20 chart-topping songs.
PHOTO COURTESY OF RUTHIE FOSTER
SOUL SISTER : Soul, blues, rock, folk, and gospel performer Ruthie Foster plays a Good Medicine Presents show on July 28 at SLO Brew.
Contemporary country artist Keith Urban closes out this week's shows on Wednesday, July 29, with Kelsea Ballerini opening ($41 to $96). Urban is an American Idol judge and four-time Grammy Award winner. Ballerini's best known for her debut single "Love Me Like You Mean It."
If you don't feel like shelling out the big bucks for Grand Stand entertainment, you can see my three favorite picks this week for free (with your fair admission) on the Fort Frontier Stage: '80s New Wave heroes Flock of Seagulls on Saturday, July 25; country music icon Lee Greenwood on Tuesday, July 28; and classic hard rockers Blue Öyster Cult on Wednesday, July 29.
Tune in next week for more Mid-State Fair action, and if that's not enough entertainment for you, walk behind cowboys who have their names tooled on the back of the leather belts, then go up and pretend to know them! "Hey, Buck! Long time no see! How you doing, buddy?" Now that's entertainment!
What's up with SLO Brew?
SLO Brew's current owner—developer and wine connoisseur Hamish Marshall—planned to close the current Garden Street SLO Brew location at the end of July and open the new Higuera Street location in September, and while I noticed the new location has wooden barriers across the front to prevent peeping Toms, there doesn't seem to be much happening construction-wise over there. Will it open anytime soon? No idea.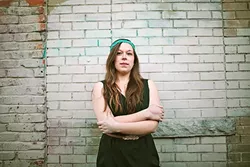 PHOTO COURTESY OF ANNALISE EMERICK
GOOD FOLK : Nashville-based singer-songwriter Annalise Emerick returns to Songwriters at Play on July 23 at Shell Café.
I did hear that Marshall and former SLO Brew owner Todd Newman recently signed an agreement to have Newman's Good Medicine Presents production company continue to book entertainment into the Garden Street SLO Brew through December 2015, so for the foreseeable future, SLO Brew continues on in its current location.
In the meantime, Newman has been working with developer John King to transform the old 10,500-square-foot San Luis Motor Sports building on South Higuera into a convention center that will host concerts. It's in the preliminary stages, but if all goes as planned, the 3.5-acre property could be home to a restaurant, concert venue, and more. Just 1 mile from the core of downtown, the property's zoned for commercial and tourism uses. It could be the next great thing to happen to the SLO County music scene. Fingers crossed!
This week, Good Medicine Presents brings Moonshiner Collective (aka Dan Curcio) to Paso's Tooth & Nail Winery on Friday, July 24, from 5 to 9 p.m. These free shows are great, with excellent food and wine available for purchase, and the winery's castle-like setting is bitchin'!
This week at SLO Brew, Good Medicine Presents features the following concerts:
The Colourist plays on Saturday, July 25 (7:30 p.m.; all ages; $15 presale or $17 at the door). Their song "Little Games" reached No. 1 on Alt Nation, and they played Coachella. Maudlin Strangers and I Am Strikes open.
PHOTO COURTESY OF BACK BAY BETTY
BOOGIE TIME: Back Bay Betty plays the Barefoot Concerts on the Green at Sea Pines Golf Resort on July 25.
Classic hardcore acts the Adolescents and The Weirdos play Sunday, July 26 with local band Magazine Dirty (8 p.m.; all ages; $17 presale or $20 at the door). The Adolescents formed in 1980 in Orange County, and along with Agent Orange and Social Distortion set the blueprint for the So-Cal punk scene. Their self-titled debut album became one of the best-selling California hardcore albums behind the Dead Kennedys' Fresh Fruit for Rotting Vegetables. The Weirdos' history goes even further back in time to 1977, when in their 1977 interview for Slash magazine they proclaimed, "We're not punks; we're weirdoes from Hollyweird!" This show is a must-see for punk rock historians.
Finally, Ruthie Foster plays Tuesday, July 28 (7:30 p.m.; 21-and-older; $17 presale or $20 at the door). The soul, blues, rock, folk, and gospel performer has an amazing voice developed in rural Texas church choir singing, honed with a tour of duty with the U.S. Navy Band, and perfected in the competitive Austin music scene.
More music …
Nashville-based singer-songwriter Annalise Emerick returns to Songwriters at Play this Thursday, July 23, at Shell Café (6:30 p.m.; all ages; free). Her debut, Starry-Eyed, climbed to No. 9 on the iTunes singer-songwriter chart. She'll be joined by local singer-songwriter Janine Rose as well as touring acts Athena McIntyre and the duo Low La La. Visit songwritersatplay.com for a complete listing of this week's showcases.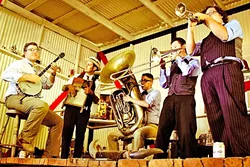 PHOTO COURTESY OF THE CRESCENT KATZ
HOT JAZZ: On July 26, the Pismo Vet's Hall hosts to a day of hot jazz with three bands, including the Crescent Katz (pictured).
Back Bay Betty plays the Barefoot Concerts on the Green at Sea Pines Golf Resort this Saturday, July 25, from 2 to 6 p.m. "Doesn't get much better than this!" gushed the band. "Opening will be an All-Stars Blues Jam featuring some stellar players from the various blues jams around the county hosted by Love Live Music Productions. This is a family friendly afternoon full of free live music, awesome food and drinks to purchase, and groovy fun with friends and neighbors, so kick off your shoes and come dance with us!"
Fish Out of Water is still living the dream, touring all over hell and back and bringing their funk, reggae, hip-hop hybrid to anyone who'll listen … which is a lot of people since their fan base is big and growing. "Since leaving the Central Coast about seven years ago, we've toured the U.S. 10 times as well as Australia three times (currently I'm sitting in a library in Highlands, North Carolina, writing to you before we play a community concert in the park later today)," wrote band members and cousins Kyle and Brandon Moon. "We started the band on the Central Coast and are proud to be one of the few acts that tour for a living that has come out of the area." They're back for a free show at Tap It Brewery this Saturday, July 25, at 8 p.m.
This Sunday, July 26, Pismo's hot swingin' jazz club, The Basin Street Regulars, will bring bands from near and far to the Pismo Vet's Hall beginning at 11 a.m. with the BSR jam session and continuing at 1 and 3:15 p.m. with the Crescent Katz and at 2:15 p.m. with the Creole Syncopators. That's a lot of hot jazz for $10 ($5 for club members). Food and beverages will be available for purchase, and there's plenty of dance floor!
Local veteran performers Louie Ortega, Dorian Michael, Kenny Blackwell, and Ken Hustad joined forces as The C.C. Riders, and they'll play this Sunday, July 26, at 6 p.m. in the Shell Café. "This acoustic roots quartet plays a huge variety of styles: tejano, blues, country, and plain old rock music with a big helping of instrumental prowess on guitars, mandolin, and bass," said the band. The cover is $12.
Keep up with Glen Starkey via twitter at twitter.com/glenstarkey, friend him at facebook.com/glenstarkey, or contact him at gstarkey@newtimesslo.com.