PHOTO BY NOLAN HALL
SKATE RAT TO SOUL MAN: Matt Costa headlines the Nov. 16 Cayucos Pier Benefit Concert.
I've got many a fine memory of the Cayucos pier, like jumping off the end of it during huge storms to paddle out into double overhead surf, or to just keep on paddling right out to Mouse Rock for some sick drop-ins. Or watching former Cayucos resident and pro surfer Dave Parmenter take off on what appeared to be a closed-out wall and race along it for 100 yards down the beach at impossibly high speeds. Or watching Pipeline surf master and Cayucos avocado rancher Mike Armstrong style into a slider and soulfully cruise.
Cayucos is one of the last truly funky beach towns, one that hasn't had the soul stripped out of it via gentrification. Unfortunately, the pier has fallen into such a state of disrepair that it's partly fenced, and the county says one huge storm could destroy it completely and require its complete condemnation and closure. Repairs are expected to cost around $2 million.
One group that quickly sprang up to combat that was Cayucos Land Conservancy president Greg Bettencourt's savecayucospier.org, which is trying to raise a minimum of $100,000 to help secure the $2 million in grants to complete the project. You can donate at their website, which offers a little history of the pier, most interesting of which is the original cost of the pier's construction: "The Cayucos pier was constructed by Captain James Cass, the founder of Cayucos, in 1872 and was rebuilt and lengthened to 982 feet into deeper water in 1876. It was built for about $15,000 using Cambria Pines logs (at $7 delivered) for pilings." Ah, to go back in time 137 years! Your donation to the group is tax deductible.
The fun way to help the pier is by coming to the Cayucos Pier Benefit Concert on Saturday, Nov. 16, from 11 a.m. till 4 p.m. The event's been organized by Todd Newman, longtime Cayucos resident and owner of SLO Brewing Company.
"The real impetus was when I brought my son Rohn to the pier to go fishing the day after the 4th of July, and it was fenced off," Todd said. "My family has had a home in Cayucos since I was 7 years old, and one of the first independent things my family let me do was go fishing at the pier. I'd wake up before dawn; load my wagon with my fishing poles, tackle, buckets, and bait; and head to the pier. My mom and dad would bring me lunch at noon, and I had to be home by dark. Literally the day after I graduated from college, I moved to Cayucos."
PHOTO COURTESY OF CAYUCAS
SPELLING DOESN'T COUNT: Santa Monica-based Cayucas takes its name from Cayucos and will play the Nov. 16 Cayucos Pier Benefit Concert, so I'll forgive their spelling lapse.
While the concert is free, vendors and concessionaires will be donating 100 percent of profits to pier repairs.
"SLO Brew and Liberty School Winery paid for the performers, production costs, staging, advertising, and insurance, so all profits after recouping those costs will go to the pier," said Newman, who added that other vendors will also be donating proceeds. "Greg Bettencourt has really galvanized the Cayucos community to get this done. And permit fees from the County Parks and Rec and Public Works Department have been waived, thanks to Curtis Black and Frank Honeycutt respectively."
Other beer and wine sponsors and donating concessionaires for the event include Firestone Brewery, Cayucos Beer Company, and Pacific Coast Wine Trails. Food and non-alcoholic beverage sponsors and donating concessionaires include Brick House BBQ, Brown Butter Cookie Company, Hope Family Vineyards (pizza), Sea Shanty, Ruddell's Smokehouse, Bliss Café, Ocean Front Pizza, Schooner's Wharf, and many more.
Clearly the community is coming together for this event, and the entertainment is going to be incredible, too!
Matt Costa, an almost pro skateboarder who turned to music after a nasty leg break, is a real DIY success story. His 1993 homemade demo found its way into the hands of No Doubt guitarist Tom Dumont, who brought Costa into his own home studio and recorded more demos, which he eventually combined into Costa's first full-length CD, Songs We Sing. By 2005, Costa was opening for Jack Johnson, and now he records on Johnson's Brushfire Records. His music has continued to blossom into increasingly lush, intricate soundscapes, and he continues to go in new directions on his newest self-titled release. He plays from 2:40 to 4 p.m. on the Pier Stage, with an intermission from 3 to 3:10 p.m. for wedding vows in the Cayucos Vets Hall.
"I was thinking about the Basement Tapes [a collection of tracks that Bob Dylan recorded with The Band in 1967] and how I always loved the way those songs made me feel, and also how they were all recorded so simply," he said in press materials. "With this album, part of what I wanted to do was work with all these big, over-the-top arrangements that burst open and take off into a whole new dimension—but still ultimately create that same kind of cool, pure feeling."
According to their web page, Cayucas "is the monikered homage to a sleepy little seaside town in San Luis Obispo County, California. That town, Cayucos, has hardly changed in the last 50 years, a far cry from the gentrified tourist traps parading showily down the nearby coastline. In the early 1960s, the surfing craze hit. There was one bar [where] local kids congregated back then, the site of helpless crushes and fights and games of pool, a place whose jukebox soundtracked innumerable teenage years as breezy summers rolled into mild winters and back around again. The bar has since disappeared, but as Zach Yudin, the man behind the name, will tell you, the place still holds on tight to its propensity for dreamy, lazy, bonfire-lit nights worth getting moony-eyed about." Ain't that sweet? The band, previously called Oregon Bike Trails, hails from Santa Monica, but they clearly have a special place in their heart for Cayucos. They play from 1:20 to 2:20 p.m. on the Pier Stage.
PHOTO COURTESY OF MAKANA
SLACK KEY ACTIVIST: Makana will bring his slack key singer-songwriter sounds to the Nov. 16 Cayucos Pier Benefit Concert.
Slack key guitar player and singer-songwriter Makana (née Matthew Swalinkavich) was second runner-up in the 2008 Guitar Player Guitar Superstar competition and has contributed two songs to Grammy-nominated albums, which is totally cool, but I think the coolest thing about this guy is that in 2011 when he was schedule to perform at an Asia-Pacific Economic Cooperation gala attended by President Obama and other leaders in Hawaii, he turned his performance into a protest, opening his jacket to reveal a shirt that read "Occupy with Aloha" and playing his protest song "We Are the Many" inspired by the Occupy Wall Street movement, singing, "We'll occupy the streets, we'll occupy the courts, we'll occupy the offices of you, till you do the bidding of the many, not the few. The time has come for us to voice our rage." You go, dude! He plays from 11 to 11:55 a.m. on the Pier Stage.
The event will also include performances by local indie-folk-jazz-pop act Próxima Parada, Cayucos local who moved to New Zealand and is now back the Julian Temple Band, local soul-drenched Texas-born troubadour Joe Koenig, and 2013 New Times Music Awards winner for Best Live Performance and Best R&B Song The Monroe. The Cayucos Elementary School Steel Drum Band and Taiko will also be drumming. Cayucos is where it's at on Saturday! Bring the family, bring a beach blanket, and save the pier for the next generation!
Blue Ridge shaman
PHOTO COURTESY OF MALCOLM HOLCOMBE
TRUE GRIT: The amazing sounds of Malcolm Holcombe will resound at SLO's newest venue, SLO Tracks, which is hard to find but worth it on Nov. 8.
If you miss the intimate concerts at the Sanitarium, never fear; you can't keep a good thing down. The former "Sanitarium Music Nights/Music Salon will continue on at a new venue, SLO Tracks, which is a bit out of the way (1 Vintage Ranch Road, at the south end of SLO near the airport. It's at the north end of Tolosa Vineyard, just north of Buckley Road, and concert organizers warn that the street will not show up on any online map, but the road will be marked for the event. Think of it as a treasure hunt!).
The first event at the new location features singer-songwriter and wild-eyed music shaman Malcolm Holcombe on Friday, Nov. 8 (7 p.m.; $15 at the door).
Born and raised in the Blue Ridge Mountains of North Carolina, Holcombe is a unique guitarist-vocalist about whom Rolling Stone magazine said, "Haunted country, acoustic blues, and rugged folk all meet."
His newest CD, Down the River, was released about a year ago and produced by Grammy Award winner Ray Kennedy. Steve Earle joined Holcombe on a duet for "Trail O' Money," and I figure if Earle thinks Holcombe's OK, we should too. Another alt-country great, Lucinda Williams, said, "From the first note I was drawn in. Malcolm Holcombe is an old soul and a modern day blues poet."
This guy sounds like a tin can full of rusty nails rolling around the back of an old Dodge Brothers pickup bouncing down a backwoods moonshiner's road on its way to a roadside revival meeting 'cause we all need saving! Halleluiah!
More music …
Scott Cooper, frontman for the Bay Area's Grateful Dead tribute band the China Cats, plays two local shows in SLO County on the heels of his new CD Jack of All Trades, on Friday, Nov. 8, at 7:30 p.m. at Steynberg Gallery solo ($10); then as a trio Sunday, Nov. 10, from noon to 4 p.m. at Mr. Ricks (free).
You're going to love the lilting, lovely voice of Kathleen Grace, who hails from the jazz world but has slipped comfortably into country on No Place to Fall, her excellent new record she'll promote with appearances on Saturday, Nov. 9, at Vintage 1255 Wine Bar from 4 to 7 p.m. as part of Songwriters at Play and again on her own at Steynberg Gallery at 7:30 p.m.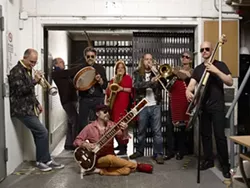 PHOTO COURTESY OF TRIBECASTAN
NEW YORK COOL: TriBeCaStan will bring jazzy world music sounds to Steynberg Gallery on Nov. 12.
Get your dose of Elvis during the next "Morro Bay Sings … " event on Saturday, Nov. 9, at the Morro Bay Community Center (doors at 5:30 p.m. with food from Morro Bay's Galley Seafood Grill for $10; music at 7 p.m. for $20 ticket). Performers include Erin Inglish, Julian Temple, and Les Beck.
Música Del Río House Concerts play host to Dan Navarro, who wrote the Grammy-nominated song "We Belong" for Pat Benatar, at 7:30 p.m. on Saturday, Nov. 9, for $15 at the door. Call 466-6941 for reservations and directions.
World beat's on the menu on Tuesday, Nov. 12, when TriBeCaStan plays Steynberg Gallery with Timo Beckwith and Luis Monge opening (7:30 p.m.; $15). TriBeCaStan is a genre-bending contemporary act with one foot in the jazz world and the other in the world music world. Should be weird and good!
Keep up with Glen Starkey via twitter at twitter.com/glenstarkey, friend him at facebook.com/glenstarkey or myspace.com/glenstarkey, or contact him at gstarkey@newtimesslo.com.