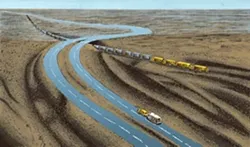 IMAGE COURTESY OF SLOMA
ACROSS THE UNIVERSE: Michael Lazorka's "Crossroads" illustrates the vastness of the Western landscape.
The power of the print is the power to multiply. Printmaking is a medium of discovery and experimentation, useful at once both in practical illustration and fine art making. This versatility exerts a unique influence on the American visual and psychological landscape, assuaging our conflicted feelings about art in the academy. Adding to its functional nature is a very visceral tactile appeal—the ability, both literally and figuratively, to make an impression.
The Central Coast Printmakers' show "Pushing the Limits," currently on view at SLOMA, encompasses the incredible variety such a theme invites. Rather than feeling overwhelming, these skillfully arranged works seem to flow effortlessly from one another as they unfold across the walls of the Gray Wing.
"Far from being constrained by the parameters, I believe the breadth of work selected points to current printmaking's limitless directions," says Linda Lyke in her juror's statement. A printmaking artist and professor at Occidental College in Los Angeles, Lyke contributed three of her own pieces to the exhibit that greet us at the entrance. Not technically part of the show and not, of course, eligible for the judging, they are nonetheless illustrative of Lyke's background, and their inclusion offers a welcome informality and generosity.
The director's award went to Michael Lazorka's Crossroads, a color woodcut that has become the iconic image of the show. Its intersection of two modes of transit, the car and the train, across a vast Western landscape signifies the history of expansion.
From there, the exhibit—like Western expansion itself—sprawls out in every direction, in suburbs of theme, color, and medium. Gail Jacobs' wonderfully inventive Screen and Shell Game, in the tradition of Cocteau and the drawings of Paul Klee, tell a visual narrative difficult to articulate in any other medium. To that end, they each include small snippets of found text, which in Shell Game seems to be instructional in nature, implying that the piece contains its own execution. The discernable text includes a fragment in which the eye visually replaces the missing "t" and "al" on either end of the second line, to read: "a blank/ transparent material/ a draft/ face." Below, two circles resembling eyes seem to be the "face" to which the text refers.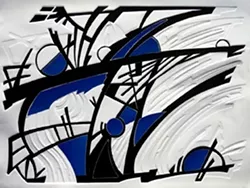 IMAGE COURTESY OF SLOMA
FROM BAUHAUS TO ART HOUSE: Robert "Rosey" Rosenthal's "Captain, the Dilithium Crystals are Gonna Blow!" waxes geometric.
Many of the pieces in the exhibit are visually rooted in the golden age of American printmaking, the Art Deco and WPA styles of Rockwell Kent and William S. Rice. A juror's award went to Donna Westerman's wood engraving Moss Log, the stagnant title of which belies its subtle complexity. Laura Stickney's Sequoia Root Mass II is more abstract, enjoining the viewer to visually parse it. Monica Wiesblott's Rose, Max and Sheldon, in the intriguingly named medium of "battleship linoleum," stands out among the landscapes as a vibrant and endearing portrait of human life.
Another juror's award went to Kimiko Miyoshi's Spill II, one of the most contemporary-feeling pieces in the show. Its layers have the look and texture of fabric, and its hivelike structure feels both organic and otherworldly.
Robert "Rosey" Rosenthal's i, in matboard relief and embossing, evokes the economical, color block mode of the Bauhaus and De Stijl movements. Its somewhat incongruous titular reference to Star Trek invokes the atomic-age feel of the piece, but largely serves as a reminder that it should be viewed with levity. Its flawless rendition is irresistible—there's no question of the piece's "seriousness" as an art object—but that wink in the title gives us permission to enjoy. Dusty Tailor, an almost impossibly fabulous name, adds an additional dose of humor with California Republic, a lithograph of a whale with a prickly pear cactus either jutting out of, or being forced into, its back. It's like a tattoo someone would get for all the wrong reasons.
On the transverse wall are numerous smaller-scale pieces that, despite their diminutive footprint, should not be missed. Pamela Zwehl-Burke's zinc intaglio Fall is particularly affecting—a memento mori depicting a small, dead bird, its little life still imbued in the page. And we are treated to another appearance of Rachael Winn Yon, who had a solo show at the GALA Center last fall, with her Elephants in the Room. Rosemarie Gebhart's Play Ball creates a whole planetary system of play, and Helen K. Davie's An Inordinate Fondness for Beetles is a visual diary of obsession.

TAKE IT TO THE LIMIT: The Central Coast Printmakers' show "Pushing the Limits" is on view through May 11 at the San Luis Obispo Museum of Art, 1010 Broad St. in SLO. It can be viewed during open hours, 11 a.m. to 5 p.m. excluding Tuesdays. Paul LaRiviere's solo show runs through June 13 at the GALA Center, 1060 Palm St. in SLO, Monday through Friday from 9 a.m. to noon and 1 to 5 p.m., and from 6 to 9 p.m. on May 2 and June 6 during Art After Dark.
Paul LaRiviere who, as art curator for the Gay and Lesbian Alliance of the Central Coast, is so often responsible for the exhibition of other artists' work (including that of the aforementioned Rachael Winn Yon) adds his own witty sensibility to the show. His near-holographic Cat House Book is cleverly executed in three dimensions to create three separate views of the same picture: one in red, one in blue, and one in black. This trifurcation of a limited, primary palate brings to mind comic book art, and the piece's two self-satisfied cats with a rat trapped beneath a bell jar recall the feisty felines of George Herriman and R. Crumb. LaRiviere's solo show, on view through June 13 at the GALA Center, promises yet more of these deftly engineered linocuts.
"Pushing the Limits" is as varied as the eye—see it now before it blinks out of existence on May 11.
Arts Editor Erin C. Messer calculates how many cuts a wood cut can cut at emesser@newtimesslo.com.