How'd you like to sip some fine wines in a rustic ranch setting under oak and sycamore trees while being entertained by four of the Central Coast's finest musical acts, in between which you'll see costumed Shakespearian actors performing snippets of The Bard's famed plays, all while getting hot-stone foot massages and being fed peeled grapes by scantily-clad supermodels? Yeah? Well you can have all that (provided you supply the hot stones, masseuses, peeled grapes, and supermodels) at Bard Aid, a fundraiser for the Central Coast Shakespeare Festival this Saturday, May 2, at the Filipponi Ranch Winery in San Luis Obispo (doors at noon; music starts at 1 p.m.; $35 tickets at centralcoastshakespeare.org; low-back chairs encouraged; no outside food and beverages; Filipponi Ranch wines and food by Scotty's Bar and Grill available for purchase).
PHOTO COURTESY OF MOONSHINER COLLECTIVE
SINGING FOR SHAKESPEARE!: Moonshiner Collective (aka Dan Curcio) is one of four music acts playing Bard Aid, a fundraiser for the Central Coast Shakespeare Festival, on May 2 at the Filipponi Ranch Winery. The afternoon also features costumed actors performing snippets of Shakespeare's plays between sets!
Banjo playing chanteuse Erin Inglish, smoky-voiced singer-songwriter Jill Knight, Gypsy-jazz-tango-swing-and-wild-classical ensemble Café Musique, and gifted songwriter and indie rocker Moonshiner Collective (aka Dan Curcio and friends, this time I think it's drummer Ryan House) will perform beginning at 1 p.m. and through the afternoon.
I fully expect to see some mixing and matching among this group of performers. Erin Inglish's dad, Duane, plays accordion for Café Musique, so they've obviously played together; Jill Knight sang on one of Café Musique's tracks on their last album; and Dan Curcio? Everybody likes to play with him! He's got a freaking collective, after all!
And what treats will befall attendees when the actors take the stage between sets? Will Lady Macbeth lament her inability to wash off blood? Will Titus and Tamora kill each other's children? Will Cornwall perform amateur ophthalmologic surgery on Gloucester's eyeballs? Or will love win out? "O, she doth teach the torches to burn bright! Her beauty hangs upon the cheek of night like a rich jewel in an Ethiop's ear; beauty too rich for use, for earth too dear!"
The doors open at noon, and the Filipponi Ranch is at 1850 Calle Joaquin Road, off of Highway 101 and Los Osos Valley Road in southern San Luis Obispo, near KSBY (follow the signs). Proceeds from the fundraiser will improve the Shakespeare Festival performance site at the winery as well as the festival itself, which this season will bring one of Shakespeare's earliest comedies, The Two Gentlemen of Verona, directed by local actor-director Suzy Newman; and The Winter's Tale, a story that weaves together comedy, tragedy, and romance, directed by CCSF's own Cindy Totten. The festival runs July 16th through August 8th. More info is available at centralcoastshakespeare.org.
Good Medicine Presents at SLO Brew!
If you've been enjoying the shows at SLO Brew as of late, it's all thanks to Good Medicine Presents, the folks behind Neil Young's impromptu visit, Jeff Bridges' recent Fremont Theater appearance, and the free Hot Buttered Run show last weekend at The Cliffs. Good Medicine is swinging for the fences this week at SLO Brew, making the most of the venue before it closes its current location at the end of July.
PHOTO COURTESY OF HELMET
HAPPY 20TH, BETTY! : Good Medicine Presents brings Helmet to SLO Brew on May 3, when they'll perform their breakout album Betty from start to finish.
The biggest show this week is arguably Helmet this Sunday, May 3 (7 p.m.; all ages; $18 presale or $20 at the door). Hailed as "the thinking man's metal band," the group formed in New York in 1989 and released their breakout album, Betty, in 1994. They're currently touring on their Betty 20th anniversary tour, where they'll play the album from start to finish, followed by a second set spanning the entirety of Helmet's catalog.
Good Medicine is also bringing Dustbowl Revival to SLO Brew on Friday, May 1, with opening act The Tipsy Gypsies (7 p.m.; all ages; $13 presale or $15 at the door). The Dustbowl Revival blends "old school bluegrass, gospel, pre-war blues, and the hot swing of New Orleans to form a spicy roots cocktail." Local act The Tipsy Gypsies deliver Django Reinhardt-style jazz with wicked awesome lyrics sung by the sultry-voiced Hillary Langdon channeling Billie Holiday.
On Saturday, May 2, get your Brazilian dance fix when SambaDá returns (7:30 p.m.; all ages; $10 presale or $13 at the door) with its rich displays of salsa and cumbia, as well as funk and reggae beats.
Holy crap, it's already Cinco de Mayo, aka Drinko de Mayo! Good Medicine has you covered this Tuesday, May 5 with Makeover, the '80s pop cover band (9:30 p.m.; 21-and-older; $5) playing SLO Brew. "We're super excited to showcase songs from Madonna, Elton John, and Michael Jackson to name a few," said drummer Pete Ayer. "We take '80s pop covers and twists them into rocking dance grooves while maintaining the melodies and riffs you grew up on. Catch us while you can, 'cause our singer-guitarist Adam Beck is heading out on his honeymoon for a couple months across 'Merica (The trio also includes bassist Matt Hildenbrand). We'll be back at the end of summer, but this will be our last SLO Brew show before it closes. We're proud to play the stage one more time for the books and memories, and the last Cinco Celebration at the Brew!" By the way, it's pint night too! Muy bueno!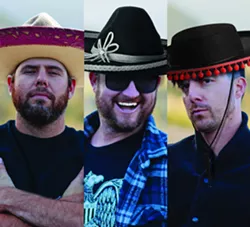 PHOTO COURTESY OF MAKEOVER
AY CARAMBA!: Makeover, the '80s cover act extraordinaire, plays SLO Brew on Drinko de Mayo (May 5, natch!) under the aegis of Good Medicine Presents. Salute!
Finally, on Wednesday, May 6, check out Dev (7:30 p.m.; all ages; $18 presale or $20 at the door), who performs a "fun sexy, mix of pop, R&B, dance, and hip-hop, all delivered with a distinctive, unique voice," according to press materials. "Born in Manteca, CA, to parents of Mexican and Portuguese descent, Dev has always had a cultural awareness that has seeped into every part of her style including her music. Signed to Republic Records in 2010, Dev quickly became the next pop star with edge after Far East Movement used her song 'Booty Bounce' in the international hit 'Like A G6.'" Max Styler, a producer DJ from SLO, will open the show.

More music ...
New folk and porch rock purveyors Abby and the Myths play Otter Rock Café on Thursday, April 30, at 7 p.m., in support of their new EP, Ghosts and Frames. I super dig Abby's crisp, distinctive vocals! She's got presence and swagger and the songs will crawl right you're your head and stay there. Should be a cool show!
I'm not sure if I should be impressed, think she's insane, or prayer for her: "I'm a Bay Area musician and endurance runner who will be running from Santa Cruz to San Luis Obispo as part of my 'Coast to Coast for Kids' charity running campaign and tour," emailed Aprylle Gilbert. "On Thursday, April 30, I'll perform an 8 p.m. show at Linnaea's Cafe. I'll then continue running from San Luis Obispo to Long Beach. 'Coast to Coast for Kids' officially begins May 11, after a May 7 performance at the House of Blues on the Sunset Strip. I intend to run 30 to 50 miles per day along the entire length of the old U.S. Route 6 from Long Beach to Provincetown, Massachusetts. I plan to complete this journey in late July." Wow! Just wow!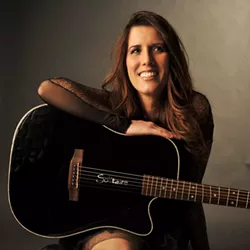 PHOTO COURTESY OF APRYLLE GILBERT
RUN, APRYLLE, RUN!: Endurance runner and musician Aprylle Gilbert makes a stop at Linnaea's Café on April 30 before embarking on her cross-country "Coast to Coast for Kids" fundraising run and tour.
Awhile ago I judged SLO Brew's karaoke contest, and though he didn't win that night, I was impressed with finalist Jeremy Heller, who along with guitarist Randy Lee Hughes, bassist Josh Whittington, and drummer Greg Gard formed metal act Militant Civilian. The quartet is ready to deliver their blistering rock to the masses this Friday, May 1, when they play with two other local metal bands—Disastroid and Sonic Arena—at Camozzi's in A-Town (8 p.m.; $5 cover). There could be some face melting going on here!
This Saturday, May 2, the SLO Grange Hall is the place to be for musicians in need of buying selling, or trading instruments as well as British rock invasion lovers. First, the Central Coast Guitar and Drum Show happens from 9 a.m. to 3 p.m. Admission is $5, with $1 off if bringing an instrument to sell or trade. There'll be all kind of instruments and music equipment for sale! What a deal! Later than evening, Unfinished Business presents their British Invasion Tribute Show (doors at 6 p.m.; music at 7 p.m.; $15 presale tickets at Boo Boo's and brownpapertickets.com; $20 at the door). Hear songs from The Rolling Stones, The Zombies, The Animals, and many more. The Shell Café will provide a no-host beer and wine bar, as well as a special food menu.
Has it been a whole year? I guess, because it's time for The second annual 50 Shades of Color Thrift & Consignment Style Revue! The music and fashion show benefits Noor Clinics, and it all happens this Saturday, May 2, at the SLO Vets Hall. The doors open at 1 with the fashion show starting at 1:30 p.m. There's also a raffle, silent auction, finger foods, and a full no-host bar. Models include Noor Founder Dr. Nooristani, Supervisor Adam Hill (hubba-hubba!), KSBY's Dave Hovde and Amanda Starrantino, SLO County firemen, and Miss Etiquette Miss Anita Shower! Three trips to the Caribbean will be auctioned off (one trip will be raffled, one silent-auctioned, and one to the highest bidder). Adults are $30 presale or $35 at the door (children $20 presale or $25 at the door). Stick around and dance the night away when the Irene Cathaway Rhythm and Blues Band plays from 7 to 10 p.m. ($30 tickets include appetizers from Giancarlo's five-star restaurant; doors at 6 p.m.). Tickets for both events are available at slo-noor2.eventbrite.com.
Susie Glaze & the HiLonesome Band play the Red Barn Community Music Series this Saturday, May 2 (5 p.m. potluck; 6 p.m. show; $15 at the door; all ages). They've been described as a "newgrass folk fusion quintet presenting gorgeous eclectic blends of mountain folk and exciting new grassy and Celtic-inspired originals, all with the remarkable voice of Susie Glaze." Pentangle and Fairport Convention come to mind, and they're releasing their new CD, Not That Kind of Girl.
The Monroe has seen some personnel changes (Never date within the band! Everyone knows that!), but core members Morgan Monroe (vocals) and Dr. Isapony XD (aka Bobby, keys, trumpet, composer), are still at it. "We're developing a revue style Motown/cabaret/showcase kinda thing, and our first roll-out is this Saturday, May 2, from 6 to 9 p.m. during Paso's Studios on the Park," said Bobby, who was one of the lucky few on hand for the Neil Young show. You owe me a beer, dude. "We're starting an analogue record label. The first release is soon, a 7-inch vinyl record and 11 cassette tapes. The talent here is pretty immense, and its going to be a great show!"

Keep up with Glen Starkey via twitter at twitter.com/glenstarkey, friend him at facebook.com/glenstarkey or myspace.com/glenstarkey, or contact him at gstarkey@newtimesslo.com.