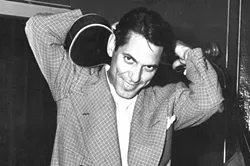 PHOTO COURTESY OF BILL TAPIA
HE'S A LITTLE BIT OLDER NOW : Ukulele legend Bill Tapia, now 102, will appear Dec. 1 at the SLO Grange Hall as part of the Painted Sky concert series.
Imagine being born in 1908. The car would have been a rarity. You'd have witnessed World War I, art deco and the flappers, the Great Depression, Prohibition and Al Capone, the attack on Pearl Harbor and World War II, the Beatniks, the Korean War, the Summer of Love and the hippies, Vietnam, the Me Generation—essentially every important epoch of the last century.
That's what 102-year-old ukulele player Bill Tapia lived through. Born Jan. 1, 1908, Tapia got his start in vaudeville, and during his early career played with the likes of Charlie Barnet, Billy Holiday, Fats Waller, Bing Crosby, and many more. In Hawaii, he led his own big band and worked with folks like Sol Hoopi'i and Johnny Noble.
The man's a living legend, and he's still working!
"Four years ago, when Bill was 98, we had the pleasure of having 'The Duke of Uke' perform at Painted Sky," explained Steve Crimmel. "The advance tickets quickly sold out, so a second, earlier show was added, which also quickly sold out. Now at 102, I just received an opportunity to have Bill perform again. This time we are going to host Bill at the Grange Hall so that more people can see this amazing musician."
Expect a mixture of Hawaiian and jazz, "what might be called Island Swing," Crimmel added.
See Bill Tapia on Wednesday, Dec. 1, at 8 p.m. in the San Luis Obispo Grange Hall (2880 Broad St.). Bill, still sharp and witty at 102, will be accompanied by upright bass and guitar. Tickets are $20 at Boo Boo's, the Cambria Business Center, or by calling 927-8330. If not sold out, tickets will be available at the door.
PHOTO COURTESY OF MARIACHI LOS CAMPEROS DE NATI CANO
OLAY! : Experience the rich culture and traditions of Mexico when Mariachi Los Camperos de Nati Cano appears in the Performing Arts Center's Cohan Center on Nov. 26.
Ay-yi-yi-yi!
Mexican culture is so much a part of California that we sometimes miss it, but there's no missing Mariachi Los Camperos de Nati Cano, one of the world's premiere mariachi bands, when they appear in the Performing Arts Center's Cohan Center at 8 p.m. on Friday, Nov. 26.
In a performance called Viva Mexico!, which honors Mexico's bicentennial, Mariachi Los Camperos de Nati Cano will present a family-friendly show filled with the rich culture and traditions of Mexico.
"Not to mention commemorating 50 years of Mariachi Los Camperos de Nati Cano's career excellence," Cal Poly Arts director Steve Lerian added in press materials. "It's Thanksgiving. Family is in town, friends gather … folks are always looking for something fun and different to do over the holiday weekend. This is just the ticket!"
This Grammy Award-winning ensemble features Mexican-born bandleader Natividad "Nati" Cano, "a pioneer in mirroring and shaping the history of mariachi music. He and Los Camperos have emerged as a major driving force of the mariachi music tradition in the United States and in Mexico. Cano's life goal has been to bring greater acceptance, understanding, and respect to the mariachi tradition as a whole while reaching the widest possible audience with his music."
Expect everything from "slow romantic boleros to the quicker rhythms of the muscular son jalisiense and the intricate huapango, characterized by its use of falsetto and movement among musical registers. The instruments include the guitarrón (acoustic bass guitar), a folk harp, trumpets, and violins. An instrumental highlight is Cano's vihuela—a large, round-backed, high-pitched guitar that gives the mariachi its typical rhythmic vitality. In keeping with mariachi tradition, these versatile musicians sing as well as play instruments throughout the performance, wearing the customary uniform of Jalisco horsemen."
Student and adult tickets range from $16 to $42. Visit the box office or call 756-2787.
PHOTO COURTESY OF TROPO

GNARLY SET : Tropo is one of 13 acts scheduled to play a set at the eighth annual San Luis Obispo Chapter of the Surfrider Foundation's Free Fall Art Benefit on Nov. 27 in the Cayucos Vets Hall.
Surf culture explosion
Surfing and the ocean are inextricably intertwined in SLO County, and the people who ride the waves here are a hardy breed with a deep affinity for the environment, which is why for the eighth year in a row, the San Luis Obispo Chapter of the Surfrider Foundation will present the Free Fall Art Benefit, an art exhibition and all-day concert that benefits the work of the local Surfrider chapter, scheduled for 10 a.m. to 5 p.m. on Saturday, Nov. 27, in the Cayucos Vets Hall.
See amazing surf-themed local art, hear the best in local music, sample food and beverages, and bid on some awesome stuff at the annual silent auction.
"Proceeds of this annual fundraiser will go to support the work of the SLO Surfrider Chapter and their ongoing commitment and dedication to preserving clean safe water, beach access, and promoting education," event organizers said in their press materials. "Be sure to save some of your holiday shopping to buy wonderful works of art, in all forms, inspired by our natural, local beauty to support both artists and a great cause, Surfrider!"
Items were donated by Dr. John and Carol Alexander, Joseph Reilly Construction, Change of Dress Consignment Boutique, Healthy Harvest Hydroponics and Organics, Los Osos Sustainability Group, and the Van Curaza Surf School of Pismo Beach.
Food and beverages will be available from Cayucos Beer Company, Honeymoon Café, Full of Life Flatbread, New Frontiers, Kelsey See Canyon Vineyards, Nectar Ales, and Tobin James Winery.
What's really going to blow you away is the 13-act line-up: Cassidy, Lux, The Rasta Ferraris, David Lynch and Friends, The Dentures, WillowStar, Rude Mood, The Formula, Texas Radio, The Mother Corn Shuckers, Matthias, and Tropo. Even more amazing? Admission is free!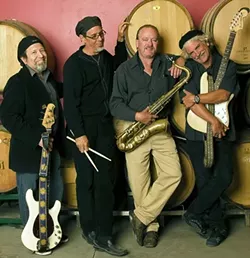 PHOTO COURTESY OF THE MIGHTY CROON DOGS
BARKING MAD! : The eclectic, infectious, and highly danceable Mighty Croon Dogs play Otter Rock on Nov. 26.
More music …
Otter Rock in Morro Bay has The Mighty Croon Dogs scheduled to help you dance off those extra Thanksgiving Day calories on Friday, Nov. 26, at 7 p.m. "Free admission, all your favorite libations, and a veritable cornucopia of fun!" claims front man Billy Foppiano.
PHOTO COURTESY OF CAFÉ MUSIQUE

LET'S WALTZ! : Congregation Beth David's fourth annual Ponemon Musical Concert Series starts on Nov. 28 with the amazing Café Musique.
Congregation Beth David's fourth annual Ponemon Musical Concert Series starts Sunday, Nov. 28, with a bang. The amazing Café Musique kicks off the series with a 3 p.m. show in the temple, performing waltzes, tangos, Broadway and Hollywood music, folk, Gypsy tunes, and more. Visit the temple (10180 Los Osos Valley Road) for tickets ($18 presale or $20 at the door), or call 544-0760 or e-mail office@cbdslo.org to reserve yours.
"Perhaps you've heard David Carroll at several of our showcases," wrote Bonnie Nelson. "He played some of Bob Dylan's big hits ('Like a Rolling Stone,' 'Times They Are a'Changin',' 'Subterranean Homesick Blues') at our Sept. 13 tribute to Mr. Z. Dave is new to the SLO area but is a veteran player, with many bands and bars along the way. Recently he joined the Cal Poly staff as risk manager. We've enjoyed hearing his upbeat and funny original songs." On Monday, Nov. 29, David Carroll plays as part of Steve Key's Songwriters at Play showcase at Rose's Landing (6:30 p.m.; all ages; pass-the-hat).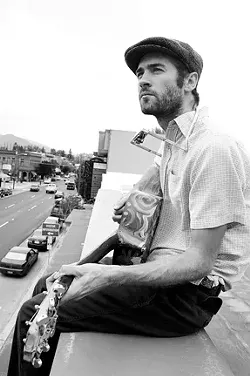 PHOTO COURTESY OF JOHN CRAIGIE
WOODY'D BE PROUD : Santa Cruz-based troubadour John Craigie appears on Dec. 1 during Steve Key's Songwriters at Play showcase at The Spyglass Inn.
Santa Cruz-based troubadour John Craigie appears on Wednesday, Dec. 1, during Steve Key's Songwriters at Play showcase at The Spyglass Inn. Like Woody Guthrie, Craigie travels from town to town, telling stories and singing songs. He currently tours in support of Montana Tale, his sixth studio album, a collection of folk, bluegrass, and barn-rock tunes "culled from all those miles of dusty travel." The all-ages show, which may include as many as eight performers doing three-song sets, begins at 6:30 p.m. and is pass-the-hat.
Guess who's going to Carnegie Hall? The Morro Bay High School Choir—if they can raise some money on Wednesday, Dec. 1, when they host a joint concert with The Townsville Grammar School Choir, in California for a two-week tour. The concert starts at 7 p.m. in St. Timothy's Church (962 Piney Way, Morro Bay), and tickets are only $5 (available by contacting any MBHS Choir student or parent or by contacting Colleen Wall, MBHS choir director, at the school at 771-1845). The traveling choir is staying for two nights with members of the Morro Bay High School Choir, "giving an opportunity for the teens of both cultures to become acquainted with teens from half way around the world," according to a press release. If all goes as planned, the MBHS Choir will travel to New York in February 2011 to participate in the National Youth Choir at Carnegie Hall. "The students at Morro Bay High School earned this right and were invited to participate in this concert when they won the Regional Heritage Festival Competition in San Francisco in May
of 2010."
Vocalists get mastered
Cal Poly is hosting Paul Harris of the San Francisco Opera for Master Class on Tuesday, Nov. 30, at 5 p.m. in room 218 of the Davidson Music Center at Cal Poly. During the class, several of the Cal Poly Music Department's leading voice students will perform and be critiqued. The public is invited.
According to Cal Poly, "Over the past five years, Harris has also worked for Kent Nagano at Los Angeles Opera, at the San Diego Opera, and the Portland Opera, playing diverse repertoire ranging from Mozart to John Adams. From 2000 to 2003, Harris worked under Daniel Barenboim at the Berlin State Opera, and from 1993 until 2000, he was a coach at the Vienna State Opera. Among his highlights were appearances on stage as the fictional pianist Boleslao Lazinski in Girodano's Fedora, sharing the stage with Mirella Freni, Agnes Baltsa, Mara Zampieri, Placido Domingo, Jose Carreras, Luis Lima, and Jose Cura, among others.
"Harris has held teaching positions at the Hochschule fuer Musik und darstellende Kunst in Vienna and at the Hanns Eisler Hochschule fuer Musik in Berlin. He has also accompanied recitals and competitions and has played on several CD releases, most notably with the Swiss bass Rudolf Mazzola in works by Jost Meier, Shostakovitsch, and Egon Wellesz."
The free master class is made possible by Cal Poly's Opera Workshop and is sponsored by the Cal Poly Music Department, College of Liberal Arts Lottery Fund, and Instructionally Related Activities program. For more info, call the Music Department at 756-2406.
Way to go, Morro Bay!
I just found out that the "Morro Bay Sings the Beatles" fundraising concert spearheaded by pianist Mitch Barnett brought in nearly $3,000 to help the Morro Bay Community Foundation!
"It was a class act, very successful and well received," said foundation president Marlene Peter. "In their enthusiasm, people were talking about 'next year.'"
The money goes for recreational scholarships for needy youth in Morro Bay, Los Osos, and Cayucos to participate in programs provided by the Morro Bay Recreation and Parks Department. More than $17,000 was awarded in the last fiscal year.
Keep up the good work, Morro Bay Community Foundation!
Keep up with Glen Starkey via twitter at twitter.com/glenstarkey, friend him at Myspace.com/glenstarkey, or contact him at gstarkey@newtimesslo.com.