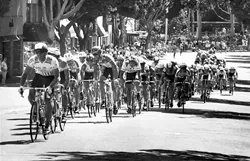 PHOTO COURTESY OF SLO CRITERIUM
# Repeatedly moving in the same circular direction is generally a good indication that someone is lost. But watching someone bicycle in a circle for half an hour negotiating corners while traveling 35 to 40 mph mere inches from an opponent is pure entertainment. Entertainment that goes by the title "criterium."
This fast-paced bicycle race usually takes place in a downtown circuit that's about eight-tenths of a mile long. Riders complete as many laps as possible in a given amount of time, making for an intense ride with lots of crowd interaction.
A small committee of bicyclists started the SLO Downtown Criterium in the mid-'70s. The race grew quickly, especially after Taco Bell became a sponsor, offering large purses for winners. Cycling legends Lance Armstrong and Davis Phinney raced through downtown San Luis Obispo while huge crowds unofficially labeled "the wall of sound" cheered on the sidelines. Eventually, the local criterium lost its momentum and 2001 was the last year the race was held in downtown SLO. But as soon as it ended, local bike enthusiasts were making an effort to bring it back.
Because the downtown criterium is an official United States Cycling Federation race, competitors can earn points by placing well. The federation provides officials to count laps and oversee primes (miniature races with prizes within the overall race). Race categories include a competition for juniors (aged 10 to 18) and for both amateur and professional adults male and female. Anyone is welcome to register on the SLO Criterium website, or downtown on the morning of the races. It should be a fun race for amateurs, but for the competitive bicyclists who spend weekends traveling across the state to compete, it means a great deal more.
For Category 2 racer Kristina Seley, the long racing season February to September is filled with traveling. Most of her races take place in the Bay Area, so her friends and co-workers rarely have the opportunity to witness what her training, passion, and dedication have earned her.
"This is a huge opportunity for local cyclists to showcase what they do, and that's an opportunity I feel like I haven't had," Seley said.
Not only will she not have to drive for several hours to reach her racing destination, she will be competing in the heart of downtown starting at the intersection of Higuera and Chorro and traveling clockwise down Higuera, turning onto Broad, and traveling up Monterey through the Mission, ultimately completing the race by turning from Santa Rosa back onto Higuera. As a showcase for racing talent, the course couldn't be more visible to the public.
The process of organizing and obtaining permits for the criterium festival has been a long one, but well worthwhile, according to Shaba Mohseni of Nimble Creative, LLC, the event marketing and production company responsible for the race. Because an official organization was never responsible for the criterium, when the tradition ended it was difficult to determine who should be responsible for the efforts to regroup. Mohseni had been a Cal Poly Wheelman, and in 2001 she was on a committee to revitalize the SLO Downtown Criterium. The race happened in 2001, but the organizers didn't get Downtown Association approval for the next year. The Cal Poly Wheelmen had been more focused on the actual competition than on publicity and marketing, and several businesses made complaints. After that race, the Downtown Association was looking for a more comprehensive marketing plan.
"This took me two and a half years to get approved," Mohseni said. "I just couldn't stop thinking about bringing it back and a lot of people wanted to see it come back."
After applying for a permit to host the event two years ago and having that application denied, Mohseni realized that she needed to build trust between the city and the bicycling community. She hosted other bicycling events and participated in Bike Fest. She also joined the Tour de California committee.
As part of her efforts to assist the tour, she ended up organizing SLO Bike Valet with several other local bicyclists. The bike valet expanded beyond the Amgen Tour, becoming a regular feature of the Thursday night Farmers' Market. On its first night, the bike valet had about 15 bikes, but it wasn't long before it was responsible for 60 to 70 on a Bike Happening night, and the city was sponsoring a bike valet website (www.slobikevalet.org). Eventually, the program was passed along to the SLO Bike Coalition, but its continual growth is inspiration for the Downtown Criterium Festival.
"It just grows and grows and grows," Mohseni said. "It's a testament to one of those things where people put their energy out and something comes back."
Mohseni re-applied for the permit last year. Once again, she couldn't host the event downtown, so she hosted the race off Prado Road. After putting together a marketing plan and attending several meetings, Mohseni finally received the approval necessary to host the race downtown. She attributes much of this success to the fact that this event isn't just a race it's a bicycling festival that anyone can enjoy.
"Our motto has been 'inclusion,' whereas sometimes in the past it was like 'let's just get the race down there,'" she admitted.
A significant part of Nimble Creative's efforts is its emphasis on women cyclists in a traditionally male-dominated sport. The Women's Cycling Challenge is an organization that encourages female bicyclists to compete. It provides mentors for female racers, in addition to participating in informational clinics for women who are just starting out or considering racing. This group will be hosting a pre-race clinic featuring Master's National Cycling champion Jill Gass on Aug. 11 and a grand finale race on Aug. 12. According to Mohseni, who competes in bicycle races when she isn't busy organizing large criteriums, racing is enjoyable but it's also a greater challenge for women who aren't given the same amount of encouragement as their male counterparts.
"I think it's more intimidating to women," she said. "To me, it seems like there are some things that are encouraged and some things that aren't and Women's Cycling Challenge is about changing that paradigm."
It doesn't help that the purses for women's races are usually smaller than those for men's competitions, making it less financially feasible for women to travel and compete.
Seley is in the process of concluding her third season of competition, and while she enjoys riding with the male cyclists in SLO, it wasn't until she had the opportunity to interact with other female cyclists that she knew she could handle the demands of competition.
"I went to a women's clinic before I started racing and it was incredible," she explained. "It was my first experience with women racers. I had never ridden with women before. It really changed me, hanging out with women and seeing how happy they were and how they were succeeding with racing. After that weekend, I knew I really wanted to race bikes."
Seley joined a women's racing team, PROMAN/Paradigm, and trains an estimated hour and a half to two hours almost every day. On weekends that she isn't competing, she goes for long rides.
Ordinarily, a criterium isn't Seley's favorite type of race. She's an endurance rider, and a fast-paced dash through downtown won't prove easy. But she placed third at last year's criterium off Prado Road, and she's got a plan.
"I'll have to set up my tactics so I can win using my style," she explained. "In a criterium, it's very important to know who you're racing against. You're not racing against the clock or against the track. You only have to beat everyone else there."
INFOBOX: Wheeling along
The San Luis Obispo Downtown Criterium Classic Cycling Festival takes place Aug. 11 and 12. The event will feature a community bike happening parade the day of the race, the SLO Bike Valet, a Spider Bikes Demo Track, a Thrive iNteractive Festival, and much, much more. Registration for races begins at 6 a.m. on Sunday, with the first race beginning at 7 a.m. and the final race beginning at 3:50 p.m. For more information or to register to race visit www.cencalcycling.com or call 546-8077.
Arts Editor Ashley Schwellenbach thinks that anything with wheels is dangerous. Mock her lack of coordination at aschwellenbach@newtimesslo.com.